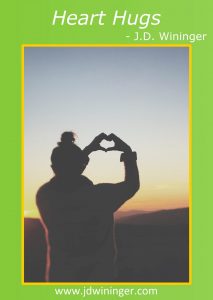 If you've followed along with my Christian writing journey, you have no doubt heard or read about my Heart Hugs. I'm addicted to receiving these blessings from God and treasure them more each day. They're an important part of my spiritual life. I thought today might be a good time to introduce you to this wonderful blessing from my relationship with God.
I coined the term Heart Hugs to express the overwhelming feelings of love, joy, peace, and contentment when I connect with God. At first, I noticed them occurring during my "God time" (the time I set aside for devotional, study, and prayer each morning). As I mature in my Christian walk, I find these happening with more frequency. Heart Hugs are no longer reserved for "God time." They occur whenever I come to God in praise and prayer throughout each day.
I understand my dependence upon communing with the Father, Son, and Holy Spirit is what brings them to the forefront of my life. Heart Hugs provide the daily dose of God's love I need to find the strength to face each day. In them, God reminds me of the instant I surrendered my heart to Christ Jesus on a fall evening in 1975. At that moment all the hurt, pain, fear, agony, disappointment, and anger inside me gave way to God's amazing grace.
Finding sheer joy in communing with heaven is an addictive desire in my life. While I live in this world, I know I'm a citizen of heaven. Heart Hugs allow me to escape the worries, fears, concerns, and troubles of this fallen world. During these times, my spirit transcends to the eternal place that will one day be my forever home.
How does God manifest His presence in you? How do you express His joy in your life?
Click To Tweet
Heart Hugs take many forms. They bring great elation, peace, and satisfaction. They express themselves in tears, laughter, arms raised in praise, or a silent smile and nod of affirmation. Heart Hugs are the strongest feeling of pure love you can ever imagine. It is God's love that makes life worth living for me. His embracing Heart Hugs assure me I am His child, worthy of His love.
I wasted years thinking of heaven only on days when I thought it convenient or required of me. I convinced myself I was too busy with my career, family, friends, community service, and a myriad of other commitments to make time for God. I pray you find more time with God each day. May God's presence become an addiction in your everyday lives. It is in sharing constant communion with Our Father, you achieve your greatest spiritual growth.
When God comes near and wraps His loving arms around my heart, I begin to cry. My tears signal that God is gently squeezing the world out of me, as He replaces it with His love.
God's blessings…