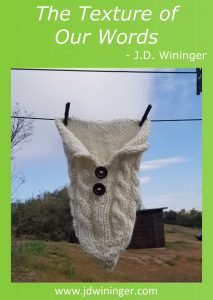 In April, my friend Mrs. Patty Schell (https://pattyschell.com) published a post entitled Knit One, Purl Two. In it, she pondered how God's word tells us He created us as she knitted little baby cocoons (chrysalides) for new arrivals in her family later this spring. She spoke about running her hands over the garment as she was creating it, feeling the different textures, etc. My friend also wrote about how she poured prayers of blessing and love into each garment she made. This blessed me as I thought about how wonderfully God made me.
I thought about the words God spoke over me during my creation. His words encouraged me to persevere through all life would bring my way. Picturing His loving hands gently sculpting me into the unique creation He intended, I was lost in a moment of pure admiration for my Creator.
I asked myself if I'm praying enough over the words I use. As both a Christian and writer, the words I choose are important. Whether spoken or written, our words have power. They can bring forth life or destroy. God brought His words in Ephesians 4:29 (NKJV) to mind; "Let no corrupt word proceed out of your mouth, but what is good for necessary edification, that it may impart grace to the hearers." This is such a vital life lesson.
Our words must endeavor to build up others. We must encourage those who read or listen to our words to seek God's grace in their lives. Recently, I posted about my target audience; those to whom I write. When I sit down at my keyboard, I remind myself of Jesus' words in Luke 5:31-32. Yes, the words I write are read by Christians, but I must also write hoping my words find their way to help lead others to Christ.
While important to use God's gift of communicating to help fellow Christians, I'm convinced my calling as a Christian writer goes far beyond the confines of the church. I pray God's help to always let my words bring life. Like my friend Ms. Patty, when I am creating, I must pause from time to time to examine the texture of my words. I must listen, feel, and experience them to ensure they are bound in such a way that brings honor and glory to God.
Do you feel the texture of your words as you weave your story? Do we ask God to direct us as we create His message through us?
Click To Tweet
God's blessings…