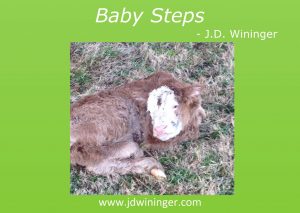 On December 15th, "Prancer" the little heifer was born. Normally, Diane names all the calves; but I texted the photo of the frost-covered newborn to my sister who showed it to her two granddaughters. After the expected oohs and aahs, I told them if they could agree on a name, I would give them the calf. Natalie and Camille named their calf "Prancer", since it was born so near Christmas I think. I gave them the calf, with the understanding that great uncle Jim would keep it for them and care for it. After all, where could the girls keep a cow living near Boston, MA and Malibu, CA?
As I do with each calf born here at the Cross-Dubya (pronounced 'dub-ya' as in the way Texans pronounce the letter "W"), I stand at a distance and pray over them; thanking God for His blessing. I then watch to make sure they get to their feet, take their first few awkward steps, and find their way to mama's udder to get nourishment. This whole process makes me think of how we mature Christians must disciple newer ones.
As new Christians take their first awkward baby steps in their journey of faith, we need to be there for them. To help them find the way, be a steady source of guidance and information, and encourage them to grow stronger.
Calves, like most animals (including humans), are born with certain instincts. For example, newborns know where to seek nourishment. They know to stick close to their parents for safety and protection. When they need attention, they know to make a noise. By watching others, they learn many new skills as they develop.
I can't imagine what questions a newborn baby (of any kind) must have when they first enter the world. I remember the many questions and attacks on my faith when I first became a Christian; and the seemingly endless string of attacks every day since. The lack of guidance and help to learn new skills needed to navigate my Christian life led to a crisis of faith; causing me to turn away from God. Not having matured in my faith early on, I was not equipped to survive my crisis.
Therefore, I'm a strong advocate for sharing the lessons of faith I've learned with others. Each day, I pray God brings me someone I can help to grow in their faith. I remember how it felt being filled with doubt, to wonder if I have what it takes to serve the almighty God and not the gods of this world. I recall the strong feelings of shame; so strong that when mixed with pride, I could not bring myself to seek help from others.
Finding my way back to God after years of ignoring His call was not an easy task. I learned to let go of so much worldliness that entrapped me, with great pain. As God healed and nurtured me, I became stronger in my faith. During this growth, I vowed to never stand on the sidelines and watch other immature Christians struggle in their journey. With God's help, I strive to live that promise each day.
Discipleship is more than teaching new or immature Christians how to read their Bibles, develop good prayer habits, and desire Christian fellowship. It is hearing their needs and helping them seek answers from these tenets of faith.
Does your church have a formalized Discipleship Program? Many do not. New Christians often receive a shout of praise at their moment of salvation. Some receive a round of applause or a pat on the back after their baptism. Even less get a certificate and a new Bible. They are then left to sit in a pew and flounder as they try to make sense of it all. Just as parents have to teach our children new skills and help them find and develop their unique gifts and talents, we the church must do the same thing.
Have you ever taken a new Christian or young person under your wing and helped guide them as a mentor? Have you ever followed up after a lesson or sermon with a struggling Christian? Did you check to see if they had questions or needed help understanding outside of a large group or crowd? We all learn in different ways, but the key to learning is having someone show enough interest to find the best ways for us to learn.
In what ways can you help new Christians take their first steps towards God?
Click To Tweet
There are lots of wonderful resources to help you learn to become a disciple maker. On-line studies, books, even web sites. I pray you will consider either helping someone grow, or grow you, through discipleship in Christ. I have learned an important lesson in discipleship; both parties must want it. You can't teach someone who doesn't want to learn and you can't learn correct behavior from someone who is double-minded and doesn't live what they're teaching.
If someone in your life has taken the time to help you in your journey of faith, then repay their investment in you by helping another.
God's blessings…