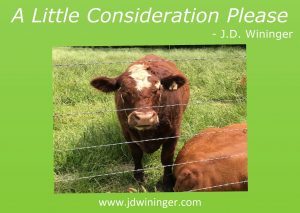 Feeding livestock can be an adventure. I've learned to keep my head on a swivel and to never lean over a cow's head. This morning, Lulu Belle, one of my prized yearlings, decided she wouldn't wait for me to pour feed buckets into the bunk feeder, she would just help herself. She stepped on my right foot and then brushed me out of her way with her backside. At eight hundred pounds, she goes wherever she wants.
It wouldn't have been so bad perhaps, had she cleaned herself beforehand. As a practice, I don't keep TP handy for them. In the springtime, when rich new grasses emerge, cattle have loose bowels. This means you watch where you step and you learn never to stand behind them! You guessed it, before I could free my foot and move out of the way feces covered my right arm. She just kept right on eating. It reminded me of why I go nowhere near stores the last two weeks before Christmas. People, like hungry cows, can be quite rude when going after what they want.
After cleaning myself up before going inside, Diane asked why I was coming in the house in my BVDs. When I explained what happened, she chuckled and promised to do a separate load of my work clothes once I brought them in from the garage. I thought myself considerate. I could've just worn my soiled clothing into the laundry room. Then again, Diane could've chased me out of the house with a broom handle if I dropped something onto her clean floors.
I wonder what God thinks of our selfishness when we're going after something we want and inconsiderate of our surroundings?
Click To Tweet
After a shower and fresh clothes, I helped get that extra-dirty load in the wash and I finished the day's chores. Working through the remaining tasks I thought about how inconsiderate my sweet cow had been. That morning, I was just between her and something she wanted more than a pat on the head. She wanted food!
Lulu Belle, like her mother, eats cubes out of my hand; and walks up in a pasture wanting me to scratch her chin or rub her poll. She is almost always good-natured, gentle, and calm. She will make a wonderful mama cow one day. Thinking about those character traits, I smiled to myself as I remembered times being singularly focused on getting what I wanted. They weren't always what I needed, or what I deserved, but I wasn't always the most considerate person in the world when I was pursuing my desires either. When I'm in "selfish mode", my time and my desires are more important than anyone or anything else. I hate it when the Holy Spirit has to point that out to me.
Remembering this made it easier to overlook my cow's behavior and just chalk it up to life on a ranch. It wasn't the first time and has already proven not to have been the last. I hope you have a wonderful day everyone; and you have as little crap as possible to deal with in your life today.
God's blessings…