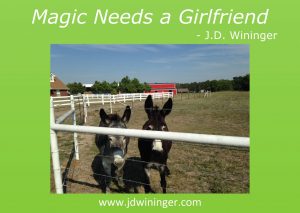 During calving season, I had to place "Magic the Donkey" into a timeout (here's that post). Chasing new calves is not acceptable and while I suspect he thought them small predators, his actions presented a huge risk. I placed an ad on Craigslist for a Jenny. Jennies are female and are often much calmer, having a soothing effect on other donkeys around them.
Molly (pictured on right), who was Magic's mother, was the perfect example of that. I've sat small children on her back and could spend hours brushing her. She was both patient and heartwarming. Molly was hobbled by what I can best describe as a clubbed foot. One of her front feet grew crooked, and I had to keep her hoof trimmed. Specialized trimming adjusted her hoof placement to offset her impairment; to keep her from tripping.
Molly didn't run or trot too often, but made her way around the ranch each day. She was Magic's constant companion; and before I had him gelded, Molly would bite his ear and settle him down whenever he got wound up. I watched her kick him with both back feet more times than I could count, but she kept him in line. During all the years they patrolled my pastures together, I intermixed them with the cattle with few problems.
As the weeks have passed since separating Magic from our cattle, I've noticed two things about my friend. He's gotten heavier, and he spends more time each day mirroring the cattle. What I mean by this is if they go in the barn, he goes in the barn where he can see them through a gate. If they go to one front pasture, he'll spend his day in the other one across the drive.
It breaks my heart sometimes to hear him braying for them; I think it a cry of loneliness. I try to spend more time with him throughout the day, but I can't be his constant companion. It's sad, but I smile when I see my cows and their babies come to the fence line across from where he is. They look at him as they feed. It seems they are somehow trying to comfort him (albeit from a safe distance). He is much more quiet and content in those moments.
I thought about the words of James 4:8 (NKJV). "Draw near to God and He will draw near to you. Cleanse your hands, you sinners; and purify your hearts, you double-minded." I thought of how often I seek companionship with God throughout the day. This verse also caused me to think about the dangers of being "double-minded." When I think on this term, my mind picture is one of me standing with half of me in God's glory, the other half still attached to this world. In those moments, I pray the Holy Spirit continues His work to bring more of me into His kingdom. This is the work of sanctification.
I've wondered if Magic suffers from double-mindedness too. While a part of him longs for social interaction and companionship with his friends the cows, another wants to chase the little predator-sized calves to protect his friends. Since I'm not an animal psychiatrist (do such people even exist?), I can't even presume to understand what he's thinking. Maybe there's a Horse Whisperer among you that might offer some insight.
In my search for companionship with my Creator, I've found that my early morning "God time" sets the tone for my day. Throughout the day I look at His beautiful world around me and thank Him in praise and prayer. Remembering His words written on my heart is another way I draw near to Him. In those memories, held dear from lessons He's taught during my time studying His word, I find great peace.
In what ways do you seek companionship with God?
Click To Tweet
I've not had any luck yet finding a companion for my buddy Magic on Craigslist or elsewhere. Perhaps it's time for me to reach out to local livestock auctions. There are many donkeys needing a new and loving home, I'm trying my best to find one for free. Am not sure a jenny will solve the problem of his chasing calves, but it will at least relieve his loneliness. I hope you'll join me in praying for the right solution to help my friend "Magic the Donkey." I hope too, you will find even more ways to stay connected to our greatest companion throughout each day.
God's blessings…