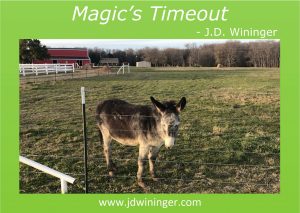 With new calves on the ranch, "Magic the Donkey" should be on high alert. This year, he's in timeout instead. For several years I've had donkeys intermixed with my cattle for a specific purpose. As social/herd animals, donkeys make wonderful guards against predators such as the coyotes that are so plentiful here in Texas.
While donkeys are playful animals, they are fierce protectors of their territory. Whenever a coyote or a strange dog wanders into their pasture, they bray, stamp their hooves, and attempt to stomp the predator. Magic is a gelded male donkey, and he and his mama Molly patrolled my pastures since 2013. Molly died this past fall—leaving Magic as the sole guard for my herd.
I observed him the first couple of months after his mama died to ensure he would be okay. Donkeys tend to play rough. They bite each other's necks and backs, which is why I think God make them with such thick necks. Conventional wisdom says male donkeys and cattle don't mix. It seemed he would be fine remaining with his "cow family" as I kept him with expectant cattle. After the calves arrived, I noticed a change in his demeanor.
Magic was always calm around the larger cows and yearlings. When I placed him with the young calves, the trouble started. I found that my normally calm donkey was behaving more aggressively. He tried to separate the mamas from their calves; and when I caught him chasing calves, I had to act.
I tried him with other, larger, cattle with much the same results. For the past month, I have placed him in a timeout. In his own pasture, he can see the others through the fences. His barn stall is next to where the cows and calves bed down at night. I'm hoping he's had time to reflect on his situation and will behave himself. I may try him with the cattle again, but I fear he will remain too aggressive.
If he remains aggressive towards the other animals, I will have to make a decision. Options include getting a jenny (a female donkey) to give him a companion and help calm him down, leave him separated, or find a new home with other donkeys. All this causes me to consider how important it is for me to take time and reflect on my attitudes and what changes I may need to make in my life.
Do you take time to examine your life to see areas where your behavior could improve?
Click To Tweet
My best approach to do this is by praying. Prayer enables me to connect one-on-one with God. It is in this "connectedness" I am most open to the Holy Spirit's leading in my life. By reflecting on my attitudes, thoughts, and opinions, He can help me identify where my carnal, secular human nature takes precedence. It is during these times I ask God's help to make me more like His son and less like this world.
I pray each of us remember to place ourselves in a godly timeout now and again, so we might see how our behavior impacts our testimony.
God's blessings…