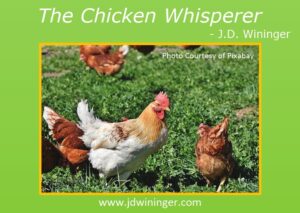 Adding chickens to the mix here at the Cross-Dubya seemed an easy decision given the increased price of eggs and poultry in the past year. Of course, nothing is ever as easy as it seems. With the help of friends, research, preparing to bring home chicks, and learning how best to care for them was simple. Bringing them home was when the real work began. Ensuring they had medicated chick starter to eat, stayed warm, and cleaning their water twenty-seven times per day fell upon our friend Mr. John. As the Ranch Foreman, he's our Director of Operations, which means he does most of the work each day. Like most things, Mr. John takes it all in stride, as he's always looking for something to stay busy with.
As they grew, we busily prepared a more secure, permanent home for them. With donated tin from our friends and a few two-by-fours, John and I set about building a chicken coop to house the sixteen new additions to the ranch. Add to that, a couple of guinea fowl to serve as our security system (they're noisy, and bossy, little birds) and the dogs and barn cats didn't know what to think. With no egg production yet, we're still in the negative on the balance sheet; but if you factor in the entertainment value as we watch them figure out how to escape the backyard next, it's been a most profitable venture.
Our good-natured ranch foreman takes it all in stride. He's greeted each morning with the sounds of the cows and calves calling one another, donkeys braying, and chickens staring at him through his bedroom window. As the roosters are just finding their voice, they sound like sick seals. Those peaceful mornings are about to change. What's been most fun for Ms. Diane and me has been watching Mr. John care for the birds. As always, he is compassionate towards the animals and provides the highest levels of care. Our entertainment comes when we watch them gather into formation and follow his commands. If one can train chickens with military precision, Mr. John has proven to be The Pied Piper of Poultry. It's comical to watch them follow him wherever he goes and try to sneak into his room when they think he's not looking.
Our greatest fun is when he orders them around and chases them away from where they don't belong. Mr. John talks to them much the way you would small children. As with all the animals (and humans) at the Cross-Dubya, His kindness, goodness, and patience are on full display. When I watch him interact with all the livestock and animals in his care, the words of Colossians 3:12 often come to mind.
Therefore, as the elect of God, holy and beloved, put on tender mercies,
kindness, humility, meekness, longsuffering; (NKJV)
Christianity is less about how you present yourself and more about how you care for others. #ChristianLiving #SpiritualFruit
Click To Tweet
It seems Mr. John and his feathered friends communicate quite well with one another. He watches over them, and they seem to listen and respond to his every direction. Watching him walk around with his "Goldie" in his arms as he's stroking her feathers and you can't help but sense his gentle spirit.
Last week, Ms. Diane presented Mr. John with a certificate, naming him "The Chicken Whisperer." He chuckled at the cute logo she created to adorn his certificate and took it all in stride. I wondered if he realized we weren't teasing him but attesting to what we see in him. While I suspect Mr. John has always been a good man, it's been a true blessing to watch how God is growing His fruit of the Spirit in John's life. The Holy Spirit is refining and enhancing that which God created John to have.
Two overlooked fruits of the Spirit (Galatians 5:22-23) are goodness and gentleness. As with all the listed spiritual fruit, something noteworthy about them is that they are not only what we say, but how we act. Goodness and gentleness are best displayed through our actions. Their purpose, it seems, is to benefit others. What better testimony can there be to show God's presence in your life than this?
When I think about the fruit of goodness, Psalm 37:3 comes to mind; "Trust in the Lord, and do good; Dwell in the land, and feed on His faithfulness." If you want to see goodness in action, watch someone to see the little things they do each day to help make someone else's life easier. The verse I think of to describe gentleness is Philippians 4:5; "Let your gentleness be known to all men. The Lord is at hand."
This week, join me in considering how we show the fruit of the Spirit through our daily lives. Are you a "Chicken Whisperer" like Mr. John, or does your life resemble a megaphone? God can use both, I'm living proof of that truth.
God's blessings,