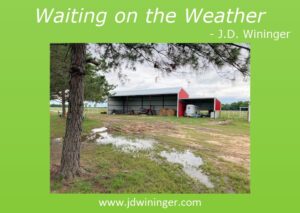 Lord, this ain't easy. I'm almost two months late to get that garden tilled and planted. We still can't disc the hay meadow and get that seed in the ground. And Lord, you know I need to get that hay mowed and the west pasture sprayed. I'm not complaining about all the mud, Lord, honest I'm not, but when are you going to give us a break so we can get all this done? I'm tryin' real hard to wait on You, Lord. Can You give me just a week of drying out and another couple of days to get it all done? Have you ever said a prayer like this? It's a common theme for farmers and ranchers.
Regular followers of our Around the Cross-Dubya blog know God has blessed our little ranch with an abundance of rain this year. This comes after eighteen months of severe drought that came close to putting us out of business. I've promised to never complain about pulling mud again, and I won't start now. At some point, the chores pile up and a tidal wave of concern builds in your mind. You wonder how you can get everything done.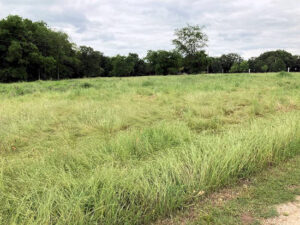 There's hay that needs mowing, and you can't lay it down because the wet ground and coming rains will ruin it before it can dry. The thought of losing all that ryegrass, clover, and vetch again this year breaks my heart. If the garden isn't in soon, it'll be too late in the season for the seed to take root. Without getting that west hay meadow replanted, there's no chance of getting enough hay to get through next winter. We can't afford a winter's worth of $100/bale hay again this year. Yet, I wait upon the Lord.
Waiting on God is less about Him and more about you. #WaitingOnGod #GrowingYourFaith
Click To Tweet
Each morning and evening, we open the weather app on our phones. About the time we think there's a glimmer of hope, another shower arrives. On saturated ground, a half-inch of rain simply means more standing water in our pastures and fields. So, we wait. As I wait on this day, the familiar words of the psalmist echo through my mind.
Wait on the Lord;
Be of good courage,
And He shall strengthen your heart;
Wait, I say, on the Lord!
(Psalm 27:14, NKJV)
What I've learned through the years is that waiting on God is much less about what He's doing and more about what we're doing. My faith tells me He will do what is His plan to do. Often, I've found I delay His plan by resisting it. If you're like me, and maybe King Saul, we must fight the urge to plow ahead and let God catch up to us. We know how that turned out.
Instead, we should seek to understand what His plan is. Unfortunately, He sometimes keeps that to Himself. So what do we do? The answer is, we do. Waiting on God to reveal His plan for us, to send His blessing, is not a time to sit impatiently and do nothing. All this does is provide a breeding ground for worry, complaint, and doubt. Waiting for a break in the weather to get a growing list of tasks completed, here are some things I've been doing:
Chickens: Adding egg production and an extra meat source helps us prepare for days ahead when those things might not be available or affordable.
Maintenance and Repairs: Servicing and fueling all the equipment makes sure it's ready to go at a moment's notice, avoiding costly down-time.
Preparing: These delays have given me extra time to prepare myself and the materials needed for the writer's conference I'll be attending in a few weeks. I've been trying to get there for four years.
Seeking: The most important activity has been seeking God's face and His will. Drawing closer to Him brings great peace. Seeking to understand His will for me helps me prepare for His next assignment.
Serving: Whether it's weekly AWANA meetings for the kids, our church's work day, or chasing my beautiful bride to various appointments, helping others is a productive way to serve God.
While I don't know God's plan for my tomorrow, next week, or next month, my faith in Him assures me that He will reveal it when He's ready. Until that time, I do. I move forward in what I know, and I leave my unknowns in His hands. Many times, we hear people cite Romans 8:28 when troubles arise. We tell others that God will bring good from whatever their circumstance, but do we have a strong-enough faith to believe it? Do we accept, in faith, that which we cannot see (Hebrews 11:1)? Each time I'm able to wait upon the Lord, my faith grows stronger.
Isaiah 40:31 is a verse that brings comfort in my waiting. It reminds me that God will always be there to keep me safe in the storm. Whether that storm is literal or raging within my psyche, I can find peace knowing God is there, waiting to help me soar when the time is right. When I wait upon the Lord, I can endure any trial through the strength He provides.
In this time of chaos and uncertainty throughout this world, whether I get our garden in and hay baled matters little. To God, what matters is whether we trust Him to see us through the wait. Whatever season of wait you find yourselves in, I encourage you to be doers of the Word, as detailed in James 1:22-25. In living out our faith, we find strength through our waiting upon Him.
God's blessings,