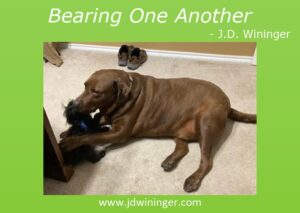 I, therefore, the prisoner of the Lord, beseech you to walk
worthy of the calling with which you were called, with all
lowliness and gentleness, with longsuffering, bearing with one
another in love, endeavoring to keep the unity of the Spirit
in the bond of peace. (Ephesians 4:1-3, NKJV)
In the six months since we brought "Archie the yorkie-poo" home, there's been some interesting conversations and lots of adjustments. Ms. Diane's new dog "Archie", or "Arcino" (pronounced "ar-che-no"), the Italian-ized version of "Archie, NO!", has been a life-changer. Some of the more memorable comments have centered around 105-pound "Bubba the chocolate lab" and4.5-pound "Archie the screeching dog" around one another. They've included:
But he's only twenty-three times larger, they'll be fine together.
If he'll only leave him alone when he's eating or sleeping, they'll be fine.
No, I don't think he'll eat your dog, Honey.
No, I don't think he'll break Archie.
Can you please make him stop screaming like a little girl every time I get up to go to the bathroom at 1am?
Many of you know about our farm dog, Bubba. He's the snake-hating, cow-watching, protector of the Cross-Dubya ranch. At nearly eight-years-old and suffering a debilitating ligament injury over a year ago, he's slowed down a bit and needs help to get in and out of the UTV. Each day, he patrols the acreage, visits our neighbors, Mr. Tom and Ms. Ola Jean, when he can, and naps. Known for his easy-going personality, unless you're a snake or pesky barn cat that tries to sneak a bit of his food, Bubba enjoys a peaceful life. That changed drastically when he met Archie.
Four-months-old and a whopping 1.75 pounds when we brought him home, having a puppy in the home has been adventurous for all of us, including Bubba. I suppose it's safe to refer to Archie as high energy. He gets the Zoomies after every meal, enjoys romping around the farm on long walks, has a 36-inch vertical leap, and loves to tackle and harass the barn cats. To watch him confront and give kisses (through the fence) to 2,300-pound "Mavric the bull" is special. Watching him go head-to-head with the donkeys (from the other side of the fence, of course) and cause them to turn and run with his ferocious screeching is hilarious.
One change has been that Bubba, not understanding why he's relegated to his rug in the garage on all but the coldest nights, spends more time inside. Seeing his sad eyes and mournful look when Archie lives in the lap of luxury, with his own bed in air-conditioned comfort, just ain't right. So, a couple times per day and most nights, Bubba follows us in and assumes his position on his sofa in the family room. I make sure he's clean first, but the solution seems to keep the peace.
It seems to have worked well, as both Bubba and Archie enjoy most of their time together. When outside, Bubba watches over Archie and keeps him safe by patrolling the area where Archie wants to play. Inside, Bubba attempts to lie quietly and seemingly shakes his head at the high-energy antics of this hairy little ping-pong ball with legs. There are, however, moments.
As you may have noticed in the photo, Bubba has a unique way of communicating to Archie that he needs to settle down. He places his enormous paw onto his little companion and pins him to the floor. He'll then nuzzle his little friend and, after a minute or two, he'll let him up. This usually happens when Archie is jumping around his face wanting to play while Bubba prefers his afternoon nap next to my desk. Another is when Bubba is sleeping on his sofa and Archie wants to run back and forth and play. Bubba issues a low-growl that says, "Back off", and Archie immediately climbs onto my lap and settles in for a finger-chewing or sock-monster session instead. Through it all, Bubba and Archie have found an unlikely friendship and they seem to show a level of love and understanding that I wish more people had. They don't always like one another, but love trumps like every time.
How well do we bear others? Not for their sake, but for God's sake. #BearWithLove #LoveIsPatient #DisciplineIsLove
Click To Tweet
Watching our two canine friends interact with one another, God reminded me of the words in Chapter Four of Ephesians. We are to bear one another in love. That's a lesson many people need to be reminded of these days. It seems ours has become a society of intolerance and divisiveness. I've long recognized that I'm a grumpy old man, who is opinionated, seldom wrong (in my mind), and holds strong convictions. I'm also a Christian, and the two cannot be mutually exclusive. There is much in modern-day society I don't like, but if I'm going to be the Ambassador for Christ I am called to be, then I must also love like Him.
It's easy to use "anti-social" media to bash all those you don't agree with, but that's exactly what Satan wants us to do. When you see someone dressed differently than you, expressing their individuality through self-expression, or choosing an alternative lifestyle, we judgmentally turn them away. As Christians, why are we playing Satan's game?
Instead, I implore you to consider Paul's words in his letter to the church at Ephesus. As Christians, we are to conduct ourselves in a manner that reflects godliness rather than worldliness. That's a radically different model than what this world teaches us. Then again, Jesus Christ was a radically different teacher. He came not to divide but to reconcile and unify us. We honor Him when we apply His lessons of grace, mercy, and love to our lives.
God's love seeks to bring about reconciliation and unity, not division and high-mindedness. #LoveSeeksPeace #LoveBearsAll
Click To Tweet
Please note that I'm not suggesting we Christians must accept the sinful ways of others. Doing so results in validating their poor choices and enabling their further bad behavior. Instead, we must speak truth to them in love, recognizing that each of us in our own way was just as lost in sin at some time in our life. When we calmly share God's truth with them, even if it means we put God's giant paw of conviction and restraint upon them, they'll recognize the difference God makes.
Perhaps it's time we change from following the world's example and start following Christ's more closely. Showing His love to others with humility and gentleness results in bringing peace and unity into our home, family, church, and community.
God's blessings,

Please join me this Thursday evening at 9:30 Eastern as host Coach Mark Prasek and I take a trip Around the Cross-Dubya on PJNET TV. We discuss this week's blog post, offer insight about the lessons learned, and enjoy the fellowship of friends in the live chat room.