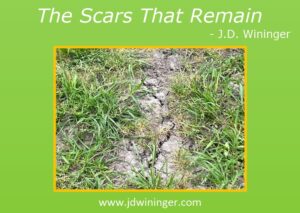 Driving across my pastures, I'm always looking for signs. Invasive weeds or insects that signal a need for treatment or sneaky serpents that can cause harm to my newborn calves and my buddy, Bubba, the chocolate lab. It seems every drive results in discovering more things to add to an ever-growing list of chores. On this day, I saw fewer things to do and more lessons from the past.
Noticing a crack in the ground, God led me to stop and consider what was before me. In Texas, it's not uncommon to see cracked ground (caused by a shrinkage of the dry clay-based soil, like a dry sponge). What is uncommon is seeing them in winter and spring, when puddles dot my pastures and my roads are muddy. Especially after God's blessing of nearly 41 inches of rain since last October. In the past seven months, we have received almost as much rainfall as we see in a year (~46 inches of rain). After suffering through a severe drought in 2021-2022, rainfall was much needed. It's replenished our pond, helped the winter grasses thrive (weeds included), and brought life back to our parched fields and pastures. Still, the scars of the damage inflicted remain. I often tell folks, "After last year, I'll never complain about mud again."
Taking the photo shown, I wanted to reflect upon this peculiar sight when I had more time. I wasn't sure what God wanted me to learn from it, but I felt strongly there was a lesson to be found.
God often prompts us to take notice of things He wants to use as an object lesson. #ATeachingGod #ListenForGod #AnActiveGod
Click To Tweet
The more time I spend in "God's Country", I find myself more attuned to how He uses His natural world (animals, plants, trees, weather, etc.) to teach us. It didn't surprise me I found a lesson in my pasture, but I sure didn't expect to see cracked ground. Indeed, the scars of a most difficult season remained. The chasms before me weren't as wide or deep as they were before, yet their presence reminded me of the pain and difficulty we faced.
Thinking and praying over the photo later, my mind traveled as my fingers ran across various scars all around my body. Running along each one, I remembered the injury or surgery associated with it, and the associated pain. Sometimes the injury inflicted the pain. Other times, more pain came in the healing. And yes, there was some pain I inflicted upon myself through self-talk and self-doubt. Next, I recalled some of the emotional scars I still carry. A less than stellar childhood, war, divorce, and losing loved ones came to mind. A lifetime of physical and emotional pain has left many scars. They form the roadmap of my life.
Scars come in many forms, yet all can reflect healing rather than hurt. #Scars #ReleaseFromPain #Healing
Click To Tweet
A roadmap? Like the lines of a highway on a map, my scars traced a route from childhood to the present. As my fingers traced my body's trail of scars (toes, ankle, knees, hip, side, shoulder, hands, and neck), they arrived at the place where the deepest scars of all live. My mind. It is here where all the memories of the pain, hurt, anguish, and sorrow live. With many, their journey stops there. They dwell on their past and re-live all the pain and hurt experienced in their life. Thankfully, God did not allow my journey of remembrance to end there. Instead, He guided me to the spot where my past trail ended and my new journey began. It was when my thoughts arrived in my heart that I found Jesus.
He was there, awaiting my arrival. With a smile and firm embrace He held me close and whispered, "I've got you friend, and your long journey of pain ends with Me." In that moment, I realized that while I kept many scars, there was no longer any pain associated with them. His gift of grace had allowed me to lay all the pain, anger, and hatred at His feet. He took it all and forgiveness removed all the associated pain. In my heart, Christ reminded me of His promise. "More pain and agony will come into this life. I have taken them too, if you remember to give it to Me."
One of my favorite worship songs is by Mr. Matthew West. His song "Forgiveness" speaks to me in a way few can. It reminds me that through forgiveness, God sets us free from the pain we ensnare ourselves with.
My prayer for you this week is that you partake of God's amazing grace by laying down the pain of your past once and for all. It's accomplished by surrendering it to God through the act of forgiveness (Ephesians 4:31-32). In doing so, you'll find your scars no longer cause you pain (Job 11:16). I assure you; the memories often remain but they become painless, numbed by grace.
God's blessings,