Now and again, we find someone with whom we "connect." Through her immense love for children, which is evident in her writing, book reviews, and dedicated homeschooling efforts. A fervent follower of her blog, I've come to trust her book reviews and have gained insights on helping children learn. Incorporating some of these techniques into the children I attempt to pour into has achieved great results. As we reach the end of our school year here in Texas, I thought it the perfect time to share her article with all y'all.
Please give a big Cross-Dubya welcome to my guest this week, Mrs. Sally Matheny.
God's blessings,

Now, here's Ms. Sally's article. I pray it blesses you as much as it did me.
What Will Our Children Remember?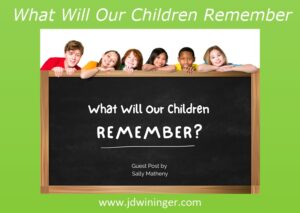 For many students, it's crunch time. As end-of-grade testing approaches, we wonder what the children will remember this year.
My state of North Carolina requires end-of-grade testing for homeschoolers as well. We don't stress about testing. But, what our children remember is important to us. The academics—yes. But, there are other significant things we want them to learn by heart.
Recall the Steps of Faith
We want our children to recall the brave steps of faith taken by people in the Bible, and throughout history.
In addition, we want them to witness people moving forward in faith today, especially within our home and our community.
Our first two kids were ages two and four when I left my full-time job teaching kindergarten. The oldest daughter was barely old enough to remember that year, much less the two-year-old.
So, throughout their lives, they've been told, on more than one occasion, how much I loved teaching kindergarten. And, how their dad and I had begun talking with contractors about building our growing family a house.
Then, one day, God allowed me to overhear a conversation in the teacher's lounge. A teacher said, "I'm stuck. We just moved into our new house. I love it, but now, I'll need to work for the next thirty years to pay for it." Her dejected tone sunk into my heart. Her daughters were just two years older than mine.
For days, the conversation percolated my thoughts. Finally, I told my husband I felt like we should postpone building a house. Instead, I should leave my job and come home and be with our girls.
Since we were already living paycheck-to-paycheck, his initial response was something along the lines of: "Are you crazy?"
But, he agreed we'd pray and talk more about it. We read Larry Burkett's book, Women Leaving the Workplace (Moody Publisher, 1999) and practiced living on one income for several months. We sold our car and got one that was less expensive.
I'll never forget what our oldest daughter said when I told her we may have to do without some of the extras. She said, "Oh, that's okay, Mommy. All I want is you."
Five months later, I left the job I loved for a greater love. For several years, I kept my teaching certificate updated. I thought I'd return in a few years. But, God had other plans.
Remember When Things Didn't Go As Planned
We want our children to remember how God has worked when things didn't go the way we thought they would.
After leaving my full-time teaching job, I worked part-time for a church as an administrative assistant. When the girls started school, it felt like we returned to the fast-paced race—rushing  to our jobs, scuttling them to school and after-school activities. Then, hurrying home to get homework finished before dinner so we could spend a little time with them—which quite often included counseling with them on the troubling things they'd encountered at school. Exhausted, we'd all fall into our beds, so we could begin the routine all over again the next day.
Once again, we had to step back and reevaluate. Rather than swishing through life, we craved slowing down and savoring our time together. We longed for more moments to guide our children's tender hearts and minds.
And, so, we decided to do something I said I'd never do—we chose to homeschool.
Our girls, then ages 6 and 8, completed their year in the public school before we began our homeschooling journey. So, this time, they were old enough to remember our family's scary/exciting step of faith. And, it wouldn't be the last one!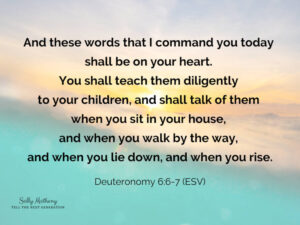 Over the years, our children have heard true stories, not just from us, but from their grandparents and others of the amazing ways God has worked in their lives. This has encouraged them to trust in God and bravely take steps of faith as well.
Homeschooling turned out to be a wonderful fit for our family. We've been at it for twenty-four years! It hasn't been perfect by any means. Some days have been really, really challenging.
But, one of the beauties of homeschooling is having more time and space to fully address these moments when they occur. God has certainly used many homeschool days for our sanctification. We have seen Him work time and time again, and often in ways we never imagined.
He continues to show us mercy, compassion, and great love. His goodness overflows as He provides for our needs, walks with us through deep valleys, and guides us every step of the way. These are the things I want our children to remember.
Sometimes, it's easy for me to get busy and forget to tell them. But, then I am reminded when I see in my Bible the underlined words of one of my favorite Psalms.
What the Bible Says
I encourage you to read the entire chapter, but for this post, I'll just share the first four verses from Psalm 78 (ESV):
"Give ear, O my people, to my teaching;
Incline your ears to the words of my mouth!
I will open my mouth in a parable;
I will utter dark sayings from of old,
things that we have heard and known,
that our fathers have told us.
We will not hide them from their children.
but tell to the coming generation the glorious deeds of the LORD,
and His might, and the wonders that he has done."
Who and Why Should We Tell?
Whether you're homeschooling, or not—whether you're a parent, or not—the Lord wants us to tell others about Him. The next generation includes not only our own children, but also the children we encounter each day. Consider the kids who live next door, or those at church, similar to those in the AWANA group whom Mr. J.D. teaches at his church.
Furthermore, the next generation is not necessarily young children—it may be the new coworker, the teen bagging our groceries, or the young couple living down the street.
Why should we tell them about the wondrous works the Lord has done?
Psalm 78:6-7 (NASB) tells us one reason:
"That the generation to come might know, even the children yet to be born,
That they may arise and tell them to their children,
That they should put their confidence in God
And not forget the works of God,
But keep His commandments."
So often we allow our lives to become overloaded with distractions and fears. By sharing our praises for what God has done, and is doing, our memories and testimonies will not fade away in silence.
It's crunch time. The next generation is listening.
What will you tell them to remember? #TeachTheChildren #ShowThemGod
Click To Tweet
About Sally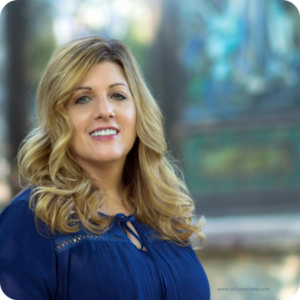 Motivated by the power of story, history, and His Story, Sally Matheny's passion is telling the next generation wondrous things.
Her nonfiction writing appears in worldwide, national, and regional publications including Appleseeds, Clubhouse Jr., Homeschooling Today, and The Old Schoolhouse.
She and her husband live in the foothills of the Blue Ridge Mountains and are blessed with three children, two sons-in-law, and armfuls of grandbabies.
Connect with her on several social media sites, but her favorite hangouts are at SallyMatheny.com and Pinterest.