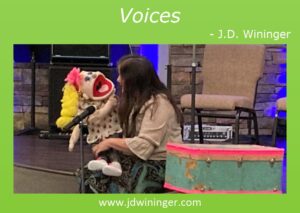 Like moths drawn to a flame, children young and old focus on the edge of the stage when the music stops. Inviting children, fifth grade and down, to come sit on the floor, all eyes focus on the well-used, fabric-covered suitcase housing a friend. Excitement grows as the little ones gather round. Grandparents lead some down front. Some approach with caution, not knowing what to expect. Others hurriedly rush to get their best position. The show, as they say, is about to begin.
Each Sunday morning, our entire church, both in-person and on-line, is invited to spend a few minutes with "Suzy Q" as the children prepare to leave for Children's Church. We all look forward to what this sweet, zany, sassy little lady has to say as she and her friend Ms. Christy introduce this week's lesson to the children. Some weeks, "Suzy Q" starts out with a song. Others, she yammers away at 90mph, reaching a high-pitched crescendo of excitement with her voice as Ms. Christy brings her back to earth. Carrying on conversations with the Pastor, "Willis the Gorilla", the children, and mostly Ms. Christy, little "Suzy Q" both entertains and shares Bible truths that pertain to the day's lesson.
She mesmerizes the children as she and Ms. Christy discuss the subject of the lesson. Putting her head into Ms. Christy's lap as they pray, children of all ages are moved by her example. Regularly videoed by visitors, we never quite know where her conversations might lead. We recognize that "Suzy Q" is a puppet, but her larger-than-life personality endears itself to all who witness this act of ministry. Often, our church erupts in laughter as she's being put back into "Suzy's House" and her now-muffled voice shares some last-second thought with the Pastor as he takes the stage.
I'm told there are many friends who live inside Ms. Christy's head and that life around the McMorris household gets interesting when they decide to visit. I can only imagine what it's like when they all decide to have a tea party and Ms. Christy is the only one in the room. What must it be like to have six different voices and personalities all conversing with you at the same time? That's when I realize, while we may not bring them to life as Ms. Christy does, we all have voices inside us. As my friend Ms. Christy states, "Knowing which ones we should listen to is important."
What voices do you listen to in your life? #Voices #Discernment #Guidance
Click To Tweet
As I thought about the voices in my life, several come to mind. Growing older, I've found I hear my mom and dad (and the many life lessons they imparted) more and more. I hear the voices of co-workers who taught valuable skills and life lessons that have served me well. These voices manifest themselves as memories and help guide my decision-making and actions.
Other voices seek to lead me astray. Satan and his minions bombard us with enticing thoughts that always lead away from the Word of God. Often camouflaged to appear aligned with God's Word, they worm their way into our lives when we don't pay attention. It is only by learning to discern God's truth (the only real truth in this world) that we can identify and avoid them. The best way I know to do that is to study and hide God's Word in our hearts. We can then take every thought captive (2 Corinthians 10:5) and compare it to God's truths. The test that has proven itself most helpful to me is this. If it points to God, it is good. If it points away from God, then we know it is not of God.
The most important voice within me is an active one. It is the Holy Spirit. I'm still learning to listen to Him more closely as I mature along my journey in faith. Isaiah 30:21 reminds me of the importance of listening for God's direction in our lives.
So, who is this genius behind all the voices found inside Mrs. Christy McMorris? She's quick to tell you that it's a gift from God. I believe that to be true, but I'm keenly aware of how hard she must have worked to master this creative act of ministry. As Director of Children's Ministry at New Beginnings Fellowship Baptist Church in tiny Sulphur Springs, Texas, Ms. Christy wears many hats each week. Chief among them is being a pastor's wife, mother, and grandmother. How she finds the energy to accomplish all she does each week is unfathomable for many. I found the answer in Zechariah 4:6.
God is the giver of all spiritual gifts and talents (James 1:17) and gives to each that which He deems necessary to carry out His plan for our lives. It is up to each of us to identify, embrace, and hone these gifts, using them in His service. Called to be a Christian writer, learning the skills needed to employ my craft often-times seems far from my reach. It is in the words of 1 Peter 4:10-11 that we find the encouragement needed to put in the long hours required to develop our gifts. By understanding how important being faithful stewards of God's gifts is helps us to better use them for His purpose.
How are the unique gifts and talents God has given you being used in His service? #Stewardship #AGoodSteward #FaithfulService
Click To Tweet
Something my friend Ms. Christy has taught me is that serving God can take many forms. In her case, she serves Him by leading our church's children's ministry, playing piano, and singing as part of our Worship Team. She also directs our AWANA program and performs a myriad of other tasks each day few others are even aware of. Most of all, she is a gentle, caring, and loving sister-in-Christ who always makes time to support, encourage, and edify others. "Letting God lead" is her mantra, and it is so evident in her life of service. I, for one, am humbled by her example.
I pray you'll join me in offering a word of thanks for the many ways folks like Ms. Christy serve our church families. It is their selfless service to others and dedication to furthering God's kingdom that brings us all a bit closer to God each day. Also, I encourage you to consider in what ways you can use the God-given gifts and talents you have in His service in the coming days. If we all do a little, we can lessen another's burden and live out His plan for our lives.
God's blessings,