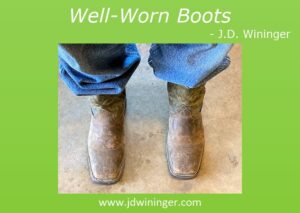 As the old farmer stepped out into his garage, he bristled at the cool morning air. Reaching down, he patted his faithful companion, who immediately came to his side. Groaning softly as he bends down to slip on his work boots, he's led into a holy pause. How old are these comfy old boots now, he wondered. Pondering his question, he reckoned nigh about nine years. Only my second pair, he mused to himself. They might make it to the end.
The day unfolding, the old man couldn't stop looking at and thinking about that well-worn pair of boots. Plain, durable, and built to last, they were made for a purpose. That purpose, the man thought, to get the job done. His boots were scuffed and stained, with a worn left heel that reflected his own imperfection. Yet, they were perhaps his most comfortable footwear. The insides had become molded to fit his feet, and the leather was supple and soft. He remembered how the boots were stiff and uncomfortable at first. With a thick sole and composite toe, these boots were made to withstand the difficult ranch environment they were meant for.
As he worked, he considered how many trips they had made out to the barn or pasture to feed the livestock. He wondered how many times cattle or an ornery horse had stepped on them. They were even peed on when he wasn't paying attention and stood too near the business end of an animal. And that scar on the right vamp? Man, when that piece of steel came loose, it could've cut my foot clean off. Sure glad I was wearing these that day, he thought. Thinking about his trusty old work boots, the man smiled to himself, having considered all the muck and mess his boots had been through. He remembered all the trips up and down off equipment, and the many miles they had carried him along his life's journey.
Stepping onto the new deck to help set a wall for a building at a local church with friends, the old farmer received the word from God he was awaiting. He knew that if he kept letting his thoughts flow, God would reveal the lesson He had for him that day. The answer came in words from Matthew 25:23, "… Well done, good and faithful servant… ". The farmer thought about the first time he had heard those words. It was many years ago when he was listening to Billy Graham on a television program. The old farmer realized that he, too, was longing to hear those words one day.
"Good and faithful", the farmer pondered these words. What does that mean to me, he thought. "Good" was easy. He understood it meant, to him, doing what was right in the eyes of God. But "faithful", that was tricky. During a break in activity, he thought about the Parable of the Talents from which that phrase originated and offered a silent prayer. As Jesus told the parable, His purpose was to help us understand what it means to be faithful.
Being faithful is putting our faith into action. #FaithIsAVerb #Faithfulness #GoAndDo
Click To Tweet
Satisfied with his understanding, and break over, the old man returned to the job at hand. Still, his boots had more to show him, as God had more to teach him that day. As the morning turned the corner into afternoon, he thought more about the dusty, dirty, well-worn boots on his feet. A nagging thought made its way from his heart to his head and revealed itself. It did so with the words, "consider the character of service." Were my boots now talking to me, he laughed to himself. They weren't, he reasoned, but God sure was.
If faithfulness is putting our faith into action, then faithfulness is exhibited through service. These old boots have served me well, he thought. But why? He reasoned, they get no pay, no reward, they don't shout "Hey, look what I did today." Aha! The light came on! The boots are inanimate objects, they are tools. They don't seek personal gain, satisfaction, or acknowledgement, they simply serve. This led the old man to consider the character of his service. He pondered this question. Who do I serve, God or myself? The answer, he knew, was in the next question. Who does your service glorify, you, or God?
The character of your service is determined by who gets the glory, you, or God. #FaithfulService #AllGloryIsGods
Click To Tweet
Reconciling the words of Matthew 25:23 with Colossians 3:23, the farmer recognized that seeking a reward for faithful service is not wrong. Luke 10:7 validates this; but we earn reward through good and faithful service unto the Lord, and not for our own glory.
I leave you with two thoughts this week. First, I encourage you to look for ways you can use the talents and gifts God has given you in good and faithful service to Him. There's no place for the 90-10 rule (90% of the work gets done by10% of the people) in the body of Christ. Second, always consider the character of your service by asking yourself who gets the glory.
Something I've considered this week is how God sees me. When I arrive in heaven, will I learn that He saw me as that scuffed, stained, well-worn pair of work boots? I pray He doesn't view me as that pair of shiny, scuff-free pair of boots that sit there under the church pew for only an hour a week. I don't reckon He'll have too much reward for the shiny me, as He made me for good and faithful service.
God's blessings,

Please join me this Thursday evening at 9:30 Eastern as host Coach Mark Prasek and I take a trip Around the Cross-Dubya on PJNET TV. We discuss this week's blog post, offer insight about the lessons learned, and enjoy the fellowship of friends in the live chat room.