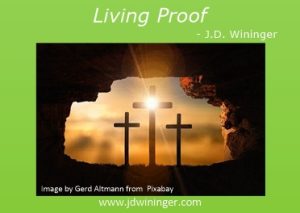 What single word comes to mind when you hear the name Jesus Christ? I have heard many answers to this question over the years. Some have answered "philosopher, prophet, revolutionary, and man"; but the one word that sums it up best for me is everything. Pure and simple, straightforward and succinct; when you place Christ in the center of your life, He comes to mean everything to you. If you allow Him, He can become the foundation for your life.
Christ is my everything because He means everything to me. #Easter #HeIsRisen #Resurrection
Click To Tweet
For me, Easter has long been a week of reflection that culminates in joyous celebration. I think about the tremendous price Christ paid for each one of us. It is overwhelming when I stop and recognize how Jesus Christ, the living Son of God, voluntarily left heaven to become man for my sake. His human life gave us the living example of righteousness to follow as He willingly paid the price of our sin to redeem us in His Father's eyes (John 3:16). He ransomed heaven to pay the sin debt we could never pay. Jesus overcame death, sin, and the grave for each of us when on the third day He arose (1 Corinthians 15:3-4). Oh, friends, when you consider all that He gave, all that He is, and all that He offers, how can we continue to selfishly deny Him?
Christians use many words to describe Jesus, such as Savior, love, peace, joy, forgiveness, mercy, perfection, grace, teacher, and others. For me, it's everything. He is my:
Salvation—By His sacrifice, I am saved by grace, through faith (Ephesians 2:8)
Teacher—He teaches me the way of righteousness (John 13:13)
Comforter—I come to Him in times of sorrow; for He cares for me (2 Thessalonians 2:16-17)
Freedom—In Him, I am free from the shackles of sin and death (Romans 8:2)
Conscience—With His guidance, I traverse the righteous way, in the midst of the paths of justice (Proverbs 8:20)
Joy—I am made full by the joy He gives me (John 15:11)
Mentor—Jesus modeled every example I should endeavor to follow in my life (John 20:21)
Friend—He is my constant companion; always there whenever I call (Proverbs 18:24)
Disciplinarian—He instructs me, He leads me in the path of righteousness (Psalm 23:3)
Intercessor—It is through Him I can draw close to God (Hebrews 7:25)
Brother—He seeks to sanctify me (Hebrews 2:11)
Hope—In Him, I have the living hope of His promise for eternal life (1 Peter 1:3)
Judge—I will bow at His throne one day, facing His divine judgment (Matthew 25:31-46)
One of my favorite songs is "Living Proof" by Wilburn and Wilburn. A part of the chorus includes "… The story of my Savior stands upon the rock of truth; cause when it comes to Jesus, I've got Living Proof!" My proof is in the text the apostle Paul wrote in Galatians 2:20.
"I have been crucified with Christ; it is no longer I who live,
but Christ who lives in me; and the life which I now live in the flesh
I live by faith in the Son of God, who loved me and gave Himself for me."
(Galatians 2:20, NKJV)
I find my proof when others see how Christ lives in me.
Click To Tweet
I see evidence of His living proof in the actions, words, and deeds of every true Christian I meet in this world. It is the perseverance I see people exhibit when facing adversity. I see Him in the grace extended to others when the world chooses instead to condemn. His living proof is in the love I see delivered by the hearts of Christians who fill the world with God's love through a smile, kind word, or gentle touch. It is in the glorious, humble acts performed by others; not from a sense of duty or responsibility, but from a desire to show compassion to others and glorify God.
I have proof my Savior lives, because I see Him in Christians all around this world; and I pray people see Him in me as well. Let us each attempt to show and share Christ with others each day. I pray Christ's true church rises up and stands tall once again—a shining beacon of hope and truth in this land. As we join together and reflect upon the last days of Jesus' earthly life, let us find the joy that Easter brings by knowing we are living proof that He is risen indeed (Luke 24:34).
God's blessings,
J.D. Wininger