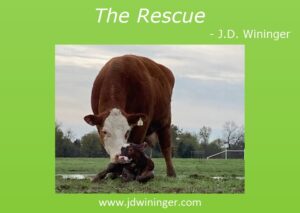 "Turn your ear to listen to me; rescue me quickly.
Be my rock of protection, a fortress where I will be safe."
(Psalm 31:2, NLT)
To most folks, one cow sounds like any other. Before starting my own herd, I too would've told you they all sound, move, and act the same. Reality check! Like anyone with a soul, cows have things that make each one unique. In my small herd, you get to know every cow's distinctive voice, their likes and dislikes, and even what makes them smile. Yes, cows smile.
With tail crooked and not coming to feed that morning, I knew it wouldn't be long. As if on cue, as soon as Mr. John walked out of the house after breakfast, he rushed back in to tell me that "Uno" just calved. What he didn't tell me was where she had just had her baby. Working on breakfast dishes at the sink, I heard "Uno's" distinctive distress call. As soon as I opened the window blind, my heart began to race.
On this cold spring morning, "Uno" was at the edge of the steep north bank of the pond when she laid down to deliver her calf. As cows do, she rolled onto her left side and let nature take its course. Unfortunately, her position put her calf in jeopardy that one or two more steps might have removed. As the calf exited mom, it did so over the edge of the bank, causing it to slide down the bank. With the calf about to enter the frigid water and unable to reach it, mama did the only thing she could, she called out for help.
Newborn calves, before mama cleans the remains of the amniotic sac from them, are ultra-slippery. When this frictionless material met the frosty ground, the bank became a Slip-n-Slide. Unable to stand immediately upon birth, calves can do little beyond gasping for their first breaths when born. The baby lay half-submerged in 30-degree water. As only God could have known, the bank held a small ledge at the water's edge that kept her head above the waterline. One foot in either direction would have likely resulted in the calf's total immersion in the freezing water.
Racing out the door, Mr. John and I arrived at the pond about the same time. With no thought about the water moccasins, snapping turtles, or cold, we both hurriedly made our way down the slick bank to the calf. As I entered the water, I could feel the mud at the bottom of the pond sucking me in. I lifted the calf out of the water and Mr. John grabbed her and held on until I could get my footing on the slick bank. We then slid her up the bank. On top, with mama calling out, we carried her safely out of harm's way.
Mama "Uno" wasted no time in moving me out of her way with her head and proceeded to stimulate and care for her baby with her tongue. As John and I climbed into the UTV, we simultaneously exclaimed, "That was close!" Followed by a "Thank You Lord." We took up a position twenty yards away to give mama and baby some space. As mama lovingly cleaned her newborn, Mr. John and I shivered in the cold morning air. The exhilaration of the rescue had provided enough adrenaline that neither of us minded the cold. As we calmed down, its effects dwindled, and the coldness set in.
After fifteen minutes, we both shouted encouragement as the little heifer struggled to stand for the first time. A few minutes and several failed attempts later, she was on her feet and searching for nourishment. As "Uno" seemed to glance our way and low her appreciation, I moved back up the bank to gently guide the pair off the hillside. On flat, level ground and away from danger, mama and baby could nurse, rest, and bond safely.
After changing out of our wet, muddy, and cold clothing, Mr. John and I sipped coffee and thanked God for watching over this new life. We watched them from the window as mama led her baby away to settle in and rest on a bed of hay. "What's next boss?", John asked with a smile.
Smiling back, I responded with, "Prayer."
After warming up, we continued with the day's chores. The rescue became simply another task in a day filled with chores that needed doing. In my mind, though, a nagging thought lingered. How did this compare with how God rescued me? My mind knew my heart held a lesson the Holy Spirit needed me to grasp. I also knew it had been far too long since I had expressed my appreciation for His rescue in my life.
When is the last time you thanked God for rescuing you? #Rescue #GodIsGood #HeIsWorthy
Click To Tweet
Later that afternoon, I found the answer I was searching for. Like the calf, I was drowning (in sin) and required rescue from what was certain death. Spiritual death, in my case. And upon my rescue (salvation), I was unable to stand in my faith. I needed nourishment (the milk of His Word) to grow stronger and learn His ways. My first steps in faith were wobbly and unsure, but in time, I grew stronger and steadier. The new calf's rescue was a metaphor for how God rescues His greatest creations.
I realized the Holy Spirit was reminding me of the importance of discipleship and how we more mature Christians have a responsibility. We are to help those who are yet unable to help themselves. Throughout the New Testament, we are called to help and serve others in God's name, both those within the body of Christ and beyond. It seems I needed a reminder of my responsibility to those within my family of faith as much as those I evangelize outside of the church.
As Christians, we are to serve those inside our family of faith every bit as much as those outside. #DiscipleOthers #HandsAndFeet
Click To Tweet
I was reminded of these words below, with which I'll close this post.
"Christ has no body now but yours. No hands, no feet
on earth but yours. Yours are the eyes through which
he looks compassion on this world.
Yours are the feet with which he walks to do good.
Yours are the hands through which he blesses all the world.
Yours are the hands, yours are the feet, yours are the eyes,
you are his body. Christ has no body now on earth but yours."
–Saint Teresa of Avila

God showed me His appreciation a few days later. While feeding, little "Gianna" (the rescued calf's name) stood and watched as mama was eating from the trough. When she lowered her head, I noticed the white spot on her poll (top of her head) was heart-shaped. "Thank You Lord."
God's blessings friends,