What a privilege it is to share a guest post from one of my favorite Christian writers (boy, how this group has expanded the past few years), Mrs. Diana Derringer. In addition to be a lover of words (a logophile), Ms. Diana's godly heart is apparent in everything she pens. I've long been a fan of her weekly blog posts and keen insights and am most grateful to share this reprinted post with you today. Please extend a hearty Cross-Dubya welcome to my precious sister-in-Christ and friend, Mrs. Diana Derringer.
If Trees Could Talk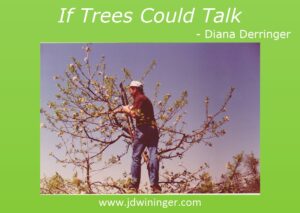 For about 20 years my husband and I enjoyed the benefits of a small orchard. Nothing satisfies quite like fresh fruit still warm from the morning sun.
However, every spring, in order to achieve maximum yield, we spent the better part of a day, or snatches from several days, pruning.
Can you imagine what those trees might have said, if they could talk, when they saw us approaching with our various sized loppers and saw in hand? With no way to flee and nowhere to hide, their future remained at our mercy.
If Trees Could Talk When Pruned
Picture with me some possible responses:
No, no, not again! It hurts too much.
Can't you just leave me the way I am?
Please, not that limb. That's my favorite.
Nevertheless, we proceeded with the task before us.
Finally, when we believed our mission accomplished, my father inspected our work. Regardless of how drastic our actions, we had never pruned quite enough. In fact, some years I thought Dad would surely kill a tree or two by the time he added his finishing touches. They looked so bare, stripped of all but a basic outline of their former selves.
Yet, within a short time, each tree began filling out again, more beautiful than ever. Then blooms appeared … everywhere! Later, rather than scarce, knotty fruit, we harvested an abundance of large, healthy, tasty apples, pears, peaches, and cherries — enough to eat, freeze, can, and share with others.
Left to themselves, the trees' harvest would have been minimal and poor quality. The work my husband and I did improved their potential. Yet, my father, a connoisseur of vintage fruit with years of experience, knew exactly what they needed, forcing them to produce a bumper crop of the biggest and best year after year.
If Trees Could Talk at Harvest
Now, imagine the trees' subsequent expressions of gratitude:
Thank you. The pain was worth it.
I'm so grateful you didn't leave me the way I was.
Look at how much I produced because of the tough choices you made.
Can you see that in our spiritual lives as well?
Spiritual Pruning
When God prunes the dead weight, we often find ourselves kicking and screaming all the way. It hurts, and we don't like it.
God also trims the less productive, making room for previously untapped capabilities to emerge. Yet, we want to hang on to the comfortable, familiar ways of our past. Nevertheless, God knows the comfortable and familiar, much like an old pair of gardening shoes, have seen their better days. They need to be replaced.
Because of God's work, we discover previously untapped skills. We grow stronger, blossom, and bear fruit like never before.  Much good comes from all that pain.
Spiritual Harvest
In all probability, we will never see the full benefit of God's shaping our lives. Just as an apple tree remains unaware of the multitudes who enjoy its harvest, we won't know how far our labors reach. Long after our most productive years, the seeds from our fruit will continue to multiply through harvests of their own — just as our Father, the master gardener planned.
"He cuts off every branch in me that bears no fruit, while every branch that does bear fruit he prunes so that it will be even more fruitful" John 15:2 (NIV).
About Diana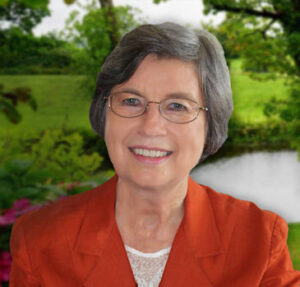 Diana Derringer, author of Beyond Bethlehem and Calvary, shares hope and joy through more than 1,100 devotions, articles, dramas, planning guides, Bible studies, and poems in 70-plus publications, including several anthologies. In addition, Diana writes radio drama for Christ to the World Ministries. Her adventures as a social worker, adjunct professor, youth Sunday school teacher, and friendship family for international university students supply a constant flow of writing ideas. For a free copy of Diana's "Words of Hope for Days That Hurt" and her weekly Words, Wit, and Wisdom: Life Lessons from English Expressions, join her mailing list at https://dianaderringer.com. You can also connect with her on Facebook, Twitter, Instagram, Pinterest, Goodreads, and LinkedIn.
The more we allow God to prune our lives, the more good fruit we'll produce and the greater His harvest will be. #PruningBringsGoodFruit #Dicipleship #GrowingFaith #HarvestingGoodness
Click To Tweet
Thank your for sharing your wisdom with us this week Ms. Diana.
God's blessings everyone,