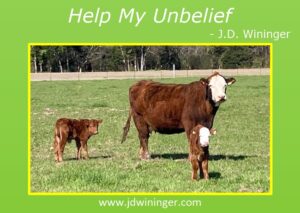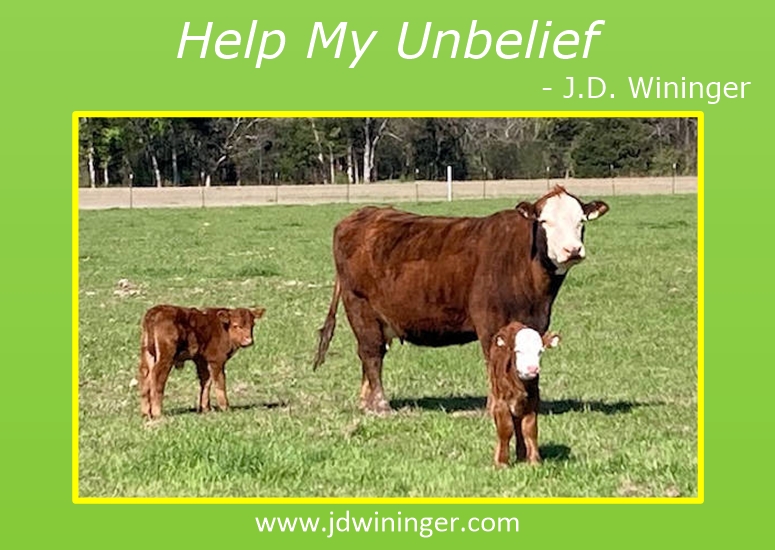 Immediately the father of the child cried out and
said with tears, 'Lord, I believe; help my unbelief!'
(Mark 9:24, NKJV)
I've long had questions about that Scripture verse. How can someone claim they believe and state their unbelief in the same sentence? Isn't that the very definition of a dichotomy (contradiction)? It took twin calves for God to show me the understanding He wanted me to grasp.
Last week, "Prancer" delivered a small yet beautiful set of twins (boy and girl). At 30-32 lbs. each, these are the smallest calves God has blessed us with here at the Cross-Dubya to date. As always, we did a quick visual inspection and left them alone to find their way and bond with mama. The little heifer took much longer than normal to get to her feet and even longer to find the faucet. As time elapsed, my mental clock ticked louder and louder. When the alarm sounded, I rounded up Mr. John and prepared a bottle of replacement colostrum.
Picking up the newborn calf to constrain it, its small size shocked me. Worriedly, I said, "Not sure these guys are gonna make it, Mr. John."
In his usual easy-going manner, he stated, "They might be small, but they're strong and they've got a good mama to look after both of them." I appreciated Mr. John's optimism, but Satan was already working on me. In my mind, I was already calculating the risk of not getting colostrum soon enough after birth, especially on a cool, wet day. I weighed the fact that this was the first time "Prancer" had twins. More often than not, a mama won't take both calves. She'll wander off with one and forget the other. I've lost more sets of twins than I've saved, and these are the smallest ones yet, Lord. All these thoughts were racing through my mind.
Taking only a third of the bottle, I knew it wasn't enough of the rich colostrum to help the small calf's system. She needed more. She needed to nurse her mother before she lost her colostrum. Her brother nursed quickly and seemed to have more energy. A little larger, he might have a chance.
Overwhelmed by thoughts and emotions, I did the only thing more I knew to do. "Lord, as always, I place these calves in Your mighty hands. Your will be done Father." And with that, I loaded up things and headed back to the house. Over the years, I've realized I have very little to say whether an animal in my care lives or dies. I've seen weak ones survive against the odds and I've seen strong ones succumb to illness and perish overnight. It's in God's hands and that's always the best place for any of us to be, I thought.
That afternoon, I used the tractor and bucket to spread some concrete washout to help fortify an area near the barn. A wetter than usual spring has been a blessing after this prolonged drought, but all the mud and wetness can take its toll. After praying so hard for rain, I don't think I'll ever complain about losing a boot in the mud again. Without thinking about it, I left the bucket attached instead of replacing it with the usual hay forks. Walking back to the shop, I perhaps unconsciously knew I was going to bury one or both tiny calves. When Mr. John asked, "You want to go tag and InForce™ (an intranasal vaccine we use on all newborn cattle), them calves?", my heart gave me away.
"Naw Mr. John, I ain't got much hope for these little guys. Let's not waste 'em." John argued about how strong they were, but accepted my decision. I spoke with my friend Mrs. April Pope of Cape Fear Farm in NC. A Physician's Assistant (PA) in her other life, I've nicknamed her "Doc". To guard against a potential Thiamin deficiency, I left for the local farm store (20 miles away) to get a bottle of Vitamin B Complex.
While I was gone, Mr. John called to tell me that "baby girl" was nursing. His elated voice soon changed to a serious tone as he said, "Please don't give these babies a shot. I done spoke to the good Lord and asked Him to take care of these two and put anything on me instead." Humbled, I agreed no injections when I returned home even though I knew Vitamin B could provide a boost. I also reminded my young brother-in-Christ that we can't bargain with God but accept His will in all things.
While we can't bargain with God, He will listen to a sincere heart crying out to Him. #Faith #ARanchersPlea #CrossDubya
Click To Tweet
Instead, we were out there an hour later trying to give them a bottle and feeding them each a tube of ASAP. I mused at myself, I won't waste a three-dollar vaccine and a two-dollar ear tag on them but will give them a $10 tube of bio-actives. Some days, I realize just how illogical ranchers can be.
As I thought about those little calves through the evening, and did some more praying over them, God shared more of His wisdom with me. Throughout my prayers, the words "Help My Unbelief" kept screaming from within. Looking up and re-reading Mark 9:24 and the all-too-common story of the man and his son's intersection with Christ, understanding came. I too was experiencing my version of unbelief.
For many years, I viewed this verse as one of those contradictions I might never understand but accepted in faith. I believed that one day God would reveal what He wanted me to understand about this Word. That day finally arrived. Reaching for my Commentaries, then reaching out to a dear sister-in-Christ who is more versed in the Greek, Hebrew, and Aramaic languages of the Bible than me, I sought understanding. As my Christian writing friend, Mrs. Stephanie Pavlantos explained, in Aramaic (the language most think Jesus spoke while on earth) the word is "hayaman." As she explained, this word meant both belief and faith. The light, as they say, came on for me!
Is our faith enough for every situation? God can always grow you more if you ask. #Faith #Belief #GrowingInChrist
Click To Tweet
So what God's Word is saying is that the father was stating, "I have faith Lord, but help me have enough faith." Again, God humbled me. As a long-tenured, thought-to-be mature Christian, God revealed we can always grow more in our faith. He gently reminded me in prayer, however, that growth doesn't happen without effort on my part.
Well friends, here we are a week later and I'm fixing to go out and vaccinate and tag those two strong, healthy little calves. They're still tiny, but already high-tailing it around the west pasture as mama looks on. Thinking about my new understanding, I recognized my need to ask God to help me have enough faith in every situation I might face in the coming day. That's a much different prayer from merely asking Him to walk with me throughout my day. My prayer for you this week is that you might seek God's face to understand more of His Word in new ways in the coming days.
God's blessings,

P.S. Ms. Diane has named the calves. As I was walking out to tag them, I stated, "I reckon it's time to name them two." She immediately shared they would be called "Tommaso" (bull) and "Tommasina" (heifer). Interesting enough, and she didn't realize this until I pointed it out, the name "Thomas" means "twin."