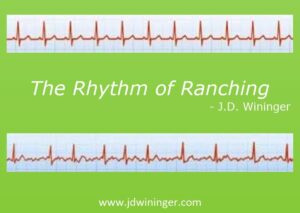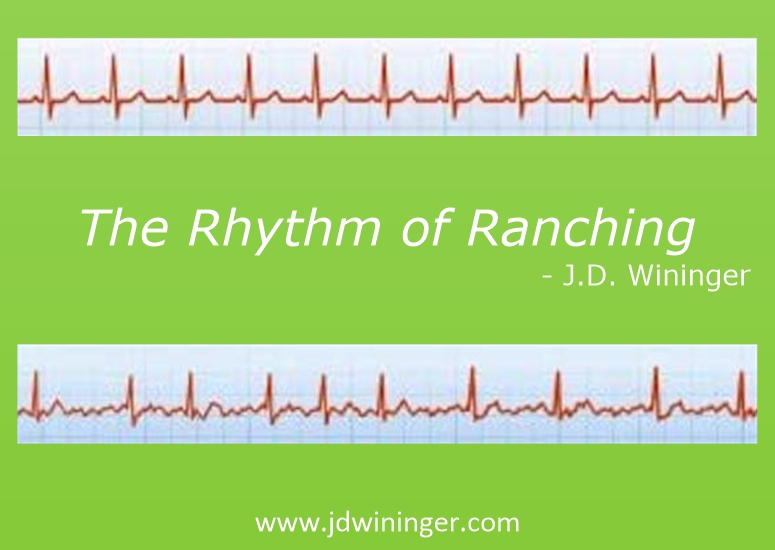 For most of us, there's a predictable rhythm to life. We rise each morning, brew then consume copious amounts of coffee or other beverage, and spend some time in study, prayer, and devotion. Some time after that, we prepare breakfast, spend a few moments with our loved ones, and then dash off to work. There, you toil for eight-to-ten hours and return home often exasperated and exhausted from the day. The evening meal, a few chores, a few hours of television, and then slumber.
If a rancher's life is anything, it is unpredictable. Example? It's 1:30 in the morning and this rancher is sitting at his desk after a night check on new calves (letting the lights tell the coyotes they're not alone). On my desk, there's three unused 20-gauge syringes, a bottle of Vitamin B Complex, and two tubes of Nursemate ASAP next to my Bible. Looking at my phone's browser history, you find a visit to the Merck website, a link to Peach Teat™ nipples for nursing calves, and Tractor Supply.
Looking forward to the day ahead, it's checking the weather app 42 times to see when the rain stops, expected totals, and planning inside work we can accomplish. Beyond that, we surrender our day to God. How our day plays out is known to Him alone, but it could include fencing, plowing, fallen limb removal, feeding, and more newborn calves. What we do know is that whatever the day brings, we need God to be a part of it. Whether calves live or die, whether the grass and clover emerge or not, and whether it's an easy day or another long one, we rely on God seeing us through.
What I've learned in the past decade is that the Rhythm of Ranching is best described as dynamic. On any given day, a rancher can move from a frantic, fast-paced medical emergency to leaning on a gate and watching the sun setting over fields and pastures. As much as we plan and attempt to control events and things around us, ranchers recognize that we are most decidedly not in control of much. At best, I can control myself and how I handle the constant changes and challenges throughout my day. I don't always do a good job of that but have learned that I must rely on God to help me through my weakness.
The Rhythm of Ranching is best handled through a close relationship with God. #CrossDubya #RhythmOfRanching #RelianceOnGod #Faith
Click To Tweet
As the ECG strips in the photo above demonstrate (and yes, they're both from my heart), our rhythm can change in seconds. The top strip shows a normal rhythm and pace. Much like my heart, my life goes along on an even, steady pace. Some days are measured, uneventful, and easy-to-navigate. Other days can start that way and then suddenly thrust you into a frenzied state of out-of-control racing and pounding. As the lower strip shows, atrial fibrillation (Afib) consists of lots of extra heartbeats, or heart flutters, in between your normal rhythm. Fortunately, medications help control my Afib, minimizing its frequency and severity.
Thinking about this, I wondered, if my physical heartrate can go from 64 bpm to 200 bpm, racing out of control, can my spiritual heart get out of sync too? In my life, that answer is a firm YES. More often than I'd like to admit, I can let all the emergencies, external demands on my time, and unplanned events in the day overwhelm me. Is it that I'm selfish or self-absorbed and "want what I want" or is it a natural human response to the extreme conditions my life is often subjected to? Whatever it is, when it happens, it can get messy.
I've long known that I have a grenade personality. What's that you say? I've never seen it on a Myers-Briggs Type Indicator report either, but it's the best way to describe me. I go along pretty peaceful and inert most of the time, but let circumstances pull my pin and release my spoon and anything/anyone around me will feel the blast.
Understanding this about myself, and maybe some of you may have your own grenade moments, what's the solution? How can we limit the explosions of emotion in our lives? There's two verses I lean upon, but the most powerful solution I know is asking the Holy Spirit to walk with me throughout the day. I ask Him each day to help me keep His peace at the forefront of my life. Those two verses are:
Romans 8:6 (NJKV), "For to be carnally minded is death, but to be spiritually minded is life and peace."
James 1:19-20 (ESV), "Know this, my beloved brothers: let every person be quick to hear, slow to speak, slow to anger; for the anger of man does not produce the righteousness of God."
There are many other verses I can cite, but I've hidden these two in my heart to remind me to do my best to be the man God expects me to be. Romans 8:6 reminds me that while I may seek to be righteous in the eyes of the Lord, I am still human and therefore still possess a carnal human spirit. This human spirit is constantly warring against the Holy Spirit that has indwelled me. I recognize that when I indulge my humanness and spew venomous words or slam things in disgust, I turn away from God and the spiritual gift of self-control He has given me.
Preferring the ESV for James 1:19-20, as it uses the word "anger", which best describes the emotion that most overwhelms me, I'm reminded that my anger does not honor God. I've learned that while in this flawed human form, I can't stop anger and frustration from happening; they are natural emotions that are part of the human condition. What I can do is better learn to control them. The most important ingredient in that is the Holy Spirit. He gives the spiritual gift of self-control and can help us yield it to produce a righteous response to our human emotions.
Self-control enables us to respond to a situation rather than reacting to it. Second Timothy 1:17 (ESV) says it all for me; "…for God gave us a spirit not of fear but of power and love and self-control." As Paul was writing to his young protégé, I believe he did so from both experience and inspiration of the Holy Spirit. If anyone could have learned to control his anger and outrage at the things occurring in his life, the Apostle Paul would have to be the role model. Paul was saying, "If you allow the Holy Spirit control over your life, you can use His gift of self-control to live a more God-honoring life."
Exercising self-control allows you to better demonstrate the other fruits of the Spirit in your life. The key is that you can't always do it on your own. It is in allowing the Holy Spirit that control that the power needed to overcome the flesh is found.
It is allowing the Holy Spirit control over your life that you can find the power needed to overcome the flesh. #SpiritualPower #SelfControl #Peace
Click To Tweet
When I do this, the other fruits of the Spirit I've been blessed with can flow more freely. I'm constantly amazed to see how each spiritual gift supports the others. If like me, and you sometimes struggle with letting your human emotions get the better of you, remember to call upon and remain close to the power of God dwelling within you. Whatever rhythm of life you find yourself in, remember that Christ called Him our Helper for a reason. Call upon Him in your moment of need and ask His help with whatever situation you are facing.
God's blessings,

Please join me this Thursday evening at 9:30 Eastern as host Coach Mark Prasek and I take a trip Around the Cross-Dubya on PJNET TV. We discuss this week's blog post, offer insight about the lessons learned, and enjoy the fellowship of friends in the live chat room.