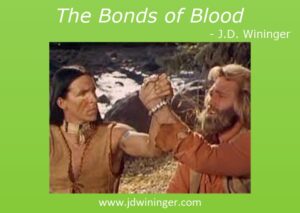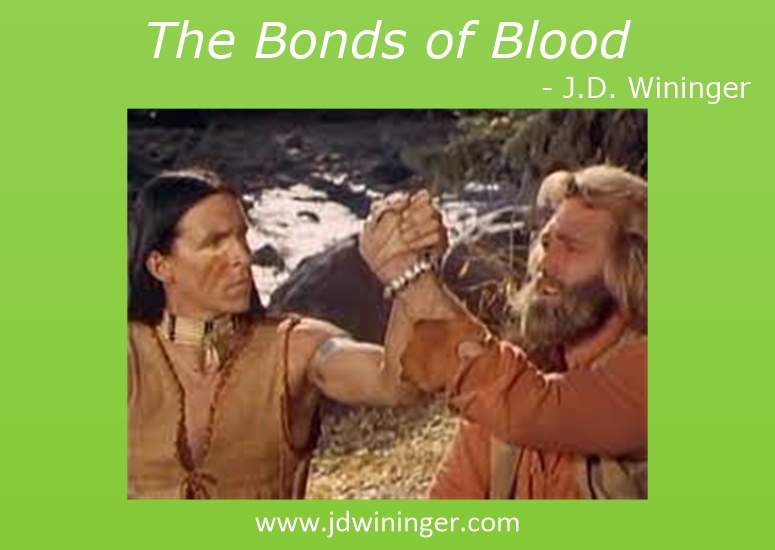 How many of you remember watching western movies when the white man and Indian reached an agreement? They sealed their agreement to live in peace with one another by becoming blood brothers. In our youth, young fellas cut fingers or palms of our hands and lashed our two bleeding members together with another, letting our blood intermingle. Later, I remember the scene being replayed in an airing of The Life and Times of Grizzly Adams[i] (depicted above). This blood covenant has its roots back many centuries, long before watching it play out at the movies in the 50s, 60s, and 70s.
Reading the book of John this week, the Holy Spirit reminded me of how as a young boy, I did this with friends on the playground. Many, whose names have been lost to the ages. We never realized the serious nature of what we were doing. Our imitation, however, is steeped in spiritual importance. A blood oath makes a covenant, which is a most serious relationship in the Bible.
God's covenants with man are never broken. #Truth #BondsOfGrace #HisBloodForgivesOurSins
Click To Tweet
According to the Encyclopedia Britannica, a blood brotherhood[ii] is the act of binding persons together in a fashion analogous to, but distinct from, kinship ties. Other forms of fictive kinship include adoption and godparenthood. I'm okay with all but one word of that definition, "fictive." There is nothing assumed, fake, or pretended about my kinship with Christ. God's Word proves it! Romans 8:14-17 tell us that as Christians, we have become adopted sons and daughters of God; joint heirs with Christ, who now lives in us.
Our blood covenant with God was made through our covering of Christ's sacrificed blood (Romans 5:9, Ephesians 1:7). #HisBloodForgivesOurSins #Adoption #HeirsWithChrist
Click To Tweet
A blood covenant is perhaps the most binding form of agreement, in that it implies we are pledging our very lives on the promise that we'll honor the agreement we make. In days long past, a blood covenant, when broken, resulted in the forfeiture of one's life. Thinking about these facts, I came to the realization that if I am a joint heir with Christ, if I have been adopted into God's royal family, then I am related to every true Christian man and woman in the world. What a sobering revelation that was for me. I realized that all too often, I don't think about that truth.
Oh, I pray for my church family each day. I ask God's protection, provision, and other blessings for my Christian friends around the world who I know pray for me and my family also. But what about those who are in the family of God that I can't call by name? What about the folks in Europe who are under ever-increasing persecution as their government's abandon them in favor of adopting a more "Woke" worldview? And what about those Christians in predominantly Muslim or communist countries who risk their lives to live as Christians?
Want to bring it even closer to home? What about the new family who has been visiting your church for the past few weeks? Or maybe there's that new Christian who sits by themselves near the back of the church, struggling to figure out how to live their new Christian life? Have you taken the time to seek them out before or after service; or taken a few moments to learn their names and answer any questions they might have? So often, we get so wrapped up in our own little "universe of friends" that we fail to notice anyone or anything that is not within our orbit. My friends, if they're Christian or are awaiting the opportunity to become one, we need to extend God's hand of friendship and fellowship to them.
I'm not suggesting we unequally yoke ourselves to unbelievers by condoning their lifestyles and life choices, but we do have the responsibility to be Ambassadors of Christ to everyone. It is when they see Christ in us that we can share Christ with them. We can't do that when we refuse to engage because of preconceived notions or even fear.
Mama often reminded us, "Greet the world with a smile, because you never know when you're going to be entertaining an angel." How wise she has proven herself throughout most of my life. I have found friends for reasons, seasons, and a few for a lifetime because I took Mama's advice and smiled upon meeting a stranger.
Back to the point of what I learned this week. Because we Christians are covered by the blood of the Lamb and adopted into God's family, we are indeed blood kin. His shed blood that covers our sins is the same for each of us. In that sense, we are all intermingled with Him and share a common bloodline with the entire family of God.
What a wonderful peace is found in knowing that I am cleansed by the blood of the Lamb as I live each day in the light of His love. First John 1:7 gives me the assurance of knowing I am cleansed by the shed blood of His Son.
"But if we walk in the light as He is in the light,
we have fellowship with one another, and the
blood of Jesus Christ His Son cleanses us from
all sin." (1 John 1:7, NKJV)
As we go through this week, let us remember that we are part of a family much larger than our immediate family, church, city, county, state, or nation. We are part of the family of God; and that means we have family everywhere. Let's begin to live like it and pray for our family members we are yet to meet. One day soon, you'll realize there are no strangers in heaven. Let us live today in the same way we plan to live out eternity.
God's blessings,

[i] "The Life and Times of Grizzly Adams" Blood Brothers (TV Episode 1977) – IMDb
[ii] Britannica, T. Editors of Encyclopedia (2008, July 15). blood brotherhood. Encyclopedia Britannica. https://www.britannica.com/topic/blood-brotherhood