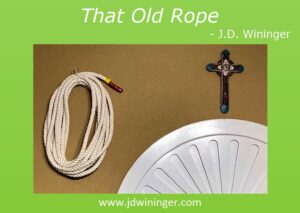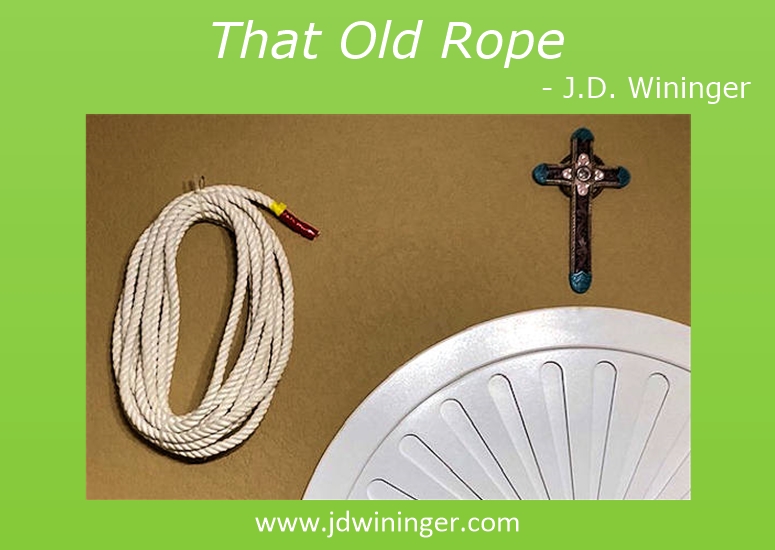 Walk into any old rancher's house and it wouldn't be a surprise to find a rope hanging on a wall somewhere. Ask them about it and you'll hear a story along the lines of, "That's the last lariat I used at 'The Granddaddy' up in Cheyenne, back in '82. Made the short go, but lost to a youngster. He couldn't rope no better'n me, but he was sure faster on his feet." That's not a version I could tell. My old rope has a different story; one I'd like to share with y'all today.
This old rope has been around for some time now. I remember going out to purchase all 36 feet of it after learning one of the best lessons on how to be a Christian that any man can learn. Wrapping colored tape on the first few inches, I prayed for God's wisdom. I prayed that He would always help me to remember the importance of each piece of tape, and the much higher importance of the other 35' 8" that isn't taped. In one word, the lesson I learned was Focus.
I can't take credit for the lesson, as I was blessed to receive it via Pastor Francis Chan (he was in CA at the time). I'm not sure if He was the originator of this lesson or not, but he sure made a powerful impact upon my Christian walk, and life, through it. Here's how I interpreted his "Rope Lesson".
At the end of this rope, just the first few inches, is some red tape. Imagine with me that this red tape represents the early and middle stages of your life. Starting out, you are nourished and cared for, growing and learning while protected. You focus on learning new things, becoming more independent as you develop skills, gain knowledge, and can do more. Pretty soon you've graduated and begin on your career path. As a young adult, you are more focused on getting the next job or promotion and making sure you don't miss the next big party. During this life stage, you focus on amassing all the trappings and toys of adulthood that are supposed to make you happy.
As you reach middle age, you begin to realize that the harder you work, the more you want. The more you make, the more you spend. And for all that you've amassed, spouse, children, job recognition, title, etc., you're less happy, more stressed, and less free to enjoy what should be the most truly important things in your life. At some point, as many watch their parents retire and adjust to living a more modest lifestyle, you recognize your need to start focusing on this smaller, yellow-taped section. This means less toys and more savings as you recognize your earning potential will one day come to an end.
This section represents your Golden years. No one tells you that the gold is paint, and it wears off really quickly. As you save for these retirement years, you dream of exotic vacations and umbrella drinks on the beach (non-alcoholic of course). You imagine your life as lazy days filled with reading books, leisure strolls with your loved one, and fun times with grandchildren. Oh, these things can be realized, but soon after retirement you start to realize you should have been saving much earlier and saved much more. Those sage investment counselors seldom tell you how the majority of your retirement income will go to the drug companies you are becoming more and more dependent upon. They don't focus on the fact that often-times, medical providers become your most-visited destination.
During your Golden years, if you're lucky, at least some part of your focus is on sharing the wisdom you've gained with those generations coming behind you. You slow down, not because you necessarily want to, but your body has begun wearing out (joints, balance, vision, hearing, on and on). Some lament all they didn't get to do when they were younger, but the majority of us in this stage of life focus on making sure our affairs are in order as we can see the end coming. But is it?
Where is your focus? #EternityorEveryday #FocusOnEternity #EndGameThinking
Click To Tweet
What if I told you that the much longer, un-taped portion of that rope represented eternity? I pray eternity with God as your Lord and Savior. Clearly, as James 4:14 tells us, our eternal life is far more important than this temporal existence we think of as our life. Saint or sinner, saved or not, we all have eternity to look forward to. I think the most important decision we can ever make is where we choose to spend eternity. If you're not sure, I and many of my friends here stand ready to help you choose life.
Now, back to that L-O-N-G section of rope called eternity. Have you considered that these other short time periods of your life are merely the interview, the probationary period, for your role in eternity? If you understand that what we do in this life will determine what role we'll have in eternity, where would your focus be? Do we place our hope in getting that next big promotion at work or is our hope in God?
When I look at the old rope hanging directly across from my desk here at the Cross-Dubya, I think of the words of the Apostle Paul.
"Therefore we do not lose heart. Even though our
outward man is perishing, yet the inward man
is being renewed day by day. For our light affliction,
which is but for a moment, is working for us a far more
exceeding and eternal weight of glory, while we do not
look at the things which are seen, but at the things which
are not seen. For the things which are seen are temporary,
but the things which are not seen are eternal."
(2 Corinthians 4:16-18, NKJV)
I pray that in these words, you find the blessed hope in Christ that will sustain you in this life's journey. I know that for me, the best is yet to come. I pray my primary focus is on that Day, when I am ushered into eternity with God. Hope I see you there my friend. Let me know if I can help you get there.
God's blessings,