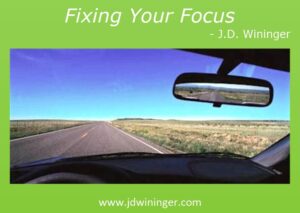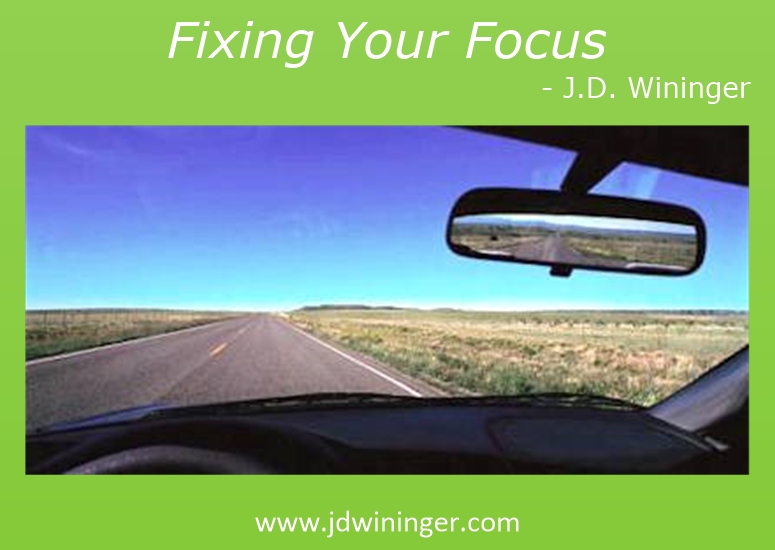 "There's a reason your windshield is so large, and your rear-view mirror is so small", my old ranch hand stated matter of fact. These words have been echoing down the halls of my memory a lot this week. As my Ms. Diane begins emerging from a long season of health issues and chronic pain, I praise God as I watch her taking those first steps towards independence. Still, there's a part of me who will miss being her caregiver.
It's with mixed emotions that I contemplate what the coming months will look like. With one last upcoming surgery, I'll have a brief few weeks of fussing over my bride; bringing her meals, helping her dress, and running the home. After that, I wonder, will I be needed at all? Oh, I'll still be the one who can reach what's needed from the top shelf, but life will definitely change around the Cross-Dubya. Thinking about our future, I choose the windshield.
Looking through the windshield of my life, I see more time for my Christian writing and more freedom to travel outside the home (look out Blue Ridge Mountains Christian Writers Conference). I see more jobs around the ranch that I can finally get accomplished, and I see more opportunities to help others. For Ms. Diane, I envision her return to the throne. She'll reclaim her kitchen, reestablish her role as "Queen Bee" and director of all things household, and I'll see her smile and sweet countenance return.
Will I miss all those texts to come help or to fetch things? No. Will I miss what sometimes felt like her total dependence upon me? In some ways.
Each day, we either choose to move forward or backward in our faith. #Faith #AdvanceOrRetreat
Click To Tweet
Thinking about how our lives are changing as we navigate our return to normalcy, I've been considering the impact of how we focus our faith. It seems that everywhere we Christians look in this world today, everything seems to point in the opposite direction of where God's Word tells us we're going. I see more open rebellion against God and against the Christianity that's supposed to represent Him. If I focus on the rear-view by paying attention to what the world is saying and doing, then I'm taking my eyes off what God wants me to see.
As Satan's enemies, we Christians must choose each day to look forward. Satan is defeated and knows he can't win. He knows that he can't have us true Christians, so his goal is to render us as ineffective as possible. All his efforts are focused on preventing us from sharing the good news of the gospel of Jesus Christ effectively and winning more souls to Christ. He does this by drawing our attention away from the good work God has promised to complete in our lives (Philippians 1:6).
The more time Satan can get us to spend looking in our rear-view, our past, he focuses on what was, rather than what is. His favorite tactic for many of us is the "you're not good enough" trick. How many of us have heard that screaming in our heads when we've stumbled in our walk of faith? See, I knew you couldn't do it. If you were a good Christian, you wouldn't have done that. How can you call yourself a child of God? You're a fake! The second you hear those thoughts recognize that you're being drawn into the rear-view.
Two of my favorite verses for countering Satan's invitation and ensuring my heart maintains a view through the windshield of faith are Hebrews 12:1 and Philippians 3:13-14.
"Therefore we also, since we are surrounded by
so great a cloud of witnesses, let us lay aside
every weight, and the sin which so easily ensnares us,
and let us run with endurance the race that is
set before us," (Hebrews 12:1, NKJV)
"Brethren, I do not count myself to have apprehended;
but one thing I do, forgetting those things which are
behind and reaching forward to those things which
are ahead, I press toward the goal for the prize
of the upward call of God in Christ Jesus."
(Philippians 3:13-14, NKJV)
It is in the act of reminding myself of the importance to keep leaning and looking forward in my race that I state my citizenship is in heaven. I proclaim God's promise that Paul so eloquently describes in Philippians 3:17-21. In that promise we fix our focus on what's coming and not what we've left behind.
I pray this week that someone grabs hold of these promises with me as we walk boldly into the future God has for us. We may not know what tomorrow might bring, but when we are in Christ, we know what our future holds. Stay focused on that windshield my friends.
God's blessings,

Please join me this Thursday evening at 9:30 Eastern as host Coach Mark Prasek and I take a trip Around the Cross-Dubya on PJNET TV. We discuss this week's blog post, offer insight about the lessons learned, and enjoy the fellowship of friends in the live chat room.