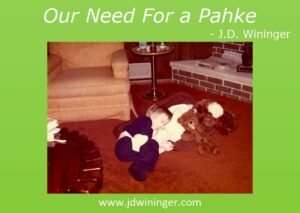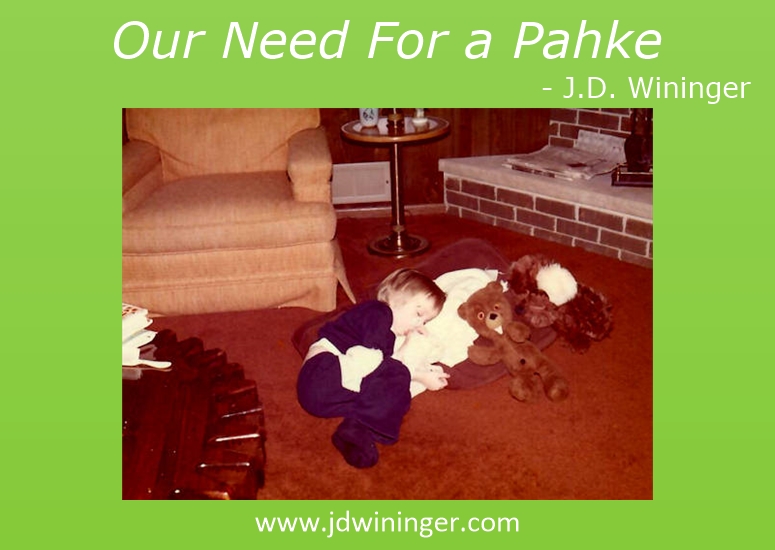 Don't we all have memories of when the children were little and the cute or funny things they would say? Growing up in a different atmosphere than most children, I don't have many of my own to recall. Perhaps that's why I've always enjoyed hearing about others. Among my favorites is the one about my Ms. Diane's son and his pahke (pronounced pah-key), which was the name he gave his security blanket. Like Linus Van Pelt, Charlie Brown's best friend in the Peanuts cartoon strip, her son carried his pahke everywhere.
Cute enough is the fact that he had a security blanket (er pahke) that gave him a sense of peace, safety, and a level of comfort. It gets better. As the story goes, his mama asked, "Where's your pahke?" as he was nearing his nap time. The little fella rambled over to retrieve his blanket and then went to his grandmother. Looking at mama, he lifted his blanket high, quizzically asking "Dis a pahke", then tugging his grandma's pant leg, repeating "Dis a pahke." As you might expect, Ms. Emma Mosconi melted and her grandson became her favorite person after that.
I was reminded of this story recently when I gave "Archie the Shrieking Dog" to Ms. Diane as a CHRISTmas gift. A tiny two-and-a-half-pound bundle of energy, the miniature Yorkie-Poo puppy has proven to add quite the change of pace to our household. Unable to bark, he screeches like a bobcat in heat or small child screaming. When he's startled awake by something at 2am, it gets your attention.
We laugh when we hear it now, but the first time it happened, I was working at my desk and immediately ran into Ms. Diane's room, convinced something was wrong. I had no idea it was the dog until I rushed into the room to find Diane laughing hysterically at his funny sound.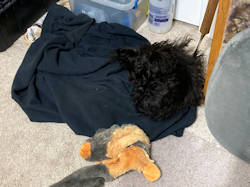 Picking him up at the breeder, we placed a lap blanket into his carrier to give him a more comfortable ride. He instantly nestled himself into its folds and went to sleep. Since then, he's acquired a few others. The plush one beside mama's desk. A soft, fuzzy blanket that rests on the ottoman beside my lift chair (he rests there when it's my nap time). Then, there's my sweatshirt near my office chair. I often wear it on cool mornings when I feed the livestock. This seems to be his favorite resting place in our home. Whenever we can't find him, we know to go look to see if he's curled up on my sweatshirt in the den.
"Archie" has laid claim to numerous pahkes around our home. Like my wife's son, he too drags his pahke with him from room to room (when he's not busy stealing errant socks or bedroom slippers). Mama tells him to "go lay down on your pahke" and he'll promptly find the nearest one, when he wants to.
With the strange word making its way into our everyday vocabulary, I've started to wonder if I have a pahke or two in my life as well. So, what's a pahke? It's something that makes you feel safe, protected, comforted, and nurtured. I'm happy to report that I've got a couple.
We all need a pahke in our lives. What's yours? #Safe #Comforted #Protected #Guided
Click To Tweet
The first is my spouse, Ms. Diane. When I'm near her, there's a sense of peace that settles over me. I can "let down my guard", relax, and breathe easier when I'm in her presence. The other, and the One from which all other pahkes originate, is the Holy Spirit. As promised in Ephesians 1:13 and elsewhere in God's Word, we are sealed (set apart) by the Holy Spirit for God. He, the Holy Spirit, comes to live in our hearts, becoming our Helper, Comforter, Intercessor, Teacher, spirit of Truth, and more.
Among my favorite parts of the Bible, the 16 verses in Psalm 91 always brings to light the realization that God is always with us. The Holy Spirit who indwells us is a pahke we carry inside of us everywhere we go. When I feel afraid or alone in the world, I recite Psalm 91:1-4 and the darkness dissipates as I feel God's loving presence in every part of me. His Word is the one promise that will never be broken or removed from us once we become His.
"He who dwells in the secret place of the Most High
Shall abide under the shadow of the Almighty.
I will say of the LORD, 'He is my refuge and my fortress;
My God, in Him I will trust.'
Surely He shall deliver
you from the snare of the fowler
And from the perilous pestilence.
He shall cover you with His feathers,
And under His wings you shall take refuge;
His truth shall be your shield and buckler."
(Psalm 91:1-4, NKJV)
I pray you take a moment to consider if you have a pahke or two, or six, in your life this week. And when you do, take another moment to thank God for each one.
God's blessings,