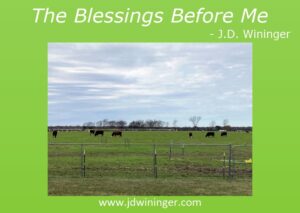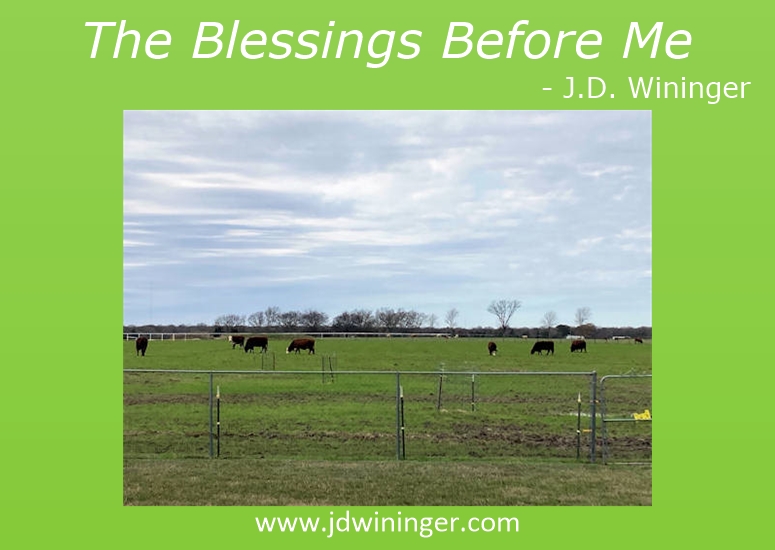 Winter is in full display as I walk out my back door and look left or right. Dried, dormant, brown, leafless, desolate. All about the landscape seems paused, awaiting the awakening of spring. It's when I look straight ahead (westerly in this case) that I see the blessings before me. My heart is quickened, as God pauses me to reflect upon how blessed I am.
It's December and a nasty cold front arrives soon. There's much to do ahead of time. My mind works through a mental checklist of things that need to get done. A sense of foreboding attempts to overtake me. I pause as the Spirit calls me to look and see what God has done. Before me is wet ground, glistening with the moisture that sustains life. Springing forth from that ground is lush winter grass. In less than 45 days from planting, it's ready to be grazed. Grazing that verdant grass is pregnant cattle, all healthy and strong—soon to bring forth a new harvest of calves.
Glancing right, I see the once nearly dried-up pond, once again teaming with life. A turtle raises its head above the water. A heron stands silent watch, awaiting its morning meal. The pond is still several feet below normal, but rather than focusing on what's not there, God wants me to see all the blessings before me.
I doubt I'm the only one who sometimes views life as half-empty, focusing on my "don't haves" more than my "I've gots". Sometimes we all need to pause and consider all that God places before us, giving us a reason for praise and thanksgiving.
Do you sometimes focus more on what you don't have than on what God has blessed you with? #Hope #Blessings #Thanksgiving #RestInGod
Click To Tweet
Standing on my back porch, a cup of coffee in hand, I thank God for the many blessings He has brought to mind this morning. Soon my wife will be pain free for the first time in over a year. I survived this horrendous drought to date with much more than many of my fellow ranching and farming friends. I think too of the blessings yet to come, anchored in my faith in God and the hope that He brings. My restored eyesight. A book publishing contract. Many more years together with my bestest friend. Oh, how blessed I am, and how blessed my future is as a child of God.
As I revel in God's presence this morning, my heart recalls the words of Philippians 4:8-9. Reciting them from memory brings me to praise for another blessing in life. God has given me His Word and the ability to hide it in my heart for times like these.
"Finally, brethren, whatever things are true, whatever things
are noble, whatever things are just, whatever things are pure,
whatever things are lovely, whatever things are of good report,
if there is any virtue and if there is anything praiseworthy—meditate
On these things. The things which you learned and received
and heard and saw in me, these do, and the God of peace
will be with you." (Philippians 4:8-9, NKJV)
Thinking about the Scripture above, I wonder if in those words lays the secret to achieving peace in our souls? If, when those negative, pessimistic thoughts invade our mind, should we recall this verse and focus our hearts on what God has provided, not what Satan has stolen? As God smiles and warms my heart, I realize learning and growth in Him has occurred.
As you go through this week, I hope you'll consider how important it is to rest and reflect when those God thoughts enter your life. In them, we find His wisdom, encouragement, peace, faith, hope, and love.
God's blessings,

Congratulations to Ms. Katherine Pasour for winning the author-signed copy of Refresh Your Hope: 60 Devotions for Trusting God with All Your Heart, by Mrs. Lori Hatcher. She'll be shipping that to Ms. Katherine soon. A special thank you to everyone who regularly reads, comments, and shares my blog posts. I am overwhelmed by your kindness and encouragement for my writing.
Please join me this Thursday evening at 9:30 Eastern as host Coach Mark Prasek and I take a trip Around the Cross-Dubya on PJNET TV. We discuss this week's blog post, offer insight about the lessons learned, and enjoy the fellowship of friends in the live chat room.