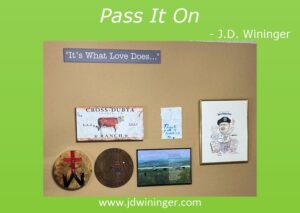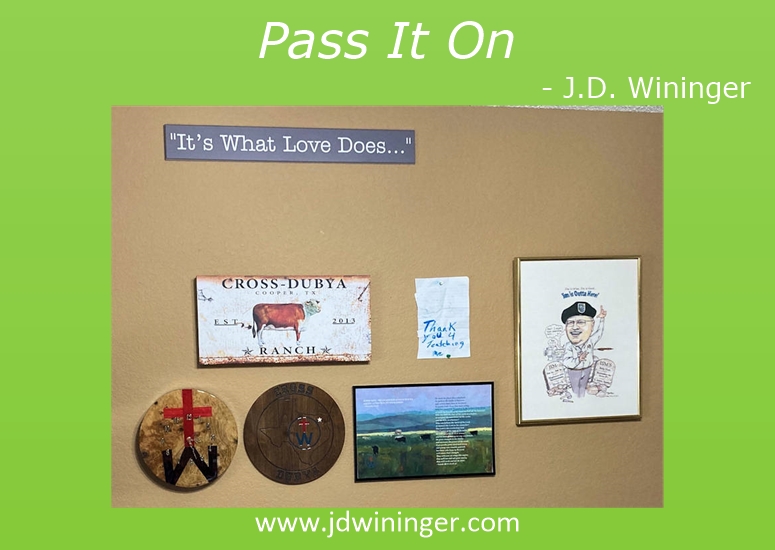 Looking to the right, from my desk, is my "Wall of Grace". It's my constant reminder of how God shows His love for me in times when I need His grace in my life. I'll agree with you, that's all the time; but we've all had those moments when our tanks are running low, when we're drained emotionally, and need refilling. This past Sunday morning, I received another filling of grace from a treasured brother-in-Christ.
Many of you will recall my mention of Mr. Frank Sears, one of the longer-tenured members of our church. Like me, Mr. Sears is a woodworker. For many years he has made thousands of wooden toys for children around the world as his contribution to Operation Christmas Child. One of his masterful creations, be it a game or a wooden car or truck, is placed into each of the over 1,000 shoeboxes our church packs each year. Mr. Frank tells us how spending hours toiling in his labor of love keeps him active and brings him such joy. Oh, the blessings of a Servant's Heart.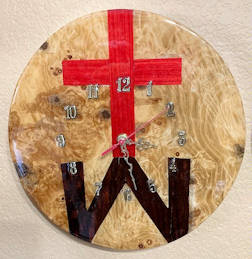 This past Sunday, before morning services, Mr. Frank called me out to his car. As he fumbled with the keys to his trunk, his soft voice trailed off, "I've got something for you." As the trunk lid opened, my jaw dropped at the beauty that lay before me. There in his trunk, nestled safely upon a thick blanket was a "Frank Sears Original". Folks at church had told me of his beautiful wooden clocks, as many have been recipients of his handiwork through the years. I never imagined I would be among those. With its rich walnut and box elder inlays to recreate our Cross-Dubya brand, the Birdseye maple burl face and curly maple veneer edging around the sides are magnificent.
After admiring it and thanking him effusively, Mr. Frank answered what I suspect is an often-heard question during moments like this. When I asked how I could ever repay him for this wonderful gift, his answer was simply, "Pass It On." Adding it to the wall of my den with many other treasured gifts I've received, I was reminded that with each one of these, I'd heard those same words. "Pass It On".
God's grace is meant for us to share. Pass it on! #Grace #Share #GraceIsGodsLove #CrossDubya
Click To Tweet
Perhaps that's why I call it my "Wall of Grace". Its purpose is not to adorn my office with kind gifts from friends, co-workers, neighbors, AWANA children, and others, it is to remind me that grace is not finite. It (grace) doesn't end with me. It should instead be the lubricant that makes it easier to pass God's love on to others. One way we do that is through grace. I'm reminded that grace does not originate with us but should pass through us as we endeavor to share God's love with the world around us.
I try and explain grace as being the unmerited gift from God that shows His love for us. In all its forms, there are two truths about grace. We can never do anything to earn it and we most certainly never deserve it. Grace, in its very nature, should be humbling. In our case, when we extend God's grace to others, it should serve to humble both the giver and the recipient. For in extending it to ourselves and others, we seek to glorify God in the act.
As we near the recognition of the greatest gift of grace mankind has ever received, the birth of our Lord and Savior, Jesus Christ, let us remember that grace should flow through us throughout the year. When you receive God's gift of grace, pass it on dear friends. The only way to receive more is by sharing what you've received.
Merry CHRISTmas dear friends and God's blessings always,