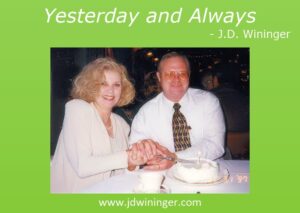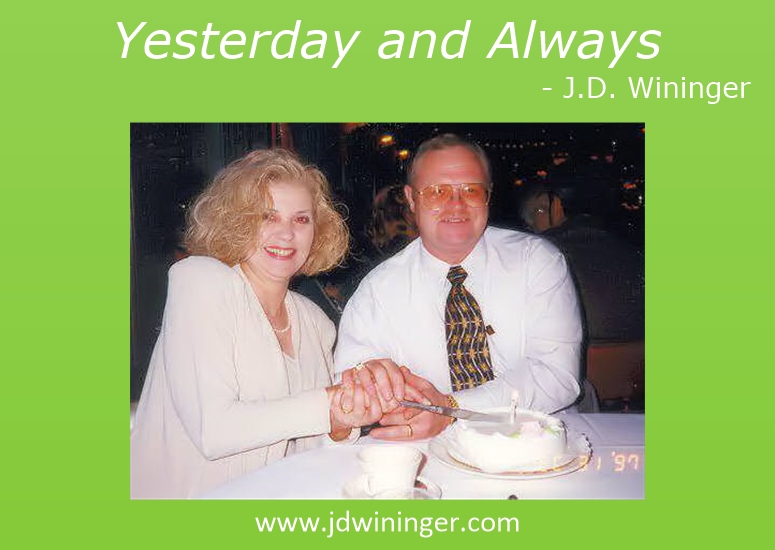 "A living poem" had always been the words that came
to mind when he tried to describe her to others."
― Nicholas Sparks, The Notebook
Have you ever felt a long-ago memory made with your loved one is as fresh as yesterday? Do you also struggle with remembering a time when the two of you were not together? When I look across the past 26 years with my "Gracie" (my term of endearment for my wife Diane), it's difficult to ever remember a time without her. As we celebrate our silver anniversary this week, I'm consumed with memories of the life we've shared. It hasn't always been the smoothest of journeys, yet it's one I wouldn't trade for the world.
I'll always remember the first three words she said to me on a chilly Saturday afternoon, sitting at my computer in a lonely one-bedroom apartment in St. Charles, Illinois. The surprise telephone call several weeks later. I'll never let her live down her expert parking demonstration on our first date. What began as an exploration of a potential friendship became the plan God had laid out for our lives years before.
Among my most cherished of these memories was the evening she sought a real, lasting relationship with her Creator God by placing her faith in His Son, Jesus Christ. How many years had I prayed she would one day find salvation so we might have eternity together to worship God. I'm not sure who had the bigger smile that night, me, or her. As sanctification goes, most of us find we surrender ourselves to God's will for our lives in stages. I'm most grateful that "Gracie's" journey to surrender was easier than my own. To watch her spending what seems like hours each morning pouring through God's Word, studying the Bible, and observing her silent prayers is a blessing indeed. Seeing her read a devotion, then reach for her Bible and journal to seek a deeper understanding is a source of joy.
We've traveled many miles and roads together, and I'm certain there was something gained through each one. As I said in the opening, my memories are as fresh as though they just happened, yet I can scarce remember a time when we weren't together. When I think about why that is, the only answer that makes sense to me is, like Job, it's God's way of redeeming my years.
It's the same way with my relationship with God. The memory of that fall evening in 1975 seems like it was yesterday. That cold winter weekend when I finally surrendered to God's work in my life in 1996 is as fresh as the day it happened. I must think hard to remember who I was before answering God's call.
When you become a new creation in Christ, you recognize how He was always there, waiting for you. #AlwaysPresent #NeverApart
Click To Tweet
When I think of my life as a child of God and my living out this life as Ms. Diane's husband and companion, two verses come to mind. I think of the timelessness of God, as Moses described in Psalm 90:4, and how my wife and I will experience that one day soon. I'm also reminded of the words in 1 John 4:16 that tell us, "God is love…". It is His love that flows through our hearts; and it is His perfect love that enables us to journey through this life together.
It is understanding how God's love is timeless that I recognize why I penned the words to a poem I shared with my one-day wife not long after we met. As we celebrate 25 years together, we share them with you.
God's blessings and prayers for a New Year filled with joy, peace, and love,

God's Gift
Throughout my life, I've had a dream,
Of peace, and joy, and love.
I've searched and prayed for many years,
For that gift from God above.
I dreamt of a girl, without her name,
Not knowing who or where.
I knew her only by her smile,
Her eyes and loving stare.
Her loving ways, her caring soul,
In my dreams there I could see.
There existed, in this world,
That one true love for me.
As she stood there before me,
I gazed upon in awe.
For I knew that very instant,
My prayer's answer was what I saw.
As I stand beside her,
I find such repose.
Do you think she feels the same as I,
Do you think somehow she knows.
I know for I have held her,
My dreams they have come true.
For through my journey, and all my wait,
I've found God's gift in you.
Jdw 4/97