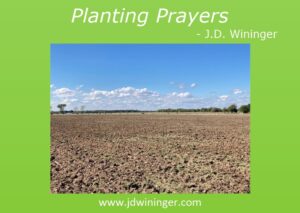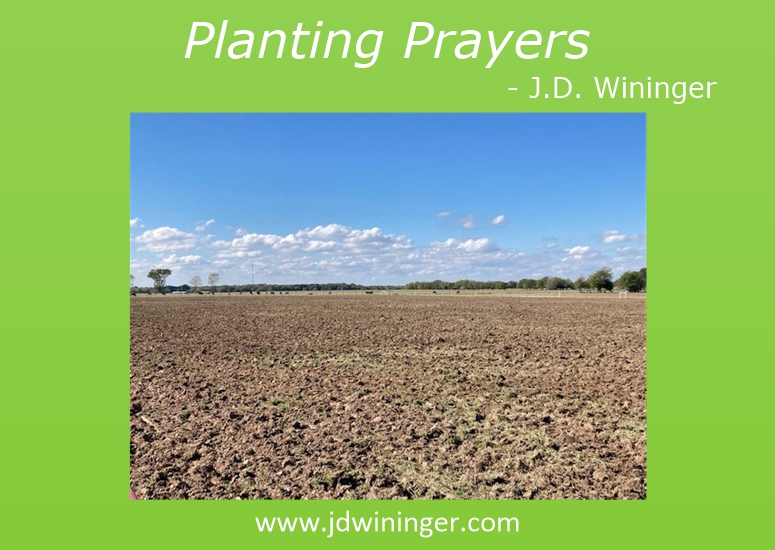 Many Christian friends have shared how they employ the concept of Prayer Walking, where they pray and meditate as they stroll down a quiet nature trail or country road. Not farmers and ranchers. If we're walking down a path, it's usually on our way to get another chore done. Feeding, cleaning, repairing, etc., our days are usually one task after another. As we're moving, our minds are most often focused on the next task. Most of my praying, contemplating, and meditating happens in the in-between. That's when I take a break and relax in God's beauty and nature surrounding me.
With the severe drought of this past year (since September 2021), my summer forage planting of perennial drought-tolerant Bermuda grass died not long after coming up beautifully. Having lost a significant investment, I was not planning to plant winter forage this year, opting to skip a year and get by with what grass we have. When hay topped $100/bale, I knew we were in for a very long winter. I had to feed hay starting in July, five months earlier than normal. Given I harvested less than 60 percent of what I usually get each year, a costly winter was ahead. As the months passed with little or no rain, I knew all the crops would have a poor yield. All I knew to do was trust God.
As August ended, the rains started. Not a lot, but we received more rain in one afternoon thunderstorm than we had gotten all summer. Suddenly, there was a ray of hope. Dry weeks continued through September, and I felt it dashed any chance of getting a winter planting for forage. With wheat seat more than quadrupling in price, I knew my last best chance was for more rain to get some soil moisture back. If God would only provide a few more inches, then I could plant ryegrass.
By mid-October, we had gotten a few showers, but I did not yet feel confident I could work the soil. The ground remained so hard that my heavy disc could only score the surface and not dig into and till the soil properly. More water was needed. With just under three inches of rain the last week of October, there was a chance.
Doing the Ground Work
Before I purchased seed, I had to satisfy myself by knowing there was at least a 50 percent chance that the ryegrass seed would germinate and sprout. For that to happen, I had to find enough moisture in the soil to prepare a proper seedbed. Able to push a shovel blade into the ground the previous day gave me some hope. The next morning, I found myself praying as I awoke. The day of decision had come. I could wait no longer and if I was going to see any harvest of usable forage during the winter months, I had to plant now. Rigging the disc after breakfast, I began to move into the west pasture. Lowering the disc, I prayed out loud.
Lord, this has to work. You know we don't have enough hay
to last the winter, and You know I don't have the money to
buy more. Please let there be enough moisture to get a good stand.
With my stock pond over six feet below normal, 35 percent inflation in feed costs, and hay 300 percent higher because of the drought, things are bleak. A bale of hay that was $35 last year, if available, is selling for up to $120 this year. Most farmers and ranchers cannot pay these prices. Having sold all the livestock except my bull and the proven root stock, the only option left was prayer. My faith reassured me that if our Cross-Dubya ranch remains aligned with God's will, then He will see us through this difficult season.
Farmers and ranchers know that prayer is the most important ingredient when planting. #FaithWins #CrossDubya
Click To Tweet
As the tractor began moving, the disc sank into the ground. It wasn't long before I needed to grab a lower gear. A smile came across my face as I turned to see the disc easily loosening the top four inches of soil. Looking beyond my disc, I could see that soil moisture was at least that deep and hope gave way to victory. The pasture tilled better than I've seen it in the nine years we've been here. The results thrilled me. As Mr. John began going over the freshly tilled pasture with the drag harrow, I left to pick up seed and ready the next implement. The drag harrow's tines break up the larger dirt clods tilled up by the disc, resulting in a smooth, level seedbed.
With expected hard rains arriving the next day, time was of the essence as we worked to accomplish the task together. I felt led to broadcast the seed and let the rains work them into the soil. This not only saved fuel, but time. The importance of loosening the soil and preparing a good seedbed is that, as the seed germinates, it won't have to struggle to develop its root system below the ground. As I thought about that, I realized how important it is that Christians till the soil of their hearts now and again. Doing so helps control the weeds that crop up in our lives and provides a fertile planting ground for God's Word.
Planting Seeds of Faith
Setting all the levers to the desired broadcast rate, about 35 lbs. of seed per acre, I began filling the bin to start planting. God had other plans. As we were emptying sacks of seed into the spreader, the size of the seed distracted me. To give you a comparison, there are approximately 100,000 yellow mustard seeds (Matthew 17:20) per pound. A pound of ryegrass contains approximately 227,000 seeds. My back-of-the-envelope calculation said that in the west pasture alone, I would plant over 170 million seeds. I thought, boy does that require a lot of faith, Lord.
Immediately, 1 Corinthians 3:6-7 came to mind. As Paul wrote: "I planted, Apollos watered, but God gave the increase. So then neither he who plants is anything, nor he who waters, but God who gives the increase." God reminded my soul that He is the Lord of the harvest (Matthew 9:38).
Humbled, my heart changed from let's get this done to my harvest is so much more than winter forage for Your glory, Lord. I thought about all the harvests God brings in my life each day. The love I receive from family. The income received resulting from my labor. I receive an endless stream of blessings, ranging from encouragement to physical safety daily. I realized how the Lord of the harvest is bringing forth fruit in my life each day that I follow His path.
As Christians, our job is to sow the seeds of faith. God brings the harvest. One day soon, we will see the fruits of our labor. #WhiteFields #SowingAndReaping
Click To Tweet
We Plant Every Day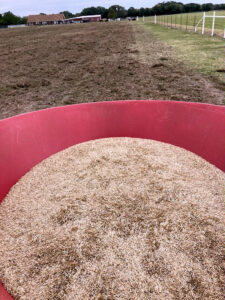 With a mindset of praise, I began slinging the seed out across the pasture. Turning to ensure all was working properly, I watched hundreds of seeds flying in every direction. Driving along, I found myself Prayer Planting. If my friends can take a prayer walk, I reasoned I could prayer plant. I thought to myself, with each seed goes a prayer. Besides praying that God would bless each seed being planted with growth, I found myself immersed in a mixture of praise and petition.
There were moments of praise for all that God has done, is doing, and will do in my life. I also found myself with tears flowing as I poured my heart out to Him for friends and loved ones. Each day, prayer requests assail us for a myriad of problems that beset this worldly existence. Health issues, financial strains, social and cultural changes, and the challenges or spiritual battles we face each day leaves many of us physically exhausted and spiritually drained.
As I prayed for my family and friends, I received a wonderful heart hug from God that reassures me He is listening, and He is with me. When overwhelmed with God's presence in your life, the world melts away as His embrace immerses you in His love. My Prayer Planting bombarded heaven with millions of seeds of faith that I pray God will bring to harvest in His time.
As I was working across my field, God reminded me that we plant seeds of faith in others' lives each day. We do so through our faithful service to Him. #PlantingSeedsOfFaith
Click To Tweet
As the rains fell the next day, God since blessed us with a mixture of foggy mornings and high humidity (adding moisture to the pastures). He's also brought several sunny days, fostering good germination. What harvest will God bring to my winter forage planting? Only God knows. The harvest of gratitude and longing to grow closer to Him will, I pray, bring an even greater harvest for His kingdom.
While some of you may not till and plant vast fields and pastures, let's remind ourselves of the real harvest. It is found in the fields of humanity that God has already planted and prepared for us. Let us consider Jesus' words in Matthew 9:35-38.
God's blessings,

I want to extend my congratulations to Mrs. Edwina Cowgill for winning the author-signed copy of Hidden Manna on a Country Road, by Ms. Sarah Geringer, in last week's post. I'll be shipping that to her this week. A special thank you to everyone who regularly reads, comments, and shares my blog posts. I am overwhelmed by your kindness and encouragement for my writing.
Please join me this Thursday evening at 9:30 Eastern as host Coach Mark Prasek and I take a trip Around the Cross-Dubya on PJNET TV. We discuss this week's blog post, offer insight about the lessons learned, and enjoy the fellowship of friends in the live chat room.