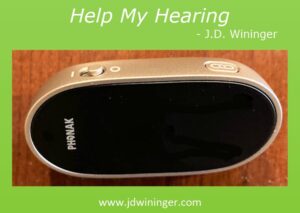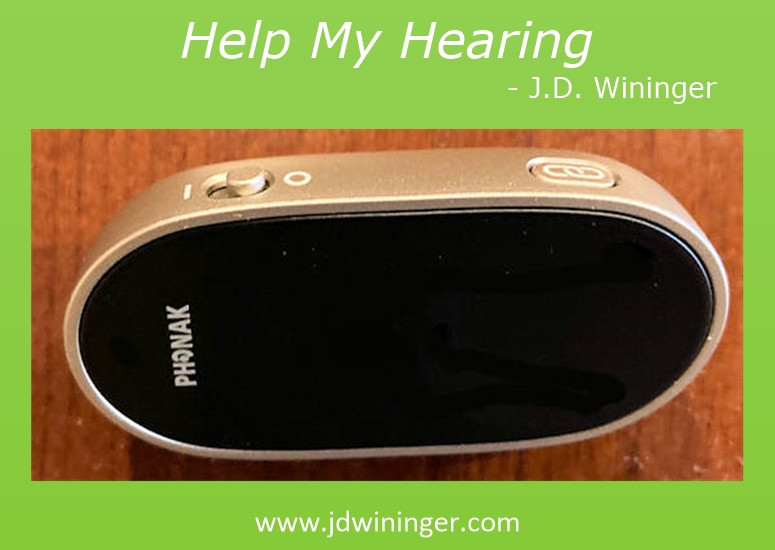 Once every 10 years or so, it's time for a new set. This past month, it was time for set number three. Dr. Hall gave me a mighty blessing that came in a small package when she fitted and fine-tuned my new hearing aids. The remote microphone is less than one-inch wide and about two-inches long, and it enables a speaker's words to be directed into my hearing aids. Agreeing to wear it, my pastor's message was as clear as if he was sitting on my shoulder.
For those of you who have, or live with someone who has, impaired hearing, you can understand how easily we confuse words because we can't make out words or sounds. Many times, someone will say something, and I'll look at them like you yelled "Cookie" at a dog. My brain must decipher what my ears incorrectly hear. Ms. Diane and I often laugh about the words I think I hear, rather than what she said. She says my most often used word is "Huh".
As I sat listening to our pastor's words on Sunday morning, I recognized the value of the blessing I had received. Hearing his message clearly meant I could apply more brainpower to applying the message because I needed less to understand what he was saying. Later that day, I thought about how clearly I hear God's voice. Even with my hearing aids in, the background noise around me can make it difficult to hear what it is I want to listen to. In that same way, if I allow worldly concerns to distract or interfere with my listening to God, I can miss part of the message.
Sometimes we can let the world distract us from hearing all that God is saying. #ListeningToGod #GodFocused
Click To Tweet
If I'm honest with myself, I am often the one to blame for those distractions. During my morning "God time", I'll find myself distracted by a news story or incoming email. It's important to scan news headlines to identify situations that need my prayer, but I don't have to click links to other stories that draw my interest. I open email before my "God time" to check for emails from readers and other friends who send me prayer requests. However, I don't have to leave the app open on my computer. When that small envelope pops up in my task bar, my trained mind hears, "You've got mail!"
I'm guessing that many of you struggle with these same distractions. Anti-social media can easily become a time-sucking distraction. The video of the cute little child and their puppy can lead you to six others, then a full-length video, and the next thing you know it's an hour later. Thinking about these things, I asked God to help my hearing. I don't want to miss out on things He wants to teach, show, and lead me in. If I'm not focused on Him when He's speaking to my heart, I will miss something.
What are some ways we can help God help our hearing? I can't always stop every thought that enters my mind during my "God time"; and I'm not sure that I would want to. Sometimes, these thoughts prompt me to pray for God's understanding or intervention. Here's a list of some things that I can control so I might better focus on and hear God in my life.
Turn off those electronic distractions: Computer, telephone, and even the radio can distract us when we need to be focusing on God.
Close the blinds: While my "God time" most often happens in the pre-dawn hours, even the lightning of a storm can distract me. When I need to stop and pray during daylight hours, I find it easier to close the door and blinds, removing visual or audible distractions.
Ask for God's help: From time to time, I find my mind wandering while trying to study God's Word, pray, etc. When I catch myself in those times, I'll often stop and recite a poem to help me regain focus. What works best is to ask the Holy Spirit to guard my mind so I might focus on Him.
If asked, God will help us hear Him, but we have to desire His help. #HearingGod
Click To Tweet
Something I've learned is that there is a vast difference between hearing and listening. Hearing is only the physical side of things. Listening is the processing of that which you hear. To me, this makes sense. If you hear better, then your listening should improve as well. Merriam-Webster defines hearing as the "process, function, or power of perceiving sound; specifically: the special sense by which received noises and tones act as stimuli." Listening means "to pay attention to sound; to hear something with thoughtful attention; and to give consideration."
Please comment below and share some ways you remove the distractions so you can hear God more clearly and listen to what He is saying. I believe that the better we hear God, the more He will speak to us. Praying that God helps your hearing this week as well.
God's blessings,