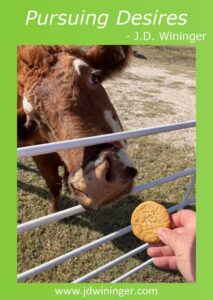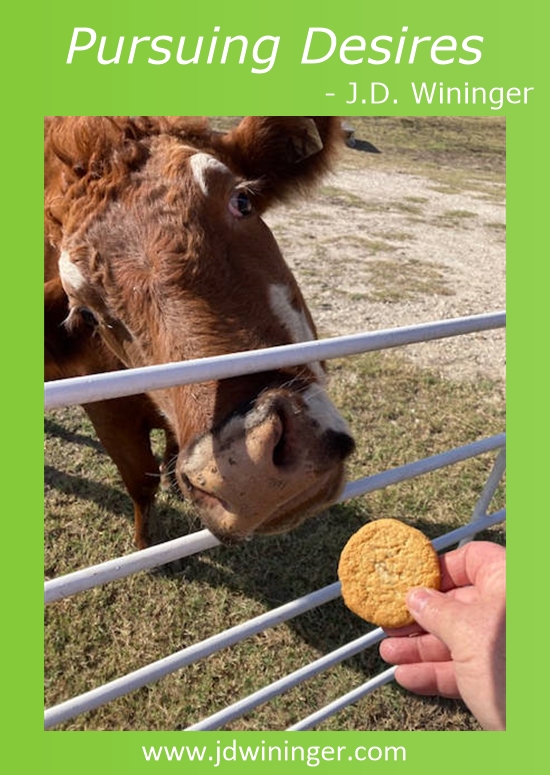 She's content spending each day caring for her calf, grazing, munching a mouthful of hay, or chewing her cud. That is, until Papa shows up with her favorite treat in hand. That's when "Sopracciglia Bianca" (Italian for "white eyebrows") loses all control. Whether the scent of the oatmeal cookie or my calling with a cookie in hand, she looks up, mulls it over a few seconds, then gallops over at full speed. The lure of her favorite treat is something she cannot resist. If I allowed her, I think she would eat the entire tray of cookies.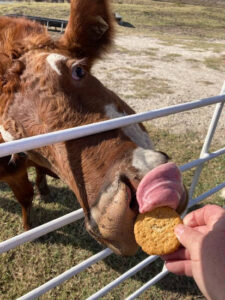 This past Sunday, God used my "Bianca" to remind me of an important truth. When temptation becomes sufficiently appealing to us, it causes our almost involuntary response to sin. Our craving for what appeals to us, even though we recognize it is wrong, is too strong to overcome in our flesh. I understand that as much as we desire not to sin, not to fall into temptation, our human spirit remains within us. While we can control it with self-discipline and Sprit-given self-control, we will not fully conquer it until our human death. In Romans 7:15-18, Paul explains how sin dwells within each of us (Christian and non-Christian). Sin, being a part of our mortal being, enables us to be tempted.
"For what I am doing, I do not understand.
For what I will to do, that I do not practice;
but what I hate, that I do. If, then, I do
what I will not to do, I agree with the law
that it is good. But now, it is no longer I who
do it, but sin that dwells in me. For I know
that in me (that is, in my flesh) nothing good dwells;
for to will is present with me, but how to perform
what is good I do not find." (Romans 7:15-18, NKJV)
I don't think my new mama cow having an oatmeal cookie is a sin, any more than my affinity for Klondike bars and root beer (sugar free of course). Even simple temptations like these can be dangerous because they can lead us into sin when we give into them. The example before me was how when "Bianca" came for her cookies, she abandoned her calf and left everything behind in her pursuit of her desire. How often have we done the same thing?
Satan battles in a spiritual world of inches. #Temptation #StrongFaith
Click To Tweet
Satan employs a long-range strategic plan against Christians. Since he already has the unsaved, it's easy for him to keep them blinded and distracted. With Christians, especially young/immature Christians, he seeks to derail their faith and make their testimony ineffective. He does so by playing a game I call "The Inches". Satan seldom puts on the full-court press or throws a hail Mary pass in tempting us to sin. Instead, he initially attempts with little things that seem innocent enough. He convinces us that We're not hurting anyone, or This isn't a big sin. In time, we become so accustomed to our "little sins" that we don't even realize we're giving ourselves over to his greater control of our lives. Pretty soon, those inches become yards, then grow into miles of distance between us and God.
There is no such thing as a little sin in God's eyes. #SinIsSin #Temptation #StrongFaith
Click To Tweet
When we pursue desires of the flesh, and we all do from time-to-time, we must remember that these human desires can ensnare us in one of Satan's many traps. Two verses I keep close at hand for those moments when I succumb to temptation are 1 Corinthians 10:13 and James 4:7. Each reminds me that while my flesh is weak (Matthew 26:41), God is my strong tower (Proverbs 18:10) and with His help, I can withstand the temptations I face.
I pray you continue to enjoy those cookies and pursue the desires of your heart, but please remember to ensure your desire aligns with God's will. When unsure, seek His wise counsel through prayer. Remember too that darkness cannot withstand the light, so when you sincerely seek God's presence, Satan must flee.
God's blessings,