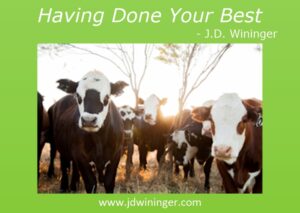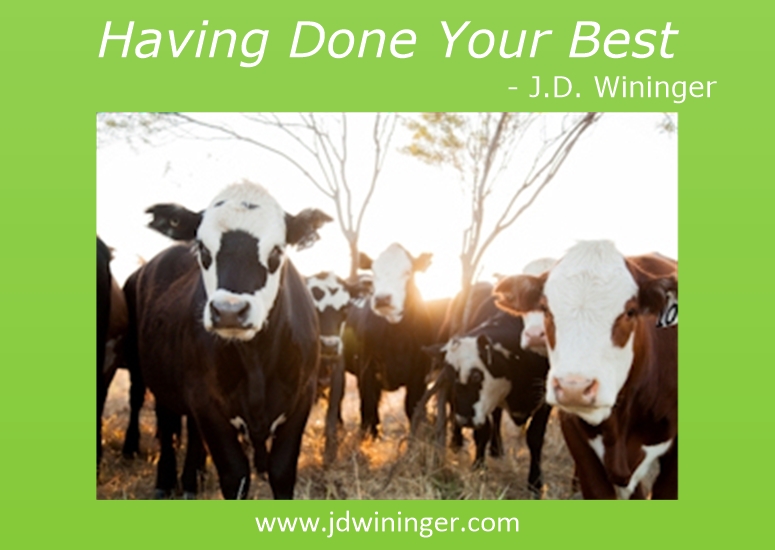 There's always a bit of melancholy as you pull away from the livestock auction, feedlot, or processor. You realize that in most cases, certain death awaits the animals you so lovingly nurtured, doctored, fed, protected, and cared for. Some ranchers in our area appear to treat their livestock as a disposable item they use up and then discard. Others keep their livestock in overgrown, weed-filled pastures and offer poor-quality water to their livestock, seeming to spend the least possible needed to get them to market. At the Cross-Dubya, we go to great lengths to be good stewards of the living, breathing blessings God has entrusted to us.
We pray over them, gently handle them, and ensure their top physical and emotional health. Some producers will think that visiting their livestock each day to observe, talk to, and treat as humanely as possible is ridiculous. My foreman Mr. John and I see it as honoring God.
There's no doubt that cattle ranching and farming is a business, and some level of profitability is required to remain viable. Growing up working at my adoptive family's service station, I learned my business philosophy and many life lessons from my adoptive parents. They showed the principles of stewardship in all aspects of their lives. I found one of those lessons in something my dad taught me before I was 18 years old.
"We must make a profit to stay in business. But I'd rather make
a little from a lot of folks who will return to us than make a lot
from one person who we'll never see again." -Stewart E. Adams
To use a baseball analogy, something I can hear my friend Mr. Del Duduit say in his rich, silky voice. You won't hit a home run with every turn at bat. Your on-base percentage is more valuable to the team than your home run average. Productivity, and thus profitability, is determined not by those rare instances of grandeur but in your consistent performance. In our cattle operation, that equates to the nearly three-pound average daily gain (ADG) per calf. Year-after-year, season after season, if I deliver consistent products with the highest possible quality, my rewards will come.
I've long-believed that the more God-honoring we are in all aspects of our life, the more God blesses us. Something else my dad said many years ago has stuck with me to this day.
"How much you earn is not nearly as important as how you earn it.
And if you're honoring God by the way you live your life and earn
your living, your greatest compensation will await you in heaven."
As I've grown older, and most-importantly grown in Christ, I understand just how wise that counsel was. I pray daily that my Spiritual Retirement Account (SRA) is far more valuable than my Individual Retirement Account (IRA). My investments in others for the Kingdom's business will have a much higher return on investment than any stock I could purchase here on earth.
Are your best investments made in the stock market or God's economy? #InvestingInEternity #CrossDubya
Click To Tweet
My dad could have retired with more savings in his bank account, but as his memorial service showed, he was among the richest men in our community in other ways. He was much beloved and respected, not for what he did as much as for what he didn't do.
He didn't gouge customers for repairs and sought to find cost-saving ways to repair or rebuild an auto part rather than replacing it. It might have been faster to replace it, but the quality wasn't nearly the same. Many times, he invested in our customers by making needed repairs on credit to ensure they could continue earning a living. While some never repaid that credit, I am certain that God will repay his kindness and goodness many times over at the Judgment Seat of Christ. I apply those same lessons in our small family ranching business.
So how does all this tie back to raising and selling cattle or harvesting ranch-raised beef? For me, it all comes down to the peace of mind required for a good night's rest. Whether I've helped a mama cow through a difficult delivery or sold a six-month-old, 650-pound calf, I rest soundly knowing I honored God in my efforts that day.
We honor God when we give Him our best effort in everything we do. #HonoringGod #Stewardship #CrossDubya
Click To Tweet
When you put your heart and soul into caring for something or someone, it's hard to let that go. We must steward our children, grandchildren, and every blessing that God has entrusted to us. We can do that by giving them the same care and love that Jesus Christ showed us about how God cares for us. Parting with our cows and calves is made much easier by knowing that while in our care, we did our best to honor God. Whatever their destiny, we gave them the best care possible. Isn't this what we should endeavor to do with all of God's blessings?
Sending your little one to kindergarten, your grown child off to college, marriage, or saying goodbye to a loved one who is stepping into eternity, letting go is difficult. I pray you rest easy as you release them to their destiny, knowing you have done your best for them.
God's blessings,