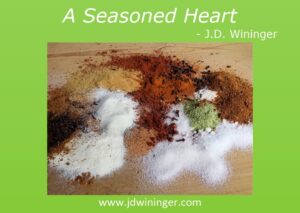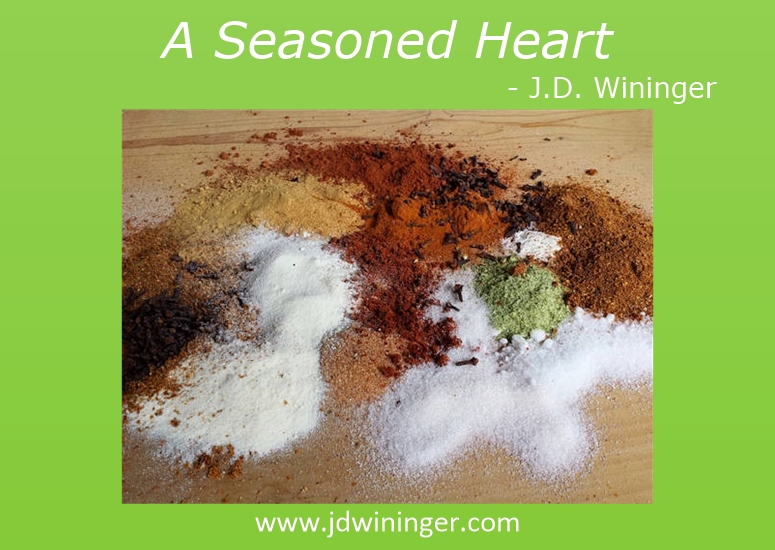 If I've learned nothing else in my 25 years of marriage to my amazing and beautiful Italian-American wife, I've learned there is much more to life than salt and pepper. Ms. Diane's cooking has taught me that when you mix the right spices together to season a meal, amazing things happen. This might explain why I weighed less than 200 lbs. when we were married and I'm just a little (what's 50 lbs. among friends?) over that today. Seasoning a meal correctly resulted in fewer leftovers and a larger waistline in my case.
During last Sunday's Life Group, God showed me a wonderful example as He brought the words of Psalm 34:8 to life in the words of a dear, gentle sister-in-Christ.
"Oh, taste and see that the Lord is good;
Blessed is the man who trusts in Him!" (Psalm 34:8, NKJV)
Ms. Alma is a precious member of my "family of faith" and was among the first to welcome my wife and me to our new church. While not much older than us, this dear octogenarian seems light years ahead of us in spiritual maturity. I've long admired the way she lives out her faith in all aspects of her life. The other evening, she responded to a question I asked, and God used that moment to reveal His truth in my heart.
Our small Sunday evening Life Group discussion often focuses on what we took from Pastor's sermon that morning. This past week, the lesson entitled "What Are the Odds" looked at Luke 17:11-19 (the story of the 10 lepers). One takeaway from his lesson was this point.
Many are with Christ, but few are in Christ. –Pastor Wilton McMorris #InChrist #ASeasonedLove
Click To Tweet
Sharing my thoughts on this, I mentioned how 1 John 4:4 (… greater is He who is in you than he who is in the world) came to mind. I followed up on my comment with this question. "What's it mean to you to be 'in Christ'"? Little Ms. Alma, who is all of about 4'9", yet a giant among the many godly women in our church closed her eyes and recited Galatians 2:20.
"I have been crucified with Christ; it is no longer I who live,
but Christ lives in me; and the life which I now live in
the flesh I live by faith in the Son of God, who loved
me and gave Himself for me." (Galatians 2:20, NKJV)
I listened intently as she spoke these words directly from her heart. The passion, gratitude, and acknowledgement of her Lord and Savior in her voice moved me to tears. As she spoke, my heart cried out, Lord, help me to one day share the same passion and devotion this precious soul has for You. In response, God brought Psalm 34:8 to the forefront of my mind.
Thinking more about this during Monday morning's "God time", God shared the concept of A Seasoned Heart in prayerful response. What our small band experienced through Ms. Alma's heartfelt recitation was the culmination of her life experiences and depth of Christ's love within her being poured out. I then understood that God was saying to me, "In time, if you continue to grow in Me, you too will become perfectly seasoned through sanctification."
A seasoned heart for God occurs as we grow closer to Him. #SeasonedHeart #InChrist #ASeasonedLove
Click To Tweet
Many times, I, and maybe some of y'all too, get so wrapped up in our everyday lives we forget to give credit to and glorify God for His many gifts. While we appreciate that beautiful sunrise while we're standing out in our pasture or sitting in our offices, we don't take the time to truly savor it. We don't take time to thank God for giving us another day on this Earth to share His love with others. Often, we cannot recognize how seemingly innocuous events occurring each day are blessings from God, and in doing so, we miss the joy of that blessing.
I ask each of you to consider taking just a few purposeful breaks throughout your busy days and take an inventory of all the things that occurred today. Count up all of God's blessings He's heaped upon you, and #SavorGodsGoodness with praise for His presence in your lives.
God's blessings,

Please join me this Thursday evening at 9:30 Eastern as host Coach Mark Prasek and I take a trip Around the Cross-Dubya on PJNET TV. We discuss this week's blog post, offer insight about the lessons learned, and enjoy the fellowship of friends in the live chat room.