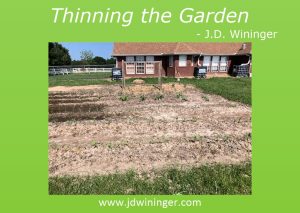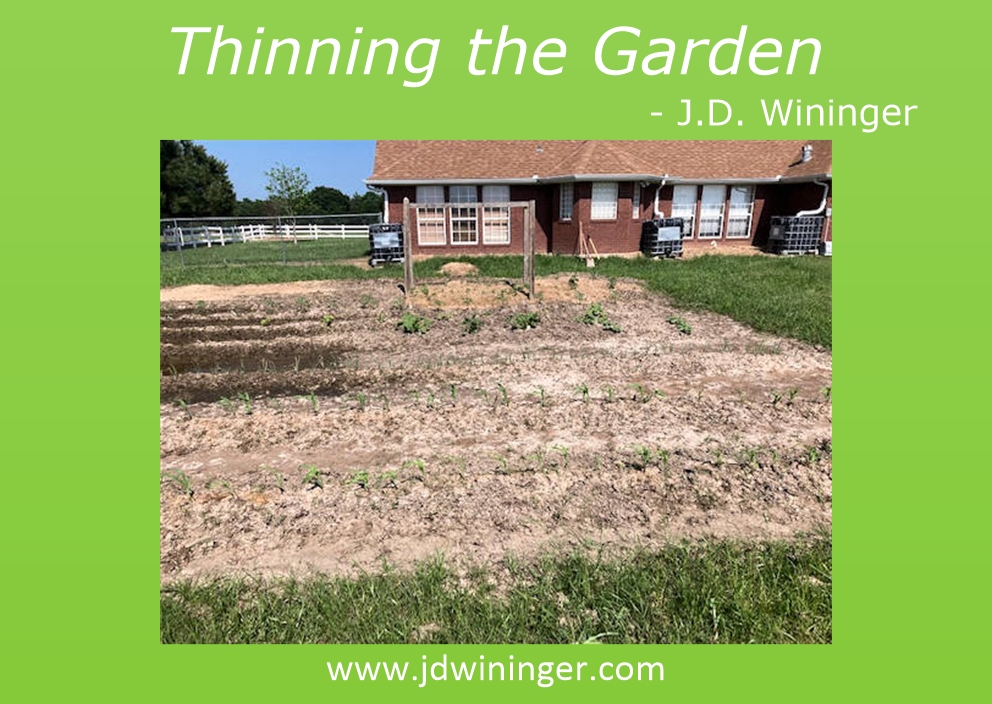 This year, with store shelves getting emptier each week, costs skyrocketing, and uncertainty all around us, I decided it was time to do some gardening again. Replacing Ms. Diane's old rose garden outside the bedroom window with a 50-foot long garden made the most sense. In April, I got around to it. Planning for corn, beans, peppers, three kinds of squash, sweet onions, cabbage, two kinds of lettuce, lots of tomatoes, collard greens, cauliflower, cantaloupe, and watermelon was easy. The planting nearly wore both me and Mr. John out. A few young plants, but mostly seeds, meant lots of additional work once the plants emerged. When planning for a large garden, I never considered that we'd be chopping it with temps over 90 in early May.
If you're from the South, and over the age of 50, you've heard the term "chopping cotton." A few of you may have actually chopped cotton in your youth. Growing up mostly in Florida, there wasn't a lot of cotton farming happening in my area, but I was rural enough to know what "chopping" was. For those unfamiliar with "chopping cotton", the term refers to the first hoeing of the cotton field (or garden, in my case). Its purpose is to remove unwanted weeds and thin plants to ensure the proper spacing between them.
While working in the garden this past week, the Parable of the Sower (Matthew 13) came to mind. I'm always amazed at how God uses events in our lives to remind us of His word we've hidden in our hearts. Take our sweet corn for example. Because we know that every seed we plant doesn't "make", or take root and grow, we put two seeds into every hole or furrow. When seeds germinate, plants emerge; and most times, we'll have two plants in one spot. When sowing collard green seeds, we'll end up with multiple plants trying to occupy the same space. Thinning them out reduces the competition for moisture, sunlight, and needed nutrients from the soil. It also gives the plants the space they need to reach their full potential.
Like a garden, over-crowding our lives reduces our chances of achieving maximum growth.
Click To Tweet
Likewise, weeding our gardens brings its own important biblical lesson. Also in Matthew 13, we find the Parable of the Wheat and the Tares. I'll save my discussion about the similarities between wheat and bearded darnel for another post, but the important take-away in gardening is this. You have to remove the unwanted weeds to help the plants reach their full potential. Of course, if you delay and they grow together, then trying to remove the weeds can often damage the plants.
Since becoming a farmer and rancher, I'm convinced more than ever that all weeds are from Satan; meant to make our gardens, pastures, and spiritual lives less fruitful. In my gardens and fields, weeds use up precious nutrients and moisture in the soil, robbing those life-giving commodities from the grasses and legumes I want. In my life, spiritual weeds are those sinful or time-wasting things that restrict my spiritual growth. Weeds entangle lives and restrict growth in both cases.
What spiritual weeds do you have in your life?
Click To Tweet
The way I determine what is good and bad in my fields, gardens, etc. is by knowing what I'm looking for. If I expect to see lush, green Bermuda grass and see henbit with its delicate purple flowers instead, then I've got work to do. Likewise, if I expect to see a fruit-bearing walk with God but see my time being stolen away with worldly endeavors, I've got work to do there too.
Spiritual weeds can take many forms. They might be those worldly activities we sometimes get immersed in that keep us from spending time in God's word, prayer, or refreshing your spirit by meditating on Him. Something I realized during a recent fast from social media was the time I spent checking Twitter feeds, Facebook posts, etc. was taking away from my "God time" each day. Instead of checking-in on "anti-social" media several times throughout the day, I choose to check-in with God instead.
Spiritual weeds can also be worthwhile time bandits that keep us from focusing on our own spiritual growth and well-being. While I won't call busyness a sin, but a choice, it's easy for active Christians to become too busy for our own good. We get so involved in church activities, missions, and projects that we forget, like Martha (Luke 10:38-42), to take time and focus on what we need most.
This week, I hope you'll join me in looking to see what weedy people or activities are taking up space in your spiritual garden. Let's all look for those areas where we need to do some thinning or chopping, so we give God the space He needs to fully grow us.
God's blessings,

P.S. I was blessed this week to have one of my posts featured on "Our American Stories with Lee Habeeb." I hope you'll pay them a visit by clicking this link (https://www.ouramericanstories.com/podcast/life/the-quiet-cowboy) to see the masterful job their Producer, Ms. Madisyn did. She's a grace-filled little lady who was a joy to work with.
Please join me this Thursday evening at 9:30 Eastern as host Coach Mark Prasek and I take a trip Around the Cross-Dubya on PJNET TV. We discuss this week's blog post, offer insight about the lessons learned, and enjoy the fellowship of friends in the live chat room.