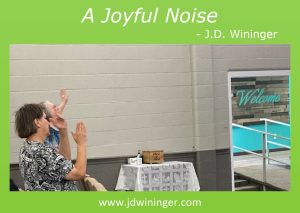 Notice the ladies in the photograph? The photo I quickly snapped with my phone during a Sunday morning service doesn't tell much of the story. What you're seeing is something that brought tears to this crusty old rancher's eyes. The only way I can attempt to explain it is that I captured worship in its purest forms.
When we worship during praise time in our church, we surrender ourselves to the moment and bask in God's glory. As the Praise Team plays and sings, some sway to the music, some sing along with the words displayed on large monitors, and others pray. We're an animated group for sure. Together, we join our hearts with God as we welcome His presence into our sanctuary.
While often sharing about life here on our Cross-Dubya ranch, the life we share outside our gates has a great impact on the life we live inside them. A very dear and precious friend in Ohio reminded me this week of how important fellowship is, and how it can affect our lives. I didn't realize how the scene I caught out of the corner of my eye taught me that lesson. It was a week in the making, but when email arrived the next week, causing me to draw upon that very lesson; I understood why God taught it. We need fellowship with other Christians, but also God. We find both when we seek Him with all our hearts.
Let us not forget how important fellowship is in our Christian walk. #Fellowship #DoLifeTogether
Click To Tweet
Allow me please to share a little about these two amazing sisters in Christ. The much-treasured lady in the background is Ms. Mary. Known as our church's unofficial "Hugger in Residence", Ms. Mary has a smile and countenance that can brighten anyone's day. Simply being in her presence and lingering in the overflow of God's love shared with everyone she meets is a blessing. To have watched her lifting her hands in praise and singing along with the worship song, tears streaming from her eyes, was a valuable lesson. We are to praise God in all things and in all seasons. Ms. Mary is in a season of grief after losing an aging loved one to heaven, whom she cared for during a long season of illness. Watching how she has celebrated his arrival in heaven rather than lament his loss is an example that all Christians should follow.
Watching seasoned Christians can be a wonderful source of discipleship and learning as they navigate this life. #Discipleship #LearnGodsWays
Click To Tweet
Who is that quiet, yet vivacious little woman in the foreground? That's my buddy Ms. Diana. Both she and Ms. Mary are part of our growing Life Group on Sunday evenings, but Ms. Diana is both my most challenging and encouraging participant. The challenge is mine because I have yet to learn enough ASL to effectively communicate. I'm sure glad she is a master at reading lips, has readable handwriting, and is a patient teacher. The encouragement is hers as I've learned she is a deep-thinking, intelligent, and articulate communicator who asks hard questions about God.
Ms. Diana is deaf, and while some might see that as a disability, she's teaching me it can be a blessing. The blessing, as she demonstrates so well, is the ability to focus intently on a speaker and what's being said. She does so without all the distractions that those of us who are more aurally challenged face. On this morning, it was her fast-paced movements that caught my eye. It took me a second to realize what was happening, but when I did, one of God's heart hugs ensued. Ms. Diana was singing loudly, with her hands. As I watched her, I realized she was signing the words to the song being sung, with a few extra words of praise thrown in.
As I watched her for a few moments while God was speaking to my heart, the words of Psalm 98:4 sprang forth. "Make a joyful noise unto the Lord, all the earth: make a loud noise, and rejoice, and sing praise." It was at that moment, this thought popped into my head. What does God hear when we worship Him in prayer and praise? Is it even an utterance or sound? Perhaps it is received as the groans of the Holy Spirit (Romans 8:26-27). Another answer might be it's received as a sweet aroma (Ezekiel 20:41 and 2 Corinthians 2:15-17). However God receives our worship; when it is sincere, He responds by enveloping us in His wonderful love.
There's no prescribed way to make a joyful noise unto the Lord. It can take many forms. #PraiseHim #MakeSomeNoise
Click To Tweet
The scene reminded me that my worship takes many forms. A fleeting thought as I'm watching the livestock peacefully grazing on a sun-filled morning. In the study of His word as I seek to understand His will for my life. Sometimes it's tears of joy streaming down my face while driving along and blaring worship music throughout the cab of my truck. Other times, it's a simple act of reaching to pat or take my beloved wife and life mate's delicate hand in mine. In all these moments, I focus my heart on praising God for all His blessings, goodness, mercy, and grace in my life.
This week, I pray you'll find someone to reach out to with God's love through a simple act of fellowship. Consider how our every action can either be a joyful noise unto the Lord or a clanging cymbal.
God's blessings,

Scripture taken from the New King James Version®. Copyright © 1982 by Thomas Nelson. Used by permission. All rights reserved.