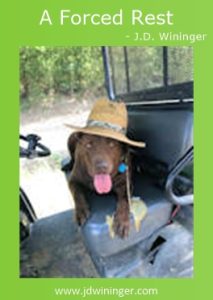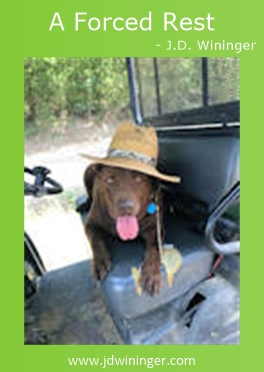 We've all done it. We get so busy that we lose focus on what's most important in life—focusing instead on what's most important at that moment. Those times are when God sometimes has to put us in a forced timeout.
Like me, my pal Bubba the chocolate lab is getting older; and the few extra pounds he carries puts added stress on his joints. And like him, I too have learned to account for it, until we don't. A couple of weeks ago Bubba developed a pronounced hitch in his giddyup (some of y'all call it a limp). After a few days, he wasn't getting better, so I realized it was time to engage Dr. Lisa, his vet. The result was a diagnosis of a torn cranial cruciate ligament (CCL). In people terms, he's torn his ACL.
His care approach is some anti-inflammatory drugs and rest. With my active farm dog, rest is the most difficult part. Having to keep him locked down in our garage makes him feel like he's being punished. He can't hop onto the UTV and sit beside me during chores. Follow me while I'm on the tractor. And worst of all, he can't chase the barn cats. Instead, he lies on his cushioned mat, pillow, and rugs just outside the door to the garage. And he softly whimpers. Not because he's in pain so much, but because he feels cut off from his active life as the world goes on without him.
I take him out for bathroom breaks and to get a little sun each day, yet he's leashed and limited in how much he can roam. He's accustomed to going anywhere he wants, anytime he wants, so he'll look up at me with his big sad eyes. Sometimes I wonder if he's asking, "Can I please go check on the calves, Papa?" I understand he needs to rest and take a break from low-crawling under fences, jumping onto hay bales, or playing tag with the donkeys. Bubba thinks, but doesn't understand why I'm restraining him. He doesn't understand why I'm forcing him to rest.
Forcing my pal to stay off his injured leg, rest, and hopefully heal is the right thing to do. It doesn't make it easy when I look at the small garage door opening to ensure fresh air and I see his nose peeking out from underneath it. His pleading eyes peering at me in sadness as I go about my day. Although I'm praying for his healing, I'm also praying God helps me not feel so guilty about keeping him away from all the things he loves. I've been thinking about times when God has had to force me to rest in the past.
When was the last time God forced you to rest in Him?
Click To Tweet
As I thought about those times, I realized a few things. In those times, I was so wrapped up in the busyness of my life (work, church, family, friends, etc.) that I had lost my focus on Him. Oh, I prayed and read my Bible (most days), but I seldom took time from my schedule to meditate on God and what He needed me to learn. "God time" became another task in my day rather than a needed break, or escape, from this world. I failed to rest in Him (Matthew 11:28).
Something else I realized was that God doesn't always force me to rest in Him to teach me anything. Sometimes He does so I will allow Him to sit with me and speak His love, peace, and comfort into my life. God forces me to rest in Him so he can recharge my spirit and refresh my soul. What I've found in these moments is that God is preparing me for His next thing. When I'm released from those rest periods, I find the inspiration, encouragement, and clarity to do the next thing He has planned for my life.
Have you ever really given thought to the second and third verses of the 23rd Psalm? We can probably all recite the entire Psalm, but have you noticed the action verbs in this familiar scripture?
"He makes me to lie down in green pastures;
He leads me beside the still waters.
He restores my soul;
He leads me in the paths of righteousness
For His name's sake."
(Psalm 23:2-3, NKJV) (emphasis mine)
Clearly, David was expressing his recognition that the Lord was His shepherd. His life had yielded control to his Shepherd in much the same way he once led sheep in his father's flock. God doesn't tell us to lie down in green pastures or to rest beside the still waters. He makes us and leads us. He restores our soul.
In Bubba's world, perhaps, he views me as his shepherd, his caretaker, his master. Much in the same way, I view and depend upon God as the master of my life. I pray my furry friend understands that what I'm forcing him to do is out of love, wanting only the best for him.
In what ways has God forced you to rest in Him in the past?
Click To Tweet
Whether illness or injury, sickness or surgery, a break in work or a breakdown of equipment, God used situations in my life to focus me upon Him. God meant none of these as punishment, but loving acts of my chief shepherd, who reached down to take my focus from my now and place it on my forever. In all these situations, the result has been my seeking God. And in each case, He has welcomed me into His presence and given me what He knew I needed.
In God, I find the 3Ps of Faith (Pause, Peace, and Preparation) my life needs to take the next step in His journey. As I close this post, I'm going to pour myself another cup of coffee, bring my pal Bubba inside and lay him on the sofa beside me. Place his head onto my lap and spend a few minutes basking in our love for one another. I pray this week you ask God to always force you to rest in Him when He sees the need you haven't yet realized.
God's blessings,