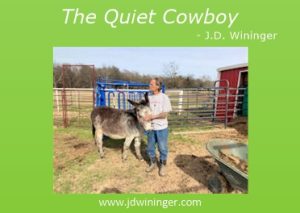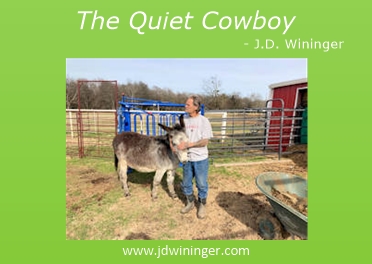 With a nod of his head, he states matter-of-fact, "We're burnin' daylight." As he sits down beside me, I think to myself, This fella doesn't talk much; but he sure is a good worker. After early morning chores (feeding, watering, and herd checks), he glances my way, "Time to feed the critters", and off we go to feed Bubba and the barn kitties. Following a pat on the head and straightening Bubba's rugs, it's time for our breakfast.
He pours his coffee in silence. He knows where things are located now, so he's able to help himself. "How do you want your eggs, Mr. John?" As he grabs a couple of plates, he grabs a small bowl and says, "Scrambled please." A brief reply is his usual response.
Oh, sometimes he'll talk your ear off. "I was a pretty good dairy man in my youth. I could work a 100-foot Straight A (a type of dairy barn) by myself, before sunrise." He isn't bragging, but remembering his strong work ethic as a young man. That same spirit flows through him today, tempered with age and seasoned with wisdom from a lifetime of lessons.
He's quick to remind me, "I wasn't always responsible though. I quit my dairy job. Not because I didn't love workin' with them ole cows, but because it wasn't fair to them or my boss. They deserved someone more responsible than I became." I thought, I wish we all could be that honest with ourselves. It seems people today seek to blame others rather than look in a mirror and see what part they had in the situation. As I'm getting to know my ranch foreman better each day, I'm learning more from him than he is from me.
As is often the case, the mentor can end up being the one who learns the most.
Click To Tweet
I met Mr. John at our church. A quiet fella, he would sit by himself near the back. Sometimes a shy lady accompanied him; turns out she is his widowed sister-in-law. He would only speak when spoken to. I made it a point to seek him out each Sunday morning for about a month and spend a couple minutes sharing with him. When he came forward, requesting to make sure his salvation was secured and later baptized, our entire church erupted in celebration. One morning, noticing the brand on my vest, he quizzically looked at me. "You got a ranch?" When I affirmed I indeed had a small ranch, his eyes lit up. "I grew up in Pickton, over by Como", he excitedly stammered.
Smiling, I replied, "I didn't know that. That's great cattle country over there. And good hay too." With a broad smile, he looked up, "My daddy, brothers, and me worked in them hay fields 14 hours a day years ago. Ooh-wee, was that hard work, but hard work makes you healthy. I'd make almost 30 dollars a day." From there, the roots of friendship grew.
It seemed Mr. John was leery of most folks. He would talk with Pastor Wilton or Pastor Grady and his wife, but mostly, John kept to himself. As we grew more comfortable with one another, I invited him to Life Group. He shared he didn't drive, and he wasn't comfortable walking the streets after dark. I promised we'd carry him home, and he agreed to join us.
When I learned where my new friend John lived, it broke my heart. It seemed prejudice and persecution displaced him; and he was most grateful that a nearby church offered him a dry place to sleep, and others a shower now and again. With no bathroom facilities and winter coming on, God placed a burden on my family's heart to do more. It took some convincing him, but Mr. John is the newest resident at our Cross-Dubya ranch. He's cleaned up the old bunkhouse (two rooms plus a full bath where the original property owners lived while building the house) and made himself a great apartment. Mr. John is an answer to prayers for help around the ranch; and he's cleaned everything else too. I've never seen the barn, garage, workshop, and bunkhouse so sparkling and clean. Neither has my Ms. Diane, much to my chagrin.
Together, we tackle all the chores that need doing around the ranch. I love his work ethic, attention to detail, and "Can Do" attitude. It's been years since being blessed to work with a self-starter who not only thinks for themselves but does every task with skill, precision, and professionalism. Our cattle and other livestock adjusted to him quickly as he exhibits the same calm, easy-going nature I handle them with.
When I glance over to check on him while we're doing separate tasks, I see a mixture of joy and satisfaction on his face. When we're not working, he keeps to himself. On sunny days, I'll find him sitting outside in the sun, reflecting upon life. At other times, I find him listening to music, reading his Bible, or reviewing his Sunday school lesson. He wanders out to the barn or a pasture to "check on things" every afternoon. I often find him out there, offering a treat to "Mavric" the bull or visiting the donkeys. There's such a peace about him when he's outside in "God's country" as he likes to call it. I can't tell you how many times he has said, "I never dreamed I could ever do this again."
When you find him sitting alone or with the animals, he seems to look into the distance. Pensive, contemplative; it's as if he is reconciling his life. I sometimes wonder if he's thinking about the past, thanking God for the present, or wondering about the future. Perhaps it's all those things, but John is quick to tell you, "There's a reason the rear-view mirror is so small and the windshield is so big." I can't help but think of Chapter 42 of the book of Job when I consider my friend and brother in Christ, Mr. John.
God will redeem the years you have left when you surrender your life to Him.
Click To Tweet
Watching him hold a newborn calf; cradle its head in his hands as he reaches down to nuzzle its nose and softly talk to it. His gentle soul is on full display. Surely, God is redeeming his years.
Since hiring on here at the Cross-Dubya, Mr. John has not only made my life easier, he's brought an infectious, child-like joy of discovery into our every day. The way he fusses over "Miss D" and spends time with Bandit the cat and her litter of kittens, he expresses his gentle heart in so many ways. To see his smile and hear his "ooh-wee" when I gave him his own ranch business card and apparel with our brand on it was priceless. In his usual laconic manner, he clutched the shirts and muttered, "Reckon I'm ridin' for the brand now."
How long our friend Mr. John stays with us here at the Cross-Dubya remains to be seen. While he's here, he is a tremendous help to me, brings joy into our home, and God's blessings keep pouring in. I love discussing God's word with him, explaining things, and working beside this precious man of God. I pray you reach out and touch someone with God's love this week.
As a special treat, I'd like to share the words of a poem from Mrs. Martha Snell-Nicolson. I cherish these words as I, too, have grown older. Click this link to read and download "His Plan for Me".
God's blessings,

Please join me this Thursday evening at 9:30 Eastern as host Coach Mark Prasek and I take a trip Around the Cross-Dubya on PJNET TV. We discuss this week's blog post, offer insight about the lessons learned, and enjoy the fellowship of friends in the live chat room.