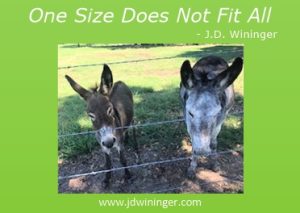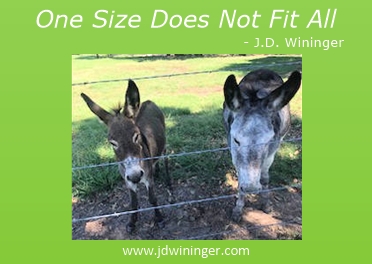 My donkeys spend their lives on soft pastureland with plenty to eat, which means they need their hooves trimmed every couple of months. Observing my two donkeys during their recent hoof trimming reminded me how there are no "one size fits all" solutions for learning trust. Christian or donkey—admittedly, it's sometimes difficult to tell the difference—we each learn at our own pace. We each have a unique learning curve.
Magic, who is the larger and more mature of the two, follows me without a halter or lead rope. Having been with me at the Cross-Dubya for over six years, he knows I will never harm him. When the farrier arrives, they lead him easily wherever they want him to go. He relaxes as they trim all four hooves; and then he nonchalantly makes his way back to the barn or pasture. I call him my "Matthew 11:29 donkey." Bubba and Ryan, our farriers, always trim Magic first. They do so in full view of his girlfriend; hoping she learns from his example.
Are you a Matthew 11:29 Christian? Can someone learn from your example of trusting God?
Click To Tweet
After what seems like just a few minutes, Magic's hooves are all trimmed, shaped, and he's ready for his next adventure. What comes next is the reason my farrier friends earn every penny of their wages. I recognize my little Amiatina donkey, Elpis (the Hebrew word for "hope"), is at least 10 years younger than Magic, and she is still learning to trust. We've been trimming Magic for three times as long as Elpis. In that time, he has accepted and trusts the process. Elpis is my "Acts 7:51 donkey", as she is one stiff-necked little gal.
It all begins with having to corner her in a stall, then working to get a halter placed. As gentle and patient as Ryan and Bubba are, when a donkey doesn't trust you, bad things can happen. As soon as we snap the lead rope to the rope halter, the fun begins. It becomes a battle of wills that often involves ropes around her hindquarters and tied around her feet. To move her into place, one leads while the others pull by using the rope around her backside to coax her to walk. When a 450-pound donkey doesn't want to move, it takes a bit of persuasion.
Once in position, it takes a few minutes for the attempted kicking and biting to subside. Elpis settles down some too. Sometimes we have to use a rope on her leg to lift and hold it in position. Shifting her weight from one side to the other makes it impossible to lift her foot off the ground and trim the hoof; the rope unbalances her and she relents.
Sometimes God unbalances our lives so He can accomplish His work in us.
Click To Tweet
Even though she is smaller than Magic, it takes two or three times as long to trim Elpis' hooves because of how much she resists the process. It isn't because she's a bad donkey, and we've never mistreated her. I think it's a case of she is still learning to trust. Remembering back to the first few times Mr. Bubba trimmed Magic, I can recall some of those same reactions. I also remember how Magic's mama (Molly) was the calm one that always got trimmed first. Within the first few trims, Magic settled nicely into the routine. With Elpis, while she is getting a little better with each visit, we're over two years and counting.
In time, I'm certain Elpis will come to accept being trimmed as a common occurrence and she'll settle down. Until that time, we'll be patient, gentle, caring, and CAREFUL. As you look around your "family of faith", note those "Magic" people and those more like "Elpis." Then look for ways to bring them together so we can help reduce the learning curve for those coming behind us.
"Take My yoke upon you and learn from Me,
for I am gentle and lowly in heart, and you will
find rest for your souls." (Matthew 11:29, NKJV)
God's blessings,