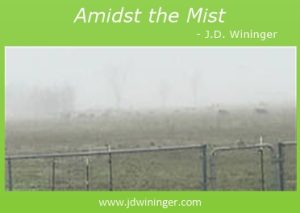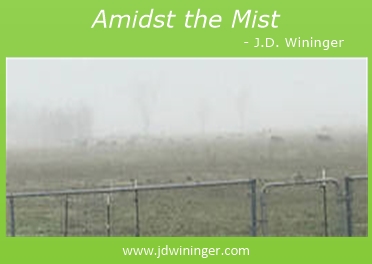 A chilly winter morning, the cold air caused the dense fog to hug the ground. As it enveloped the Cross-Dubya, God reminded me of an important faith lesson. Faith believes, even when you can't see. Pouring another cup of coffee as the day emerges, I make it a point to stand at the windows and do a count. With a small herd pastured within yards of our home, it's usually easy to count cow butts and ensure everyone is where they belong. Other mornings, like this one, it's impossible.
Even stepping out the back door and standing next to my chain link fence, I was unable to see the pasture fencing. I could hear gentle lowing from within the mist, but I had no chance of getting an accurate headcount. As I geared up for morning feedings, I resigned myself to having to wait until they were all gathered together to get my count. With the sound of the garage door raising, my faithful donkey friends alerted everyone that breakfast was about to be served.
As "Magic" and "Elpis" brayed their morning greeting, I smiled as the cattle began calling out before I could even get to the workshop door. They were already making their way to the feedlot or bunk feeders in the other two pastures. Bubba the chocolate lab climbed up on the bench seat of our UTV, and Bandit the cat came down from her loft and sat atop the feed sacks. Awaiting her daily ministrations, I hold her to my chest and begin stroking her head and ears, her soft purring breaks the workshop's silence.
Filling the buckets with feed and minerals, the cattle slowly move into position. With a turn of the key, the UTV starts and is soon muffled by the sounds of the cattle calling out their invitation. Even though my moo cows can't see me, they sense my presence. Their excitement builds as they anticipate my arrival. I think of how they've learned to trust and depend upon me to care for them.
As I'm driving to my first of several stops during my morning ritual, a fleeting thought passes through my mind.
"For now we see in a mirror, dimly, but then face to face.
Now I know in part, but then I shall know just as I also
am known." (1 Corinthians 13:12, NKJV)
I wonder, do I sense God's presence even when I can't see Him? Do I trust and depend upon Him to always care for and protect me? If I'm honest, there were times in my life when I treated God as if He were a genie in a bottle. I'd uncork Him when I needed Him, but until that time, I sat Him on a shelf and went about my life. Maybe that was the problem. I didn't understand that my life was no longer mine; it now belonged to God. Oh, I would take Him off the shelf and invite Him to ride along with me to church on Sunday morning. After all, I had to appear righteous didn't I?
How do you store God; in your heart, or on a shelf until you need Him?
Click To Tweet
It's been many years since I had a one-way relationship with God. For that, I'm so very grateful. As I continue to grow in my knowledge of Christ and the life He wants me to live, my faith in Him grows. I'm finding that my faith has become far less dependent upon what He does, but in who He is. A trusting dependence in Him has replaced my what have You done for me lately attitude that indicated a transactional relationship. Like my cattle in the dense fog, I can't fully know what God is doing or what He has planned. By faith, I know that wherever my journey ends, it will be more glorious than I can even imagine.
As Christians, we can't always see or understand what God is doing in our lives. We can trust that He is helping us to work out our faith and grow into what He has planned for us. I'm learning that what my future holds is not nearly as important as who is holding it. I pray you too learn to trust God in the midst of your journey in faith.
God's blessings,

Please join me this Thursday evening at 9:30 Eastern as host Coach Mark Prasek and I take a trip Around the Cross-Dubya on PJNET TV. We discuss this week's blog post, offer insight about the lessons learned, and enjoy the fellowship of friends in the live chat room.