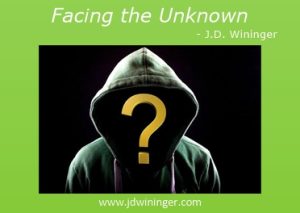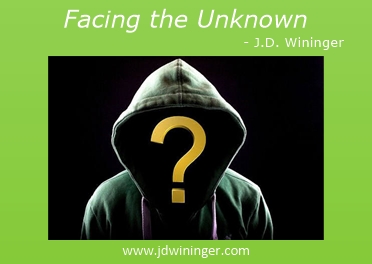 Heifers, bulls, twins, breeches, winter storms, health crises, social and political unrest, recession, or depression; so many unknowns, how can I face them all Lord? What I meant to be an encouraging start of the New Year post for all my friends this week suddenly changed direction yesterday with four little words. You-Could-Go-Blind. In the moments following that news from my eye doctor, everything changed. Suddenly, I was facing an unknown I never dreamed of.
During the long drive to Tyler to see my trusted ophthalmologist, I reviewed this week's post in my mind. We all have unknowns in our lives. They're the things that we think about, sometimes worry over, often pray about, and try to prepare for. We have "rainy day" savings because we know there're times when we need that reserve. With calving season coming, the number and genders of new calves are unknown. And while having calves is a blessing, their health, delivery problems, the weather, etc. are the unknowns that keep ranchers like me up at night.
The thing about life's unknowns is how they are fertile ground Satan can use to introduce fear, uncertainty, and doubt (FUD) into your life. When we dwell on these things, the FUD factor (my term) goes into full effect. We wonder "what if" and we let fear control our lives. The more we allow fear and worry to go unchecked, it grows into an all-consuming obsession—making mountains out of molehills, derailing our faith, and robbing us of our joy.
If you don't control the FUD factor, it will control you.
Click To Tweet
With the Covid pandemic, family health challenges, and the busyness of life, it had been two years since my last eye exam. Noticing some vision changes, and especially the impact of glare (oncoming headlights) on my eyesight, I knew it was time. In 2017, Dr. Kiblinger performed cataracts surgeries on both eyes and restored my vision to near perfect condition. I loved the freedom of doing many things without first reaching for my eyeglasses. I especially loved being able to drive at night again since I'm the primary driver in our family.
As a long-time diabetic, something I've always watched for is signs of diabetic retinopathy. And even though I can minimize its impact through good diabetes control, retinopathy is a side effect of having higher blood sugar levels that come with diabetes. Experts estimate that up to 80 percent of long-term diabetics will suffer some form of retinal damage. When the doctor added an optical coherence tomography (OCT) scan yesterday, I sensed something was different. OCT is a non-invasive imaging test; using light waves to take cross-section pictures of your retina to help determine its health. The results showed inflammation and something he called cysts within the layers of my retinas; one eye worse than the other.
My trusted doctor referred me to a retina specialist he trusts. I pray the coming weeks will reveal the extent of the damage, the cause, and any potential corrective actions to preserve my eyesight. When I asked his opinion on the long-term prognosis, he honestly told me he couldn't say, but he knew that, "If we don't arrest this, you could go blind."
The drive back to Cooper differed greatly from the drive down, as I allowed Satan to attack me with full force. I selfishly started thinking of how my life would change with blindness. How would I continue to write, ranch, care for my family, support the AWANA kids, attend other nighttime functions at church, etc.? All those thoughts crept into my mind and I soon found myself emotionally and spiritually overwhelmed.
I pulled off the highway to pull myself together. These words were pounding in my mind; "We demolish arguments and every pretension that sets itself up against the knowledge of God, and we take captive every thought to make it obedient to Christ." (2 Corinthians 10:5, NIV). But I can't Lord! I'm scared. How could You have led me here to Texas, called me to become a Christian writer, etc. just to allow this to happen? With those thoughts, the realization that I just blamed God for this hit me. This broke my heart much more than the thought of going blind scared me. I knew at that moment I was in the midst of a spiritual battle.
When you realize you're in the midst of a spiritual battle, where do you turn?
Click To Tweet
With that realization, I prayed for peace, called upon the many verses hidden in my heart from Psalms and elsewhere in God's word to find strength, and called a friend. "Brother, can you meet me in 35 minutes? I'm inbound and I've gotten some unexpected news. I need someone to cry and pray with?" Without hesitation, my friend said "Yes." I knew I had to let go of the fear that was gripping me. This, as with most unknowns, is something I had to take to heaven's door. You can't always do that by yourself, and I thanked God for godly friends whom I can rely on to help when I need them.
As brothers and sisters in Christ, we can't always solve someone's problem. We can't restore health, overcome circumstances, or even understand everything that's going on. What we can do is Be There. We can be a sympathetic and empathetic friend who can listen, counsel as led by God, and join them in prayer as we petition God together.
My Christian friend understood how the FUD factor was robbing me of God's peace, joy, and hope in Christ. And while he couldn't restore that, he knew who could. So, as he prayed with me, I could feel a resurgence of the Holy Spirit within me. God was immediately answering our prayers by giving me the strength to take control of the fear attempting to overwhelm me.
As I prayed myself to sleep, God comforted me, and I had the best night's rest I've had in a long time. I awoke with a sense of peace and an assurance that wherever this unknown leads, I won't be alone in the journey. That's all I need to tell Satan where he can get off and stand strong in my faith in God.
When you face whatever unknowns that find their way into your life, I pray some of these verses I prayed last night help you. In them, you'll find the peace, comfort, strength, and encouragement you need to face your unknown and overcome the FUD.
Psalm 27:5
Psalm 28:7
Psalm 50:15
Psalm 56:3
Psalm 91
Proverbs 3:5-6
Isaiah 26:3
Philippians 4:13
James 1:12
1 Peter 5:7
And if you need someone to listen and pray with you in the midst of your spiritual battle, I'm here. My email is author@jdwininger.com and while I can't fix it, I know who can.
God's blessings,