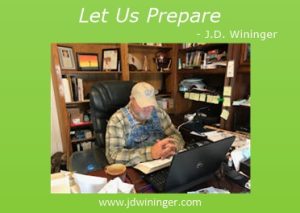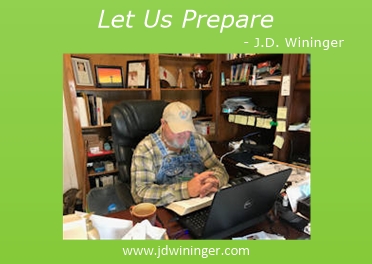 For much of my career, the week between CHRISTmas and New Year's was "shutdown", a time when only essential tasks were happening around the office. For the most part, maintenance crews painted, repaired, or started construction projects when many employees weren't around. It was both safer and more efficient that way. As a Capture and Proposal Manager, I was often considered essential and worked through most shutdowns.
Even when I worked, I still spent a fair amount of time preparing for the year-end reviews and reports required, team member performance evaluations, and other administrative tasks. In retirement, I use this week to start organizing my tax receipts, evaluating ranch P&L, and planning for the coming year. Ranch planning often includes things such as what I'm planting when, what repair or improvement projects we'll undertake, and of course, lots of prayer for God's direction.
It's this time of year that I spend more time looking at the year ahead than I do planning for the next day or week. And if you're anything like me, then chances are you have more questions than answers, which is another good reason to spend more time than usual in prayer. This year, I sense an urgency to pray for God's direction. Not only praying for our Cross-Dubya ranch, but for my and my family's faith, endurance, and knowing God's will for our lives.
When there's more questions than answers, seek God's will rather than yours.
Click To Tweet
I'm not sure why, but there's been a stirring in my soul for the past few months. It is an unsettling feeling that I'm on the precipice of something life changing. I asked God what He's trying to guide me to; and was led to the words I had long hidden away.
In those days John the Baptist came preaching
in the wilderness of Judea, and saying, "Repent,
for the kingdom of heaven is at hand!" For this is he
who was spoken of by the prophet Isaiah, saying:
"The voice of one crying in the wilderness: 'Prepare the
way of the Lord; Make His paths straight.' "
(Matthew 3:1-3, NKJV)
Here, he reminded the Jewish people of the words of the prophet, referencing Isaiah 40:3, as Isaiah was preparing them for the coming of the long-awaited Messiah, Jesus Christ. Looking at the world today, I see famine, disasters, social unrest, great division among people along many lines, and all sorts of debauchery and evil running rampant. It seems the words of Matthew 24 have come alive, and we are living in the midst of them. Perhaps my uneasiness comes from the realization that the end times Christ foretold are closer than ever before. Please don't take these words as JD's wearing his sandwich board with bold letters reading, "Repent, the end is near!" Truth is, no man knows the day or hour (Matthew 24:36).
What I do know is that as this world spins further out of control, Christians are going to need to rely on our faith even more to endure in Christ to the end. As strong as I think my faith is, I recognize that unless my life is fully anchored to Christ, the winds of strife and the waves of turmoil will overtake me.
Unless you are anchored firmly in your faith, the storms of this life will overwhelm you.
Click To Tweet
I think back to this past February, when a historic ice storm hit Texas. Had I not prepared with extra hay, a generator to keep the house running, etc. things could've been much more difficult. There's a strong storm coming friends, and I want to encourage each of you to start preparing your hearts now. We can prepare ourselves to weather the storms of life by strengthening our faith through more time in God's word and prayer, and devoting ourselves to one another.
More than any other time in my life, I feel strongly that Christ's church needs to unite and stand strong with one another upon God's word. It's time to put away worldly things that seek to distract and divide us. It's time to stop thinking about me and start thinking about we. Each one of us who call ourselves Christian needs to prepare ourselves for what tomorrow will bring. It is only then that we can be that shining light on a hill that draws people to God.
As I prepare for the coming new year of our Lord (we don't hear that much anymore do we), I have already made many plans. The only thing that is certain is that I can't know what tomorrow will bring. Will I be around at the end of 2022? Only God knows. Will I be faithful to God in whatever the coming days bring, so I may endure to His end? Oh, how I pray. As the words of James 4:14-15 tell us, all of this is the Lord's will and not our own.
"whereas you do not know what will happen
tomorrow. For what is your life? It is even a
vapor that appears for a little time and then vanishes
away. Instead you ought to say, 'If the Lord wills, we
shall live and do this or that.' "
What 2022 brings, I can't tell you friends. I pray it brings you good health, great peace, and a stronger faith that helps you, and allows you to help others, endure to the end of our race. Remember always that the path we take to get there isn't nearly as important as arriving at the right destination.
God's blessings,

Please join me Thursday evening at 9:30 Eastern as host Coach Mark Prasek and I take a trip Around the Cross-Dubya on PJNET TV. We discuss this week's blog post, offer insight about the lessons learned, and enjoy the fellowship of friends in the live chat room.