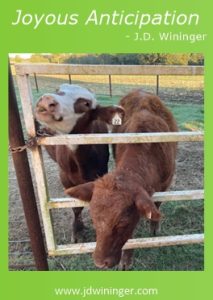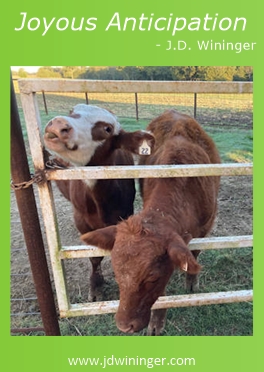 Want to bring a smile to a crusty old rancher's face? Watch what happens when he turns the corner by his barn each morning and heads toward the steers in the feedlot. "Benigno" (Little Ben) and "Homer" are two of the more expressive characters in this year's group of steers. Not quite a year old and born within two days of one another, these two half-brothers are best buddies and almost always together. They eat and sleep together, play tag with the donkeys, and entertain the entire herd with their antics.
What brings my smile is not how healthy and satisfied they seem to be, it's how they greet me each morning. Since planting winter forage, I use the walk-through gate near the barn (pictured above) instead of entering from the west pasture. As they hear my UTV nearing, they move to the barn gate and you can almost see them vibrating with joyous anticipation.
I understand they're expecting feed more than me, but it sure feels good when they call out and stick their heads through the gate as I approach. I'm always amused as these two smack their lips and jockey for position to see which one gets the first treat. As I answer their call with, "Buongiorno miei picollo vitelli" (Good morning my little calves), they strain forward, putting their heads through the gate's bars. I can't help but wonder if God feels this same way when we approach His throne in prayer.
Do we invite God into our lives with joyous anticipation?
Click To Tweet
If I'm honest, there are some days when I awaken and say "Good God, morning" instead of my usual, "Good morning God". This life is sometimes full of trials, temptations, and difficulties. And while we expect they'll be days like this, we know we don't have to remain in that funk. As I talk with my steers, I can't help but think of one of my favorite Bible verses.
"You have made known to me the ways of life;
You will make me full of joy in Your presence."
(Acts 2:28, NKJV)
It's when I purposely invite God to come into my life each morning that I find the fullness of joy in His presence. Even on those difficult mornings when I force myself to sit down and enter His presence through His word and a prayer-filled visit, His joy always seems to fill me. My "God time" ends with a sense of peace, joy, and hope. Spending time with God calms my spirit and reminds me that all is but a momentary affliction (2 Corinthians 4:17-18). Whatever is attempting to control my thoughts and emotions always pales in comparison to the promised end of my journey.
As I enter my quiet time of study, prayer, and reflection each day, I think of the words of Psalm 62:1; "Truly my soul silently waits for God; From Him comes my salvation." In focusing on these words, I'm reminding myself that I can't save myself and I can't earn God's salvation; I can only achieve it by letting Him work in me. So how do these words fill me with the same joy I see in my playful and dependent steers? The Apostle Peter explains it better than I can. When I consider the coming day of the Lord, these words explain the fullness of joy in my life.
"whom having not seen you love. Though now you
do not see Him, yet believing, you rejoice with joy
inexpressible and full of glory, receiving the end
of your faith—the salvation of your souls."
(1 Peter 1:8-9, NKJV)
Ms. Anne Graham-Lotz shared a devotion some time ago that I treasure. She asked, "Have you ever considered that you have a divine appointment when you get up early for your quiet time of prayer and meditation on His word?" Ms. Anne described how Jesus waits patiently to meet with you in your "God time."
I wonder how our lives could be filled with more joy if we consider every act of worship (going to church, studying the Bible, helping others) as a divine appointment. What if we view our every action as an opportunity to be with God Himself? I think in doing so, we too would live in joyous anticipation.
I pray you'll consider how my little steers make my day brighter through their joyous anticipation of what is coming. How they greet me with eager anticipation of the reward that comes from being in my presence. Let us endeavor to bring God that same smile when we joyfully come to Him each morning.
God's blessings,

Please join me each Thursday evening at 9:30 Eastern as host Coach Mark Prasek and I take a trip Around the Cross-Dubya on PJNET TV. We discuss this week's blog post, offer insight about the lessons learned, and enjoy the fellowship of friends in the live chat room.