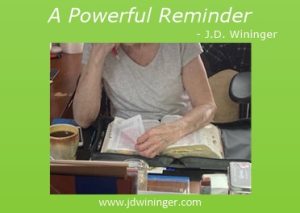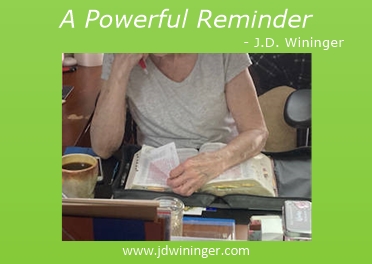 Our Cross-Dubya ranch gives many reminders of how much God has blessed my life. The livestock lowing softly through the morning fog reminds me of God's steadfast protection. Bubba the chocolate lab's greeting when I open the door leading to the garage, reminds me of God's enduring love and the loyalty I offer Him. A barn full of hay and fields full of emerging winter forage remind me of God's provision. These things pale when compared to His most powerful reminder.
Most days begin the same. I awaken before dawn and share time with God in prayer, study, and meditation. At first light, I feed and water all the animals. Sometimes my wife is awake and sitting at her desk with that first cup of coffee as I enter the house to prepare my breakfast. Most mornings, however, the house is still peaceful as she sleeps. Walking by my den upon awakening, she reminds me, "I like coffee." I often prepare and bring her that first cup to start her day. Later each morning, God shares His powerful reminder of the power of prayer.
How does God remind you of His steadfast presence in your life?
Click To Tweet
That reminder comes each morning as I make my way from the den to the kitchen for that late-morning cup of coffee. As I walk by her craft room/office, she sits, in silence. Her Bible and journal are open and she's immersing herself in God's word. It's at that moment I'm reminded of how God answered my heart's great desires and long-offered prayers. He gave me a wonderful soulmate and helper; and He led her into a true and personal relationship with Him.
I prayed for almost 40 years for God to bring me that one person He had created to stand beside, encourage, challenge, and strengthen me. I knew she believed in God very early in our relationship. Another 15 years was spent praying He would awaken her soul and bring her into that same deep, intimate, personal relationship with His Son that I found.
Each morning, as I see my wife surrendering herself to God, I think of the words of Matthew 7:7-8 (NKJV).
"Ask, and it will be given to you; seek, and
you will find; knock, and it will be opened
to you. For everyone who asks receives, and he who
seeks finds, and to him who knocks it will be opened."
I find great peace in knowing that God has ignored no plea I've made with earnest and humility. Answering prayers throughout my life, He's taught many valuable lessons. These include:
Trust (Proverbs 3:5-6): I've learned to trust in the promise of His word. This doesn't mean that I will always get exactly what I pray for, in exactly the way I expect it. It means I will get an answer from God to my every request. Of course, no mention of trusting God could be complete without referencing 2 Corinthians 1:20 (can you hear Alan Jackson singing the chorus to "Standing On The Promises" right now?).
Patience (Psalm 27:14): Learning to wait on God has taught me both patience and how to follow without complaining. I can't always understand where God is leading me as He answers my prayers. I can trust Him to make my paths straight and prepare me to receive His blessing during the journey.
Acceptance (Hebrews 10:36): Learning to accept God's will and His plan for my life has brought great peace and comfort to my soul. I realize that I can't understand why God is leading me to do something or go somewhere (Jeremiah 29:11), but I know He will never seek to harm me. I often remind myself of the words of Isaiah 55:8-9.
If I'm honest, I can't tell you how I'm a strong spiritual leader of my family; the wise teacher and counselor that disciples every family member. What I have learned is that our triune God is a much better teacher than I can ever be. I have accepted that my role in His plan for my wife and others is to model a life surrendered to Christ. In doing this, I pray daily God can use me as a role model for others. I pray I can be an example of what He can do with anyone who allows Him to work in their life. Far from perfect, but soft clay, submitting my life to the Potter's hand.
What lessons has God taught you in your walk with Him?
Click To Tweet
I hope you've reflected on the many ways God has shown Himself faithful and true in your life. When I see my wife engrossed in her quiet mornings with God, He reminds me how He must often prepare me before He can answer my prayers through others. Each time I see her studying, hear her praying, or listening to worship music as she works at her desk, I'm reminded of the power of prayer. Whatever the time, whatever the need, God never fails.
God's blessings,

Please join me each Thursday evening at 9:30 Eastern as host Coach Mark Prasek and I take a trip Around the Cross-Dubya on PJNET TV. We discuss this week's blog post, offer insight about the lessons learned, and enjoy the fellowship of friends in the live chat room.