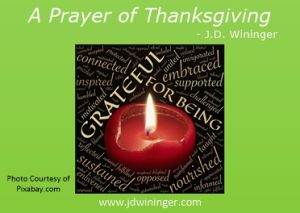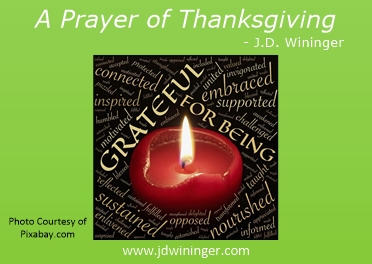 One of the blessings of owning your own web site and having a blog is that I have the freedom to post whatever God places on my heart. In the weeks leading up to our uniquely American Thanksgiving holiday, there's been lots of thankfulness and thinking-ness happening around the Cross-Dubya ranch. So rather than one of my usual posts about the happenings around here and the lessons God is teaching me, I offer this heartfelt prayer of thanksgiving.
Don't forget to thank God for all He's given us this Thanksgiving.
Click To Tweet
Father God, as my family and I are about to celebrate this American holiday tradition, I pause to first thank You for giving this nation (and the world) another year. We know that at Your word, the world as we know it today will come to an end. I thank You for creating me to be an American; and more, I praise you for calling me to become a Christian. As many freedoms as living in a nation founded upon Your principles, with a Constitution guaranteeing the right to live free gives, the greatest blessing is living in Your freedom. Your freedom, found only in our salvation achieved by placing our faith in Your Son, Jesus Christ, frees us from the death penalty sin brings.
Adonai (Lord, Master), I thank you for the many blessings bestowed upon my family and friends. While dad took his final first step into heaven's glory, I thank You for the mercy given. So grateful that You did not allow him to languish and suffer, afraid and alone, separated from the family that he loved so much. I especially praise You for your protection of my bride for all those months as we sought medical treatment for her long-endured illness. I thank You for guiding us to the right people, place, and procedures to correct her malady and placing her back on the road to good health and restoring her quality of life.
Jehovah Rapha (the Lord who heals), you saved my friend Mr. Donnie and many others (including Ms. Diane and me) from this terrible man-made disease called Covid. I can't understand why we humans do these things to ourselves Abba, but I thank You for creating us with the ability to fight this with the way you made our self-healing bodies and with the great minds that seek to heal, not harm, Your greatest creation.
Jehovah Jireh (the Lord who provides), thank You for blessing me with the consulting work, cattle sales, forage, and weather needed to have another successful year. You have protected the Cross-Dubya ranch through storms, diseases, and yes, deaths. Those calves we helped to grow and bless the community around us far outnumber those lost in birth and the days afterwards. I thank You for Your grace, provision, and protection as we sought to honor You through our work here at Your little ranch.
El Shaddai (Lord God Almighty), I thank You for the many wonderful Christian writing friends who guide me to become a better writer, able to more humbly serve Your kingdom with the gifts of love and adoration found in the words You inspire. Father, the friends and followers of my writing, those who comment and share my words around the world with their audiences are such a blessing to me. Thank You for the encouragement they bring and the prayers they send forth on my behalf. I pray Your continued guidance upon the words I write to bring You honor and glory Lord.
Jehovah Raah (the Lord is my shepherd), I especially praise You for Your patient teaching and guidance as I seek to be your under-shepherd; guiding my family, friends, readers, and followers to You and the lessons You would have me share with them. I pray You help me continue being attuned to Your urging in my life Father. Help me to seek You always. Thank You for Your Holy Spirit who nourishes me with Your word, who convicts me when I start to go off path, and who gently prompts me to show You to the world through my words, actions, and deeds. Allow me to continue to be a sheepdog, following Your direction while helping protect Your flock; and a subjective under-shepherd to my family. My most important role is sitting the faith model for my family to follow—so they too can grow in their faith.
You are Yahweh, the Lord and Master of all. You are El Elyon (the most high God) and I worship You for Your majesty, love, grace, and mercy. I praise You for loving me enough to lift me up from the death sentence of sin I was born under. I honor You for the unmerited grace and favor You have bestowed upon my life. You are my Jehovah Nissi (my banner), and I pray Your strength to help me always rally to Your presence. For You Lord, are my God victorious. I live because of, and for, You alone.
In the precious name of Your Son, Jesus Christ, I pray. -Amen
Ms. Diane, Bubba the chocolate lab, Magic and Elpis the donkeys, Mavric the bull and his herd, and I wish each of you a very blessed and Happy Thanksgiving. We pray His peace, grace, and goodness upon all facets of your life this day and in the coming days.
God's blessings,