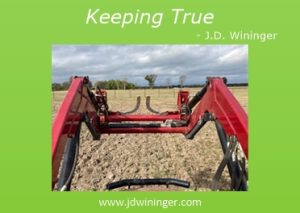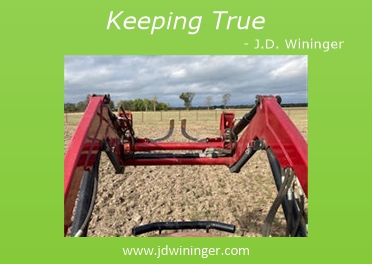 Most farmers I know don't think in terms of degrees, minutes, and seconds. We don't much concern ourselves with converting between true and magnetic north, or the angle of declination. Our goal is to plow a straight line and plant a straight row. Most folks who think that a simple task has never driven a tractor pulling a heavy implement across a wide, barren field. Disking my west pasture a few weeks ago reminded me how easy it is to get off course.
Without installing a GPS-based navigation system on your tractor, which beeps and alarms to tell you when you're drifting off course, we rely on line-of-sight navigation. Using this tried-and-true method helps you stay on course (keep true) and prevents your row crops from looking like a drunkard planted them. The secret is fixing your waypoint (navigational reference) far enough ahead so you can check it during your journey and make minor corrections as needed. In small acreage farming, like my west pasture, I focus on fence posts at the other end of my field.
Many years ago, I learned a straight line is the shortest distance between two points. I also learned that maintaining a straight line on a tractor isn't always that easy. Turning around the check on the implement you're pulling or navigating a turn, it's easy to drift off course. And if your waypoint is too close, you constantly have to select new ones and have no time to correct when you get off course. After completing my turning rows, I reminded myself of Luke 9:62.
But Jesus said to him, "No one, having put his hand
to the plow, and looking back, is fit for the
kingdom of God." (Luke 9:62, NKJV)
As I prepared my field for planting, I thought about how important it is to keep our spiritual journey in faith on course. I remembered how my poor choice of spiritual waypoints early in my Christian life led me to drift off course and not reap the harvest God planned for me. Rather than keeping my eyes upon Jesus (Hebrews 12:1-2) as the old hymn proclaims, I looked upon man to show me how to live as a Christian. The results were many years of poor harvests.
Who is the waypoint in your faith journey?
Click To Tweet
In realigning myself with Christ over 20 years ago, I discovered the story of Elisha and Elijah in 1 Kings 19. God helped me understand that to be a true follower of Christ, I had to let go of my past life and focus on the path He had long ago established for my life. While making my way back and forth across the field in straight lines, I remembered other examples of such faith.
I thought about the story of Cortés' conquest of Mexico in 1519. As the story goes, after landing upon the shores of Mexico, the Spanish conqueror ordered his own fleet of ships to be burned. This was a message to his 600 men that there was no retreat, no surrender; it was victory or death. I wondered if the words of Luke 9:62 were going through any of their minds as they watched the ships burning. I also found myself singing the chorus of I Have Decided to Follow Jesus (based on the words of John 12:26) as I worked.
"I have decided to follow Jesus;
I have decided to follow Jesus;
I have decided to follow Jesus;
no turning back, no turning back."
Are you looking forward or backward in your walk with God?
Click To Tweet
As I close this week, I'll share that God has blessed my planting. Since planting the winter wheat, He's brought the abundant rain, sunshine, and temperatures needed to not only germinate the seed, but it's already tillering. He has blessed our Cross-Dubya ranch with a good stand of wheat that ensures winter forage for our cattle.
I want to leave you with the encouragement found in Philippians 3:13. Brethren, I do not count myself to have apprehended; but one thing I do, forgetting those things which are behind and reaching forward to those things which are ahead. I pray we keep Jesus as our waypoint as we navigate the uncertain days ahead. While uncertainty reigns supreme in this world, remember that as Christians, this is not our world. Our end game is spending eternity with God. Let us focus on that goal.
God's blessings,

Please join me each Thursday evening at 9:30 Eastern as host Coach Mark Prasek and I take a trip Around the Cross-Dubya on PJNET TV. We discuss this week's blog post, offer insight about the lessons learned, and enjoy the fellowship of friends in the live chat room.