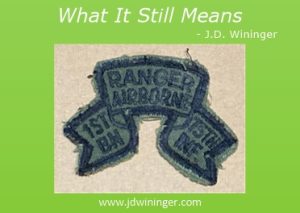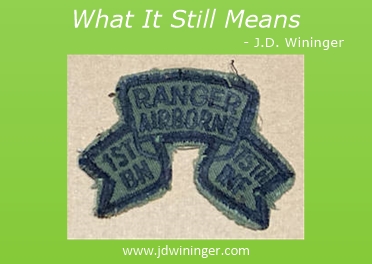 The tattered old scroll lives in a drawer in the workshop these days. Its days of excitement and glory lost to the ages. Forty-two years ago, it adorned the shoulder of a strong, confident, fiery young soldier. The old veteran holds it in his hand. His mind floods with memories of times past. Running his fingers along the embroidered characters and borders, he remembers where it's been.
Before the now famous 75th Ranger Regiment existed, there was one unit; formed at Ft. Benning and moved to Hunter Army Airfield in 1978. While many Rangers earned the coveted Ranger Tab, a qualification for completing Ranger School, only those selected to serve in a Ranger battalion wore the scroll. There's a difference between Ranger-qualified and Ranger-tested, the old man thinks.
He wonders as he sits silently with a cup of coffee in his hand, Do I still remember? Can I still recite it? As he rattles off The Ranger Creed from memory, a hint of a smile comes across his face. Even after all these years, there're some things a veteran never forgets. He reminds himself that the version he memorized during morning PT, marching everywhere, and drilled into him by his NCOs included "of my Ranger battalion."
Having never met Command Sergeant Major Neal R. Gentry (1932-1990), the old soldier reflects on these words, first written in 1974. They sustained him during some of the most difficult situations a warrior can face. This creed was more than inspiring words to a young soldier. They were the model upon which he was to live out his life. Something interesting about the Ranger Creed is that it is an acrostic. The first letter of each stanza of the creed spells out the word R-A-N-G-E-R.
If you look up "creed" in a dictionary, it defines it as "a core set of beliefs; also a guiding principle." Creeds have been around for a very long time. Two that come to mind are the Apostle's Creed, written in the 2nd century A.D. and the Nicene Creed, written around 325 A.D. In thinking about these three, I found some striking similarities. They each model a way of life for those who choose to adhere to them. Another is that applying them to your life will cost you something.
The wonderful thing about a creed is its ability to bring a group of individuals together; each dedicating themselves to a common ideal. A creed teaches us to understand that the whole is greater than the sum of its parts. To achieve the goal of each benefitting the other by helping the team do more than the individual, we must sacrifice ourselves. We must surrender our will for God's. We must lay down our goals for Christ's.
Of all the stanzas in the Ranger Creed, one of my favorites is the start of the third stanza; "Never shall I fail my comrades." I wonder; can we as Christians live out that solemn promise? If so, how might you apply those words in your home, family, and church? What results might that bring?
What is the goal of your Christian life? Is it to help others or only yourself?
Click To Tweet
Before we can lift our brothers and sisters in Christ above ourselves, we must first ensure we are the best we can be. When all the individuals come together to achieve a common objective, it becomes much easier. This is the manner in which Christ designed the church body to operate. Not as a divided, disjointed band of individuals and denominations (as Satan tries so hard to do within the church), but as a family of faith, each dedicated to helping the other achieve our common goal. To do this, we must retrain ourselves to focus on what joins us together, rather than on what divides us.
Our common focus must be our Lord Jesus Christ.
As we Americans pause on November 11th to observe Veteran's Day, my prayer is that all Christians around the world reflect on the words of my beloved Ranger Creed. How might these words inspire you to live out your Christian life?
Ranger Creed
Recognizing that I volunteered as a Ranger, fully knowing the hazards of my chosen profession, I will always endeavor to uphold the prestige, honor, and high "esprit de corps" of my Ranger battalion.
Acknowledging the fact that a Ranger is a more elite soldier, who arrives at the cutting edge of battle by land, sea, or air, I accept the fact that as a Ranger my country expects me to move further, faster, and fight harder than any other soldier.
Never shall I fail my comrades. I will always keep myself mentally alert, physically strong, and morally straight; and I will shoulder more than my share of the task. Whatever it be, one hundred percent and then some.
Gallantly will I show the world that I am a specially selected and well trained soldier. My courtesy to superior officers, neatness of dress, and care of equipment shall set the example for others to follow.
Energetically will I meet the enemies of my country. I shall defeat them on the field of battle for I am better trained and will fight with all my might. Surrender is not a Ranger word. I will never leave a fallen comrade to fall into the hands of the enemy and under no circumstances will I embarrass my country.
Readily will I display the intestinal fortitude required to fight on to the Ranger objective and complete the mission, though I be the lone survivor.
The words of this creed mean more to me today than they did as a soldier. Modern day Rangers have two mottos; they are "Rangers Lead the Way" (used by Ranger-qualified soldiers) and "Sua Sponte" (a Latin regimental motto that means "of their own accord"). As a Christian-veteran, I try to apply both each day in service to my Lord. I must choose each day whom I serve and I do my best to set an example others might follow. Was I the best Ranger ever? Far from it. Am I the best Christian? Not even close. Yet, with your support and prayers, I press toward the goal (Philippians 3:14).
To all of America's veterans who have served with honor, I offer a heartfelt Thank You for what each of you gave up to achieve the common goal of defending our Constitution and keeping our nation free.
God's blessings,

Please join me each Thursday evening at 9:30 Eastern as host Coach Mark Prasek and I take a trip Around the Cross-Dubya on PJNET TV. We discuss this week's blog post, offer insight about the lessons learned, and enjoy the fellowship of friends in the live chat room.