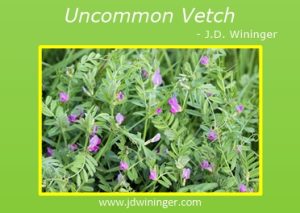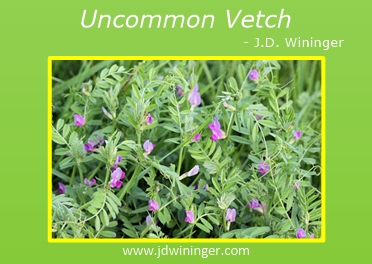 Sometimes God uses the most common things to teach us uncommon lessons. This is one of those times. Like most things since January 2021, seed has become less available and its price has skyrocketed. In planning for my winter forage planting this year, I had to consider availability and what my remaining forage budget could afford.
As the banner on my website shows, I have an affinity for crimson clover; and for more reasons than its beauty in the springtime. Clover is a legume, which means it has a nitrogen-fixing bacterium that fixes atmospheric nitrogen into compounds available to the pasture. This reduces the need for application of expensive nitrogen fertilizer and planting subsequent rotation crops. However, the price of clover seed has more than doubled this year and when you do the math, the cost outweighs the benefit. Thus, I needed a cheaper alternative to my preferred legume.
Common vetch, although found naturally in some pastures, is a good forage for ruminant animals. As part of the legume family, vetch produces a high amount of crude protein. While common vetch is for animals, there are some varieties quite safe for human consumption. Two such examples of human-edible vetch are faba and lupini beans. For years, I sat and watched my wife and her best girlfriend, Mary Calabria, eat raw lupini beans whenever we gathered in the Italian-American neighborhood they grew up in. It's an "Italian thing."
Common vetch can deliver up to 32 percent crude protein. In the winter, when my cattle are dining mostly on hay, the added protein is a blessing. As I was deciding on what to plant, I replaced my clover with vetch this year. Its delicate purple flowers aren't as beautiful (to me) as my proud clover that stands knee-high, but it will serve its intended purpose of supplementing the cattle well. Alas, this post isn't about common vetch, but the uncommon lesson it allowed me to share for God's glory.

Ms. Diane and I designed our Cross-Dubya brand to show how our goal is to put Christ first in everything we do here at the ranch. It's on my pickup, stock trailer, gate header, and much of my clothing these days. Heck, it's even on our cattle. Most folks around here know what the cross stands for, so it's pretty self-explanatory. What God reminded me of is that wearing His brand is only worthwhile if we ride for it each day. If we don't live like Christ is first in our lives, then our brand is nothing more than a marketing ploy.
We must do more than tell people we're Christians, we must show them.
Click To Tweet
I try not to climb up on my soapbox, in public at least, very often. This is because the world needs to hear God's truth much more than it needs my opinion! In purchasing my winter forage seed, God gave me an opportunity to put my action where my mouth is. Ordering lots of winter wheat, a little rye grass, and common vetch, I stood by the loading dock as the young workers filled the bed of my pickup. I joked with the over-sized young fella carrying two sacks at a time, "What are my chances of carrying you home with me to unload all this?"
Thirty minutes later, I backed into the workshop and started unloading the 50-pound sacks of seed. I placed wheat in one stack, rye grass in another, and vetch alongside the rye. My plan was to plant winter wheat in the west pasture and a mixture of rye and vetch in the north and south pastures on the east side of our ranch. As I counted each sack, that's when I noticed that instead of common vetch, the young men had instead loaded hairy vetch.
A simple mistake, I thought; I'll correct it tomorrow. The next morning, I called my friend who manages our local farm and ranch cooperative. When I explained I got hairy vetch instead of common, Mr. Donnie apologized. I added, "No harm, no foul. Just add any cost difference to my bill, unless there's a big difference."
He laughed loudly, "You haven't purchased hairy vetch in a while, have you? It's over double the cost." With that, I assured him I would be there today to exchange the seed. Later that afternoon, I walked into the store and my manager friend was out. I showed the ticket to the young lady behind the counter and she looked at me like I had two heads.
"I think it was just a loading mistake yesterday. I'd like to exchange the hairy vetch and get what I paid for." Again, the sweet young lady looked perplexed. "This way your inventory is correct, and I'm not planting seed I didn't pay for."
"But this costs a lot more. And you're returning it", she asked quizzically. That's when the Holy Spirit nudged and whispered in my soul, Now's your chance.
I smiled and said, "I know I could've kept my mouth shut and just planted it, but that would've been wrong on so many levels. Y'all treat me too good to do that to you, and had I done it anyway, God would've snatched me bald!" I removed my ball cap and retorted, "You can see I've made that mistake before, can't you?" Well, that's all it took to have the entire sales staff erupt in laughter.
The young lady directed me to drive back to the dock with my ticket and exchange it for the correct seed. She shook her head and smiled as I turned to leave. I wondered, did she think I was crazy for not keeping the more expensive seed? I wasn't sure; but as I climbed into the cab of my truck, I thanked God for helping me deliver His lesson. Unless it's lived out in our lives, integrity and honesty are just empty words. They're grandiose ideals for sure, but if we claim to be Christians, then they have to be more than mere words to us. James 2:14-26 reminds us that faith without works is dead.
We show the power of God's testimony best in the way His children live their lives.
Click To Tweet
As I was broadcasting the seed ahead of a coming rain, I praised God for giving me an opportunity to bring Him glory. Will that young lady remember the lesson the burly old farmer taught by his example? I may never know, but God will. I smiled with arm raised; remembering that my job isn't to bring the harvest, but to plant the seed. It won't surprise me when God brings forth a plentiful harvest of winter forage to bless my obedience.
God's blessings,

Please join me each Thursday evening at 9:30 Eastern as host Coach Mark Prasek and I take a trip Around the Cross-Dubya on PJNET TV. We discuss this week's blog post, offer insight about the lessons learned, and enjoy the fellowship of friends in the live chat room.