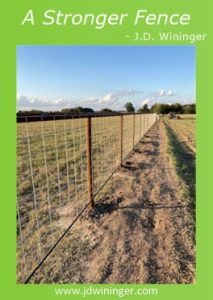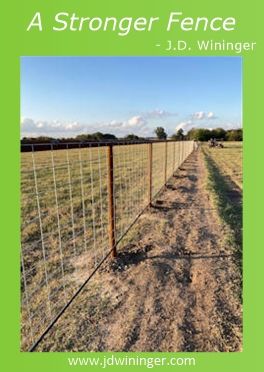 One thousand five hundred four feet of 2 7/8-inch drill stem, posts eight-foot on center and sunk five-foot deep; each encased in 160 pounds of concrete. Welded top-rail and a sucker rod bottom join each post to the other. We welded the 16-foot heavy-gauge steel panels across top, bottom, and sides. Standing five-feet tall, let us pray the new western fence proves to be "bull strong."
The year 2021 has proven to be a costly one for our Cross-Dubya. We haven't spent this much on fencing since building out our north and south pastures in 2014. Without question, this is the most expensive (and I hope secure) fence I've ever built. I asked myself several times during its construction if "Mavric" the bull was worth it. When he comes walking up to me and lays his massive head in my hand, sighs, and looks me in the eye, I'm reassured he is.
As caretaker for the Cross-Dubya and steward of all the blessings God has entrusted to me, I recognize that security and protection is a big part of that charge. Hoping to get two more years from the old fencing along the western edge of our ranch, the added stress of neighboring cattle proved too much. After many failed attempts to bolster and repair the old fence in the past few months, competing bulls and age of the wire all worked against me.
Even though, like most western US states, Texas is an "open range" (or "fence out") state, I purposely built the fences here at the Cross-Dubya "fence in". This means I choose to keep my livestock on my property for their safety and my peace of mind.
One of my favorite chapters in the Bible is Romans 7. In it, the Apostle Paul summarizes the struggle all Christians face with temptation and sin. I think the last sentence of this discourse sums up this summer's fencing challenges. "So then, with the mind I myself serve the law of God, but with the flesh the law of sin" (excerpted from Romans 7:25, NKJV). When my buddy "Mavric" is with his herd on the north and south pastures, he is gentle, easy-going, and relaxed. When temptation is just a few strands of electrified and barbed wire away, his flesh takes control and he becomes both obsessed and aggressive in obtaining what he desires. The solution? Build a stronger fence.
Whether past military service or my obsessive compulsive manner, I compel myself to perform a post-mission debrief or after action report to identify lessons learned from everything I do. As God has been showing me, this analysis is a great time to seek spiritual lessons in my everyday life. Yes, that includes building a new fence to keep two aggressive bulls separated.
God showed me that while I can't remove the temptation of those alluring cows in the neighbor's pasture from "Mavric", I also can't remove temptations to sin from my life. As they do, temptations play to the instinctual natures and desires we are born with. What I can do is create stronger fences that make it more difficult to give into those temptations. For "Mavric", that meant lots of steel pipe and four-inch square steel mesh he can't get his head through to stretch and separate.
But what does that stronger fence to help deter me from temptation look like? I pondered this question during my "God time", and the answer came quickly. You can't, the Holy Spirit whispered to me. I smiled as joyous tears rolled down my face. He was right! As flesh, while I remain on this earth, my carnal human nature will always war with my spiritual nature, God implanted at my salvation. I realized that as I strengthen my faith and surrender to God's will, my spiritual fence becomes stronger. God was right; I can't do this myself, but through His omnipotent strength, He can. By learning to listen, respond, and learn from the Holy Spirit, my spiritual fence becomes stronger and I can more easily resist temptation.
The Holy Spirit can be our stronger fence in the spiritual battle waging within us each day.
Click To Tweet
My prayer this week is that you ask God to show you the weak spots in your spiritual fence. Then, surrender yourself to Him so that together you and He can strengthen your faith and bolster your defenses for the coming days. Here's to building stronger fences my friends.
God's blessings,

Please join me each Thursday evening at 9:30 Eastern as host Coach Mark Prasek and I take a trip Around the Cross-Dubya on PJNET TV. We discuss this week's blog post, offer insight about the lessons learned, and enjoy the fellowship of friends in the live chat room.