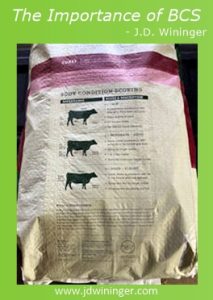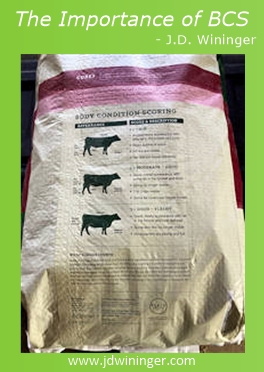 I can't imagine God using a sack of cattle feed to teach me something; but then again, He's God. Mentally grumbling about paying $11.50 for a sack of cubes for my cattle (when less than a year ago I paid $7.50), God gave me pause. While unloading 800 pounds of feed from the back of my pickup, God used an upside down feed sack to teach me something new.
My normal feed sacks are paper with text and a picture of a cow's head on them. This week, my local feed store was once again out of cubes. As I pulled the Tyvek sack of feed toward the tailgate God whispered "Look." I stopped and looked up from my task. What Lord, I see nothing different here in the workshop? "Look at what you're doing", He whispered in my heart.
That's when I realized the sacks were different in that printed on the back was a BCS chart. BCS stands for Body Condition Scoring, and it's a rating system used for livestock. If you will, BCS is a livestock version of our BMI (Body Mass Index). For cattle, we use a 1 to 9 rating system where a BCS of 1 is very poor condition, and 9 shows a cow is overweight.
In a cow-calf operation, BCS is vitally important. It ranges from determining overall cow health and breed-back time, to how much a cow will bring at auction. It's something I evaluate at key points throughout the year. Here at the Cross-Dubya, we assess BCS at weaning, before breeding, and at the end of their second trimester. Today, I sensed God had a different purpose.
This chart gnawed at me through the rest of the day and as I fell asleep. When I woke up in my recliner, I realized what God was trying to teach me. The acronym BCS could have other meanings and we need to be open to considering how one thing might apply to other parts of our lives. My thought upon awakening was BCS could stand for Body of Christ Scoring. How might we apply this livestock rating system to the body of Christ, today's Christian church? Wow! That thought consumed my morning.
When I score my cattle, the goal is to have them all at BCS 7. Most ranchers consider a BCS 7 optimal condition for livestock. In learning about BCS years ago, a BCS 7 means the animal has 25-30 percent body fat and will be ready to breed-back faster than thinner or heavier cattle. It also places them in best physical condition to avoid injuries from muscle loss (too thin) or mobility issues (too fat). Monitoring BCS and adjusting feeding regimens ensure our Cross-Dubya cattle maintain an average BCS of 7 year-round.
I thought and prayed about how I could apply the BCS system to churches, and here's what I came up with.
Bone structure (hooks, pins, ribs, back) clearly visible and sharp

Visible all-around muscle loss

No fat deposits or muscling

Lack of enthusiasm by members

Resistant to change or new ideas

Often operating in the red

Visible space between vertebrae

Significant muscle loss in hindquarters

Little or no community involvement

Very little fat cover around foreribs, back, and loin

Muscle loss in hindquarter

Mounting membership losses

Inability to attract new members

Lack of programs for different age groups

12th & 13th ribs are still visible

Must feel to find spinous processes

Slight muscle loss in hindquarter

Lack of Bible-based teaching (apostate)

Messages are more worldly than godly

Often funds pet projects rather than community-wide

Fat deposits forming in brisket and sides of tailhead

Lots of casual members that make two holidays per year

More "pew sitting" than evangelism

Ribs fully covered and not visible

Hindquarters are plump and full

A "closed" or non-inclusive society

Members all look & think alike

Average member age increasing

Majority of activities done by very few workers (90-10 rule)

You can only feel spinous processes with firm pressure

Abundant fat cover on each side of tailhead

Good mobility (can run, turn, up and down easily)

Uses each member's unique talents, skills, & gifts

Open, non-judgmental inviting environment

Balanced budget & minimal debt

More $ given outside the church than spent inside the church

Discipleship & other training opportunities

Smooth appearance (bone structure is disappearing)

Fat cover is thick and spongy

Lots of cliques (Us vs. Them)

More interested in having members than making disciples

Worldly attitudes, focusing on politics from the pulpit, etc. more than teaching God's word

Pride of savings & return on investments

Little real community outreach

Square-looking appearance (bone structure no longer visible)

Behavioral problems (bossy, entitled)

Low percentage of member engagement

Lots of distractions & activities that yield very little spiritual growth

More interested in size of savings & influence than serving community

The building is more important than the people in it
As with any rating system, BCS has a certain amount of ambiguity and ratings can be subjective. Ranchers become better at applying it with experience. And like writing or painting, we sometimes use broad strokes. My goal is not to invite comparison or cast criticism, but to encourage each of us to evaluate ourselves and our churches against the righteous standard found in God's word.
Do you know your BCS?
Click To Tweet
Looking at some of today's Christian churches, I see the results of too many concessions to worldly views and not enough application of God's word in our lives and communities. We've become complacent in our faith and that complacency invites dissention from the standards of Christianity (morals, values, behaviors, service, etc.) from which Christ established the Judeo-Christian faith. I don't believe this to be a sudden shift, but a slow drifting away from the example Christ sat for us through His life. Consider how secular our nation has become in the last 70 years.
God's word has not changed, we have.
Today, there are churches that spend more time entertaining than teaching from the Bible. Corporate worship is not a bad thing—it should set the stage for learning by preparing our hearts to receive God's word. Worship, however, does not develop the discipline and strength needed for our journey in faith. There are other churches that mistakenly believe they should shut their doors to sinners and people in need. Instead, we should invite those who are most vulnerable into our fellowship.
I firmly believe we are standing on the edge of a great precipice of time. We have little time left to either return to safety (2 Chronicles 7:14) or slip into the abyss of this world. My fervent prayer is that no Christian will fall away (1 Timothy 4:1-3), as we are nearing the end of our race. I pray we each finish strong.
God's blessings,

Please join me each Thursday evening at 9:30 Eastern as host Coach Mark Prasek and I take a trip Around the Cross-Dubya on PJNET TV. We discuss this week's blog post, offer insight about the lessons learned, and enjoy the fellowship of friends in the live chat room.