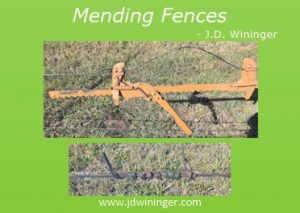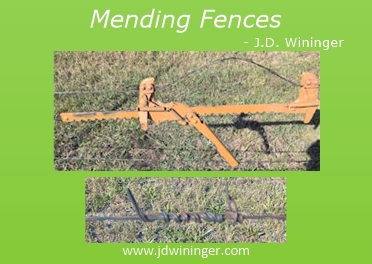 While waiting for the fence builders, steel, and concrete to show up, I pray each night that all on my ranch stay safe for one more day. Even though I pray every day for the Cross-Dubya and all I care for, my prayers have a sense of urgency about them these days. I know I've got a bull with wandering eyes and raging hormones. Then there's an upcoming surgery. What happens if "Mavric" escapes again while I'm in the hospital? Ms. Diane has never even touched him, and she's not about to go out there to herd him back.
As the days pass, I check the west fence line day and night. In the week before I moved "Mavric" and the mamas to the north pasture, I repaired the fence six out of seven days. As soon as I'd fix one spot, he'd find another. I can't prove it, but if the hoof prints were any sign, he was getting help from the other side of the fence. My suspicions are that the bulls were fighting with one another through the fence, but I didn't see that in the dark.
All these fencing repairs have me thinking, What fences do I need to mend in my life? I believe the end times are upon us, and I'm taking stock of those I've slighted, offended, or harmed. I'm also noting those who have inflicted things upon me that I've held in my soul for far too long. If I'm leaving this world soon, I want to do so with a clear conscience and a joyous heart. In reading Paul's letter to his spiritual son Timothy this past week, these words struck a chord.
"The purpose of my instruction is that all
believers would be filled with love that
comes from a pure heart, a clear conscience,
and genuine faith." (1 Timothy 1:5, NLT)
Like many of you, I suspect, there're skeletons in my closet I would prefer to leave there. The thing about those closet dwellers is that Satan knows they're there too, and he'll always try to use them against us. He'll bring up past disappointments, hurts, events, and yes, words that we both said and heard throughout our lives. You often hear me refer to the Devil's Four D's (Disappointment—Discouragement—Doubt—Division). He is a master at using our memories of past transgressions, both delivered and received, to manipulate our human spirits. If there is any pain or regret associated with them, he'll attempt to use it against us.
Something I've discovered in my Christian walk is that when I finally let go of things from my past, God doesn't take away the memory of them. He takes away the pain and shame associated. And when God removes emotion from the memory, it becomes nothing more than a page in the book of my life. When I kept it hidden away in the closets of my mind and heart, that hurt was a glowing coal; ready to burst into a raging fire of emotion in an instant. After surrendering each one to God, they became reminders of the transformation my life has seen. Each one is a mile-marker on my journey in faith.
Another discovery is that forgiveness, whether received or given, is the secret ingredient that makes love possible. Things have happened in my life that some might consider unforgivable. It's taken many years, but God's taught me that if I am to love like His Son, then I must forgive those that caused such pain in my life. Not an easy task, but a necessary one for me to gain a full understanding of Christ's sacrificial, agape love.
Forgiveness, received or given, clears the way for love to grow.
Click To Tweet
With God's patient help, I learned to place the memories of my hurtful past sacrificially onto His altar of grace and forgiveness. In releasing each one to God, He released me from their torment. With a grace-filled spirit, I release those closet dwellers into the ether so that my mind is clear and my heart full as I prepare to journey home.
To the adults who brought an illegitimate child into this world and abused, belittled, besmirched, and disavowed him; I call you hurt, anger, alcohol, and hate.
To all those (young and old) who laughed at and ridiculed the little left-handed boy who sounded like "Elmer Fudd" and did most things backwards from you; I call you mean, unkind, and callous.
To the four young men who held a seven-year-old boy to the ground in a homemade tent in Surprise, Indiana and did unspeakable, horrible things to him; I call you sodomy.
To those who stole from a young man with so little, who kicked and punched and took what was not yours; I call you greed.
To those who took advantage of a man's trust, kindness, and generosity, who borrowed with no intention of repaying, who used emotion, turmoil, deceit, and trickery to take from me; I call you liar, cheater, and swindler.
To all of you who identify above, I forgive you. Know that God repaid your bad with His good many times over in my life. From an adoptive family who showed me love, to a helpmate and wife who allowed me to grow and become the man God has always meant for me to be. I call my life victory.
Please understand this. My forgiveness helps me, but does nothing for you. Unless the blood of Christ has forgiven and washed your sins clean through His gift of salvation, you remain eternally stained. I earnestly pray that if any of you have not yet found your way to a genuine relationship with our loving Father, that you seek His salvation soon. Find someone nearby who can help you find your way home.
The remaining closet dwellers? I must claim these. Even after my salvation, I've sinned far more than I should have. Greatest among them is choosing to hold on to remnants of my carnal human life and ways long after I laid it at the foot of the Cross. I understand all humans do and we sometimes surrender to God in stages. I pray I'm getting close to my final stages of surrender.
To those I tried to repay with hurt for hurt, others whose trust I somehow betrayed, to all I've wronged, I ask your forgiveness. I ask not for myself as 1 John 1:9 has allowed me a path of confession, repentance, and forgiveness, but for you. I fervently hope you can release any hatred, anger, remorse, or other emotions I may have caused that prevent you from finding a closer walk with God.
To my readers, friends, and brothers and sisters in Christ, I offer a simple prayer. Father, I pray for my readers, followers, friends, and fellow Christians on this day. I pray You send Your Holy Spirit to show them their broken fences; and help them mend them through Your mercy and grace Father. Help them empty their cup of life of everything that is not of You Lord, and to refill it with Your love, peace, and kindness. Then Father, if it be our last act in this life, help us pour ourselves out so humanity can see what God can do through a surrendered life. In Jesus' precious name, I pray. Amen.
God's blessings,

Please join me each Thursday evening at 9:30 Eastern as host Coach Mark Prasek and I take a trip Around the Cross-Dubya on PJNET TV. We discuss this week's blog post, offer insight about the lessons learned, and enjoy the fellowship of friends in the live chat room.