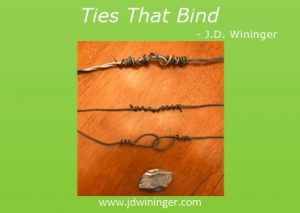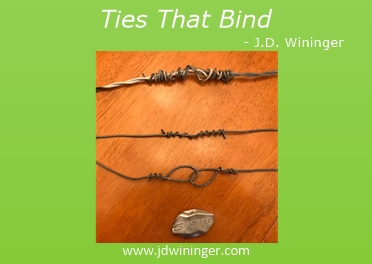 Deciding what fence-splicing method you choose depends on where the break is and how much tension the wire holds. Here at the Cross-Dubya, some of our fencing is approaching 20 years old. Checking and repairing fences is an almost daily event. All those years of being leaned on, stretched, and tore loose from your anchors require constant maintenance.
Fence repairs range from replacing missing fence clips or installing fence stays to keep the cattle from stretching the wire too far. I'll never understand why, but cattle have an insatiable need to taste the same grass as what's on their side of the fence. Pushing their heads between the strands of wire and straining to reach just one more mouthful results in stretched or broken wires.
When fence strands break or stretched to the point they're loose and flopping around, it's time to break out the fence stretcher and don the leather gloves. If the wire stretches and hangs loose, then we gather all the slack in between the ends of the stretcher, cut the wire and affect a repair. If broken wires don't have enough slack to join them together, you insert a bridge between the two ends. In all these cases, the way you tie these wires together depends on how strong a repair you want.
If you're in a hurry and don't have your fence stretcher, you might choose to make a loop splice. Here you create an eye/loop on one side, then pass the other wire through the loop and pulling the wire tight by pulling against the opposite wire. Then you tie the second loop. It's fast and handy to string a wire, but it isn't very long lasting and almost always requires repairs later.
When you have your fence stretcher, a tool designed to tension/tighten a wire, there are several better methods to choose from. By-pass methods include using Gripples or compression sleeves, which allow wires to be joined. Gripples have spring-loaded wheels that only move in one direction. This prevents the wire strand from backing out. Someone can crimp a compression sleeve down on the two wires. These are fairly quick repairs, but they're not long-lasting. I've found these lose their integrity over time and when wires stretch, they'll give way or break.
If you can pull the wire tight to have a four-to-six-inch overlap, you can use a much stronger inline splice, often called a Western Union splice. This joins the two ends together by tying each end over the other in opposite directions so they pull against one another. Creating a stronger union by bonding the two ends together allows it to withstand more tension.
When splicing two ends together, and especially when adding a bridge, I use a method taught by an old cowboy when I was a teen. The Y-splice divides the two strands of twisted wire and then joins the two ends together by tying the divided wires onto the opposite end in opposite directions.
The Y-splice method creates a bond that is stronger than the fence itself. I've seen old fencing that is falling apart and rusty and those splices still hold tight. The secret is how the individual strands wrap around the core wire so the splice pulls against itself. The more tension you put on this connection, the tighter it gets.
My bull Mavric has broken the fence many times this year; but not one of these splices has failed. I can't say the same for the other methods. When tying these splices, there's one verse that always comes to mind. "Though one may be overpowered by another, two can withstand him. And a threefold cord is not quickly broken." (Ecclesiastes 4:12, NKJV)
In the same way my fence splices are unbreakable when intertwined, I pray daily that all components of my faith bind together, becoming as strong as those splices. That can only happen when I pay careful attention to all three strands of faith. When one part becomes neglected, it weakens. And just like the links of a chain or the splice of a barbed wire fence, it always breaks at its weakest point.
Our faith becomes most effective when wrapped in the threefold cord of God's word, prayer, and fellowship with other believers.
Click To Tweet
I pray also that your faith remains tightly bound with the Father, Son, and Holy Spirit. Christians around the world will experience lots of tension and pressure being applied in the coming days. My brothers and sisters, I encourage you to hold strong in your faith with the ties of faith that bind us together.
God's blessings,

Please join me each Thursday evening at 9:30 Eastern as host Coach Mark Prasek and I take a trip Around the Cross-Dubya on PJNET TV. We discuss this week's blog post, offer insight about the lessons learned, and enjoy the fellowship of friends in the live chat room.