What a blessing to introduce one of my favorite writing friends to y'all this week. I'll always remember this cheerful little woman walking up to me at a writer's conference in SC as I was overwhelmed at all the busyness of so many well-known authors. "Are you J.D.", she asked with a smile while extending her petite hand. "I was hoping to meet you." Over the next two days we shared lunch, divided and conquered different classes by sharing handouts and comparing notes, prayed, and became friends. More than that, God used this gracious, sophisticated little woman to help an old dirt farmer from east Texas find peace and a sense of belonging in the big world of Christian writing. Please welcome Ms. Marilyn Nutter to the Cross-Dubya this week.
God's blessings,

Surprises & Trust: Is God Enough?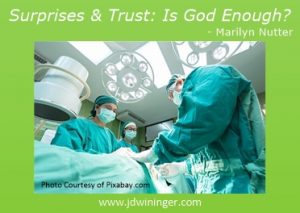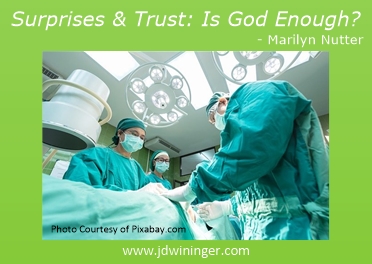 "The LORD decrees His loving devotion by day,
and at night His song is with me as a prayer to the
God of my life." Psalm 42:8 NIV
When I called my son-in-law to tell him I had fallen and was at the ER with a fractured hip, the response was the silence of incredulity. News like that isn't ever on our radar. The event was a surprise to my family, and certainly me, but no surprise to an all-knowing God.
One of my concerns as a widow for the past several years is facing an incident or illness alone. It's a comforting scenario to have your husband by your side holding your hand; totally different when you must depend on family, friends, and strangers.
I met my anesthesiologist thirty minutes prior to surgery. Yes, the one who would put me to sleep. There was no opportunity to check his resume. My surgeon greeted me as I entered the OR. I was at everyone's mercy, trusting God had gone before me arranging the expertise of people I didn't know who would restore me to wholeness. I couldn't sit up to walk away if I wanted to.
Isn't that where we are on a daily basis? We are at the mercy of others' driving ability as we run errands and jockey for parking spots. We trust food preparation in factories and restaurants. We don't know how planes operate, or the credentials and training of the pilot, yet we board planes, soar to thousands of feet, and trust we'll land safely.
Yet in a crisis or a permanent life altering situation woven with challenges and emotions, do we trust God and His provision? Do we have confidence knowing nothing is a surprise to Him? Or do we have other responses?
Psalm 42 presents a picture of a downcast individual, one who weeps and wonders, who feels anxious and crushed.
"Why, my soul, are you downcast?  Why so disturbed within me?"
Perhaps we identify. The script we live is not remotely what we imagined or desire. We suffer physically or emotionally. We're isolated, physically alone, or we feel alone because no one understands.
Sweet friends kept me company for hours, but at the end of the day, I lay on my bed with an IV attached to my body confining me to one position. Once again, I couldn't get up and walk out.  I was escorted to the bathroom by a stranger. Nurses who took my vitals and techs who drew blood, interrupted my sleep. I waited for discharge– to a rehab facility, then home. I didn't want to be there one more minute than necessary, but I was not in charge of the timetable. I wondered if the pinning would be adequate or would I need hip replacement.
As I waited, the words from Psalm 42 and the devotions I read from Sarah Young's book, Jesus Today, made a difference in my thinking. "Take heart, My child, knowing that I am in charge of your life…Whether you are waking or sleeping, I am always present with you. For I am indeed the God of your life."
Life interruptions and not being able to move away from our circumstances call us to trust God. They call us to live in and with hope-not wishful thinking hope, like "I hope it doesn't rain at the beach", but God's kind of hope. The hope that we can trust an all-knowing God, we can trust His character and that He keeps His promises. That kind of hope blesses me when I wish I could get up and walk out, but know I can't.
In whom do you place all hope in your life?
Click To Tweet
Where are you today? Which of God's promises bless you in your hard place or season? The promise of the sufficiency of His grace, His presence, His provision of your needs? Encourage us with hope and share how living with His promises give you hope.
-Marilyn Nutter
About the Author

Marilyn Nutter, of Greer, SC is the author of three devotional books and a contributor to magazines, on-line sites, and compilations. She is a Bible teacher and speaker for women's groups, a grief support facilitator, and serves with women's ministries at her church. In her life's seasons, she has met God's faithfulness and clings to Lam. 3:22-23. Destination Hope: A Travel Companion When Life Falls Apart, written with April White, will be released on September 28. Visit www.marilynnutter.com where you will find encouragement for hopeful living in ordinary and challenging days.
A Note About Destination Hope: A Travel Companion When Life Falls Apart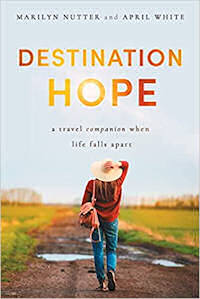 It has been my pleasure in recent weeks to have read and reviewed Destination Hope: A Travel Companion When Life Falls Apart by Ms. Marilyn and her co-author, Mrs. April White. In fact, I've read it twice; finding new encouragement and hope in my personal grief journey each time. One take-away I've found is that grief is not a one size fits all item. It comes in many different forms and each of us will wear it differently. This inspiring book leads its readers to a common goal of restored hope, peace, and faith in God. Destination Hope releases next week, and you can pre-order it today here: https://www.amazon.com/Destination-Hope-Travel-Companion-Falls/dp/1649601093