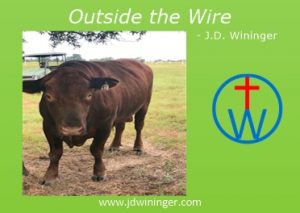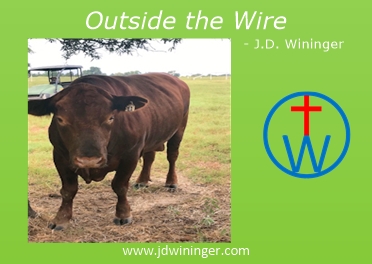 On the lam. Off the reservation. Outside the wire. Any time a rancher hears these three words, or worse, a rancher's wife early Sunday morning, it's going to be a long day. All these phrases mean the same thing; "Your cow's out!" And any way you say it that means work. Oh, I suppose my Sunday mornings always start out nice enough.
I sleep in, maybe until 4:30, and enjoy my coffee in the morning's hush. I get my "God time" in, and down my fourth cup of coffee before settling in to watch two Sunday morning spiritual programs. Then it's time to go feed the livestock. When the 8 o'clock hour rolls around, I start my pre-church chores. The animals have become accustomed to my feeding about 90 minutes later than usual on Sunday mornings. I can't tell you how they know it's Sunday, but they're not as insistent for me to come outside on those mornings.
My typical Sunday morning routine is to feed the livestock, make rounds, and then come inside and get ready for church. This Sunday morning was proving to be anything but typical. Bubba the chocolate lab and I feed the weaning calves in the north pasture in front of our home first. We then make our way past the barns to the west pasture to feed "the big guys." As usual, many of them gather near the pond so they can make a short walk to the feedlot for morning rations. That's when I noticed one lone cow on the far side of my pasture.
When they're a hundred yards away, it takes a minute to figure out which one it is. Not this morning. Given color and size, that has to be "Mavric." For those new to visiting our Cross-Dubya ranch, "Mavric" is my 2,300-pound Red Angus bull. He's a pedigreed gentle giant who sires some of the prettiest calves in Delta county Texas (at least in this old rancher's opinion). "Mavric, what the heck are you up to over there buddy? You know it's breakfast time." Even though I called out to him, he just stood there looking at me.
Puzzled, I took a longer look across the pasture. I wondered, What's that white spot on his side? Hoping he wasn't injured, it took a second for the image to make sense. The white spot was the tip of a steel t-post. That meant my bull was on the other side of the fence. It filled me with dread.
Tearing out across the pasture, the closer I got to the western edge of our property, the worse I started feeling. By the time I made it to the fence line, I was already reaching for my cell phone. "Diane, I will not make it to church this morning. You'll have to go alone if you're going. Mavric's outside the wire." Click.
As much as ranchers try to build their fences bull strong, when the neighbor has pretty cows and you've got a bull who thinks he's irresistible, any fence gets tested. Add to the mix the neighbor's bull, and your fence had better be plenty strong. After the last tussle between the two behemoths, I added a heavy strand of electric fence wire on my side of the fence. I reasoned that 8,000 volts of electricity across "Mavric's" chest would surely slow him down. It worked, until in the middle of the night, one of the neighbor's cows somehow pulled the hot lead off the fence.
Given I fenced the solar charger off from my cattle, the only thing that made sense is I put the clip too close to the barbed wire. A cow must have reached their head through the fence and given it a taste. That would've been a shocking experience for them. With no hot wire to impede him, "Mavric" (I assume) decided he couldn't withstand the temptation any longer. Mostly, when a cow gets out, you find one or two broken strands of wire that create a hole for the cow to squeeze through. Here, the wires held strong. The steel t-posts didn't.
What I discovered was three t-posts lifted out of the ground and tossed to the side. This created a 30-foot wide swath of loose strands of barbed wire that my one-ton bull could easily push to the side and walk through. To help you understand, a t-post is a 6.5-foot long post with a flared anchor on the bottom that is driven two feet or more into the ground. I typically use my tractor or a ratcheting puller to get them out of the ground.
About 30 yards south of the damage is "Mavric." He's standing on the other side of the fence with a sad look on his face. Standing in a pasture full of goat weed, he was unable to figure out how to get back to his lush green grass and Papa's feed bucket. I can see he's scratched up pretty good, with blood down his midline and sides from his battle with the barbed wire. With his thick hide, I know it's superficial and will heal. My immediate problem is how to get him back on his side while keeping the rest of my cattle and the neighbor's where they belong.
I rush back across the pasture and put out the feed. As soon as the last cow is in the feedlot, I close and secure the gate. Next, I herd the slow-moving donkeys into the south pasture and trap them there. Then, I rush to the barn and workshop to grab what tools I'll need. I thank God I spotted the neighbor's cattle in the woods to the north. Let's pray they stay there a while longer. With Klein's, wire puller, t-post driver, shovel, fence clips, some cubes, wire, and butt bat loaded, I head back to my damaged fence.
Removing the remaining fence clips from the posts, I place a push broom under the top three wires; creating a giant-sized opening for my giant-sized bull to walk through. The stretched bottom two wires lay on the ground. Now I can try to entice him through the hole with some feed. Holding out a cube, I urge "Come on Mavric, come getcha some." While he puts his head through the opening to take the cube, he won't just walk through as I back away, encouraging him to come get another. As he turns and walks away, I realize I'm going to need help. That's when a cowboy is grateful for good neighbors.
Unfortunately, it's 8:30 on a Sunday morning. All my neighbors, you guessed it, are away at church. For 20 minutes, I'm walking around the neighbor's pasture trying to get "Mavric" to walk up the fence line and go through the opening. Have I mentioned how it's not smart for a rancher with a heart condition to get all stressed out on a hot summer morning, alone in the middle of nowhere? Mercifully, my neighbor Mr. Tom got my message and had not left for church yet. With help, I might get my bull back without cutting my fence wires.
I stationed my friend Tom near the opening, with the butt bat in his hands. I hoped that Mr. Tom could help direct "Mavric" through the opening when I get him near it. After two failed attempts and another sublingual nitro, I called my neighbor to ask permission to drive my UTV onto his property. With that, I leave Mr. Tom to drive a half-mile down the highway and enter the other pasture.
Locating "Mavric" under a locust tree, I must get him to walk north to the opening in my fence. I soon realize he's as tired, thirsty, and frustrated by all this as I am, and he's not moving. Realizing my butt bat is 200 yards away with Tom, the only thing I have is an eight-inch long plastic spoon I feed "Bubba" with. Picture a grizzled old rancher attempting to herd a 2,000-pound bull by smacking the bull's flanks with a plastic spoon as he tries to walk him down a fenceline. Laughing yet?
After a couple more failed attempts, I move Mr. Tom to my UTV to head "Mavric" off when he passes the opening or wanders away from the fenceline. By this time, my patience with my wandering bull has worn thin. With butt bat in hand, I smack him with an "attention getter" and the bull understands I've reached my limit. With him stopped at the opening one more time, I smack him with as powerful a blow as I can muster. It's enough to persuade him to cross over into his pasture. Success!
Doing what "Mavric" does whenever I discipline him, he heads directly for the pond. He climbs in up to his neck, partly to cool down and to soothe his scratched up and beat upon carcass. This left me and Mr. Tom to repair the fence and re-string the hot wire. By the time my neighbor and I finished repairing the fence, church was long over and we had missed lunch. After letting all the livestock free, I went inside for a shower, a bite to eat, and rest.
As I sat in the recliner with my swollen legs elevated, my only thought was, I have to put a gate in when I replace that fence. Later that evening, after I had settled down a bit, I asked God to show me what I can learn from this trial. The lesson He showed me was in the sad face of my scratched and beaten up bull.
If not controlled, the lure of temptation can lead you into some painful situations when you get outside the wire.
Click To Tweet
Ask anyone with military experience and they'll tell you, you are at most risk when you're "outside the wire." The same is true in our spiritual lives. When we succumb to temptation and sin, we no longer live according to God's will and direction in our lives. When this happens, we place our spiritual lives at risk. In our case, a prayer of repentance can sometimes be as difficult as getting your bull back, but it's the only way to restore a right relationship with God.
While I couldn't be angry with my bull for all the trouble he caused, I could learn from it. I moved the positive clip for the electric fence so they can't reach it from the other side of the fence. I'll add more steel braces and concrete to make it more difficult to pull out of the ground by a testosterone-driven bull. And yes, I'll be adding a gate to walk an animal through to my next fence.
The lesson I hope we can each apply to our lives is that when we're faced with great temptation, we must call upon the Holy Spirit to increase our self-control. We must put on the whole armor of God (Ephesians 6:10-20) and seek His help in withstanding the trials and staying inside the wire in our lives.
I can't close this post without again thanking my friend and neighbor Mr. Tom Riley for all of his gracious help. One day, God will present me an opportunity to repay your kindness sir.
God's blessings,

Please join me each Thursday evening at 9:30 Eastern as host Coach Mark Prasek and I take a trip Around the Cross-Dubya on PJNET TV. We discuss this week's blog post, offer insight about the lessons learned, and enjoy the fellowship of friends in the live chat room.